Pats on the back all round as Pure Storage announces new CEO and growing revenues
Scott Dietzen chairman now, Charles Giancarlo takes reins
As Pure Storage boasted strong second-quarter sales yesterday, the company also revealed that CEO Scott Dietzen would be stepping down to become chairman of the board.
Dietzen's replacement, Charles Giancarlo, was an EVP and chief technology and development officer for Cisco between 1993 and 2007. He then became a board member of Accenture, Avaya, Arista, Attivo Networks and Imperva, to name but a few, and a managing director, head of value creation and later senior advisor at Silver Lake Partners from 2007 to 2015.
But Giancarlo has not been a CEO of a company like Pure before, setting aside a brief stint as interim president and CEO at floundering networks maker Avaya from 2008 to 2009.
Dietzen's prepared quote said the search for a successor started some time ago. "As the board and I planned for an orderly leadership transition, and sought the right CEO to realize and execute the next stage of our vision for Pure Storage, we embarked on a global search a few months ago to identify the best candidates.
"We have found a leader in Charlie who we expect will continue to drive growth and market leadership with the spirit of innovation and quality our customers and partners count on. Most importantly, we believe Charlie is the best candidate to scale Pure to become a multibillion-dollar global leader in data infrastructure and solutions."
Giancarlo, who is of course "thrilled", said: "Dietz has done a tremendous job positioning the company for long-term success... Pure is in a great position to continue gaining market share across its three growth segments: its data platform for cloud, accelerating data-driven applications like artificial intelligence and Internet of Things, as well as helping enterprises that are seeking to derive more value from their data."
Results
Pure's second quarter (ended 31 July) revenues for fiscal '18 bounced 37.6 per cent year-on-year to $224.5m. The net loss of $61.7m was roughly the same as the $59.6m loss a year ago and the $62.4m loss in the prior quarter.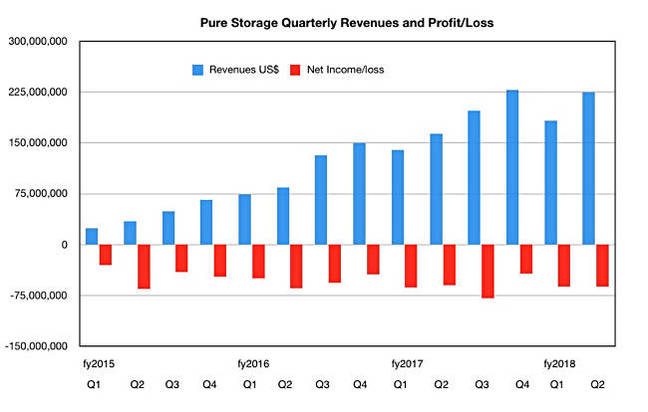 Pure Storage revenues and GAAP net income to Q2 fy2018
CFO Tim Ritters summed it up: "Our Q2 results highlight solid top-line growth and continued improvement in operating leverage. We are laser-focused on executing against our plan to achieve $1bn+ in revenue this year and marching steadily to profitability in the near future."
The company gained more than 350 new customers in the quarter, taking its overall count past 3,700.
Earnings call
Giancarlo was present in the earnings call to discuss the results. Dietzen introduced him thus: "He has the operating experience having run a tens of billions of dollar multi-product business, he has the product chops having served as CTO, and he has the entrepreneurial spirit having built startups as well as managed hyper-growth at Cisco."
Cloud as the main segment is followed by data storage for analytics, AI, machine and deep learning, with the third being legacy on-premises enterprise IT. The FlashBlade product is crucial in the second segment and president David Hatfield said revenue from it "continues to grow at 2x the rate of FlashArray during the same point in its evolution".
He added: "Pure now serves more than 600 cloud companies across software-as-a-service, infrastructure-as-a-service, and consumer internet. Cloud continues to be our strongest segment, at more than 25 per cent of revenues and one that we believe we can increasingly take share in."
Dietzen doesn't see HCI products in the cloud space nor in the AI and Internet of Things fields, where "hyperconverged is not seen as relevant because it doesn't allow you to mix and match GPUs and CPUs in the right ratio to exploit the insights inside of the data".
HCI doesn't affect Pure much in the enterprise space because "at scale, with converged infrastructure we are able to offer something that is similarly easier to use but dramatically higher performance, lower cost and much denser".
Asked about the CEO transition, Dietzen said: "I've been in the job seven years and we have done some great things, grew revenue to $1bn and growing from about 20 to approaching 2,000 employees worldwide. And as I look to the road ahead for Pure, I felt we needed a different class of experience in operating at scale."
Dietzen joined Pure as CEO in September 2010. The company was founded in 2009. He had previously been CEO and president at Zimbra and a CTO at BEA Systems before that.
Pure's guidance for the next quarter's results is for revenue between $267m and $275m – $271m would equate to a 37.6 per cent rise year-on-year. Giancarlo takes over the running of a fast-growing business and will need a delicate touch at first just to keep it on track, and then a controlling one to reach profitability. ®