Two driverless vehicle trials were temporarily halted this week after self-driving mini-buses encountered obstacles – or think they did – resulting in minor injuries to a rider and a pedestrian.
To play devil's advocate for a second, are these accidents a sign that machine-learning software is still unprepared for motoring in the real world, or that simply real life is full of unavoidable outcomes, even for a computer, and you shouldn't read too much into random freak events?
In one case, we're told, someone stepped out in front of the robo-ride without looking and was hit by the vehicle, and in the other, the machine hit the brakes unexpectedly. People get hit by human-driven vehicles all the time, of course.
With AI supposed to be safer and better than us mere mortals when behind the wheel, the key thing to consider in these cases is whether or not a human would have, on average or at a minimum, handled the situation better, whether these scenarios would have played out regardless of whoever was driving, a person or a computer, or whether fast-acting electronics should have avoided any injury.
We'll let you decide.
Living in America
On Tuesday, in Salt Lake City, Utah, a shuttle in the US state's Autonomous Shuttle Pilot program – launched in April – stopped suddenly to avoid something, though it's not yet clear whether the hindrance actually existed or was a figment of an errant sensor reading.
In a phone interview with The Register, John Gleason, spokesperson for the Utah Department of Transportation (DoT), explained that at 1230 MDT on Tuesday, there was an incident where the city shuttle was driving on a straightway in a complex in the Salt Lake City area.
"It had just picked up two passengers and was driving when the sensors detected an obstacle in the path and the shuttle stopped abruptly," said Gleason. "This caused an elderly man to slip off his seat."
The man, identified by CBS affiliate KUTV, as Gene Petrie, 76, suffered facial injuries – bruising and laceration.
Utah DoT immediately took the shuttle out of service to perform diagnostic tests.
"That's how the shuttle should respond if there's an obstacle in its path or it detects another vehicle in front of it," said Gleason. "But there wasn't any indication from the host on the shuttle after the fact that there was something in the direct path."
With the completion of the tests, Gleason said the DoT feels confident the shuttle is safe to use. "The data shows it wasn't a false reading, but we aren't sure what caused the shuttle to initiate the emergency stop," he said. "We feel very confident that this is not an accident that will repeat itself."
The safety excuse
Safety is one of the main selling points of autonomous vehicles. "Automated vehicles' potential to save lives and reduce injuries is rooted in one critical and tragic fact: 94 percent of serious crashes are due to human error," the shuttle program website states.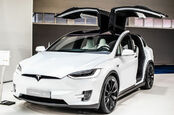 Got an 'old' Tesla? Musk promises 'self-driving' upgrade chip ship by end of 2019
READ MORE
However, as a precaution, he said, the shuttle's stop speed has been reduced from 12mph to 9mph. Hosts – workers relieved of the responsibility of driving who now ride along to provide guidance to passengers and intervene if necessary – have been asked to remind riders to stay alert because there's a chance of sudden stops. Also, a sign has been added to the back of the shuttle to warn human drivers that the vehicle makes frequent stops.
Utah's DoT doesn't have plans to deploy autonomous vehicles beyond this specific trial, said Gleason, though he expects further tests as the technology matures.
"This is really the future of transportation and we want to look at this innovation to improve safety and transportation in the state," he said, noting that the shuttle is now back in service.
Trials of driverless vehicles are taking place in a variety of other cities, including Las Vegas, Nevada, Jacksonville, Florida, Minneapolis-St.Paul, Minnesota, and Arlington, Texas, among others. Congressional lawmakers have been trying to pass legislation to regulate autonomous vehicles, but so far only the House of Representatives has approved a bill.
Viennese whirl
Meanwhile, in Vienna, Austria on Thursday, an autonomous shuttle collided with a pedestrian. The driverless vehicle is part of a trial being conducted by Wiener Linien (Vienna Lines), which runs public transit in the city, in collaboration with minibus maker Navya, the Austrian Institute of Technology and Siemens Mobility. You can catch a video of the robo-bus below:
The transit agency, in an email to The Register, suggested the collision was the fault of the pedestrian.
"Thursday morning around 09:30 at 42 rue Ilse-Arlt-Straße in Seestadt, a pedestrian, who according to witnesses, wore headphones and was looking at her mobile phone, crossed the street and walked against [into] the bus on the side," a spokesperson for Vienna Lines said.
The bus, which also has a host or operator on board, stopped and the 30-year-old woman was treated for minor scratches, the spokesperson said. "Even though this incident ended without too much damage, we take it seriously," the transit agency's spokesperson added. "We are already analyzing the logs of the incidents in order to shed light on what happened. For this reason, the buses remain in the garage until they are clarified." ®
Similar topics