Fancy a free breakfast buffet? Tuck in to this storage smörgåsbord
See how how your storage food can be protected, replicated, encrypted, cached and more
Breakfast is the most important meal of the day, so start yours right with a balanced meal of software-defined, hyper-converged, hardware-accelerated, containerised, and virtualised storage industry news.
Get feasting right away.
Acronis
Acronis, the data protection company that's added AI and blockchain smarts to its product set, has issued Acronis True Image 2018. This provides backup, archive, access and recovery for Microsoft, OSX, iOS and Android operating systems, and is disk imaging software. It enables disk cloning by restoring a captured disk image to another disk, replicating the structure and contents.
The company says it's added more than 300 new features and functionality advancements. Shall we list them here?
Well... no.
One of the developments is enhanced anti-ransomware protection with machine learning and artificial intelligence help. Acronis says AI actively defends your files against ransomware, like Petya and WannaCry.
Here are a couple of tables summarising the new release;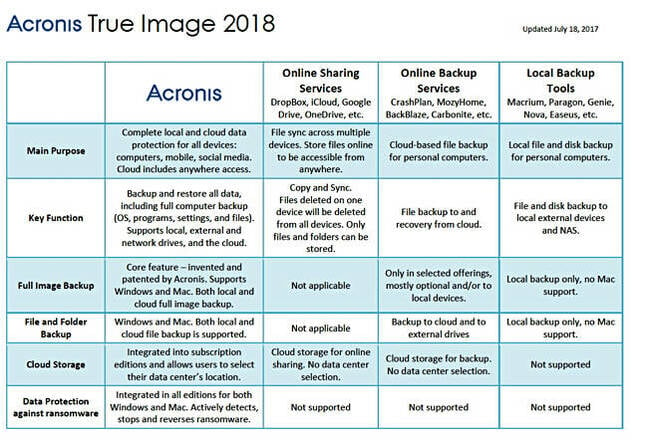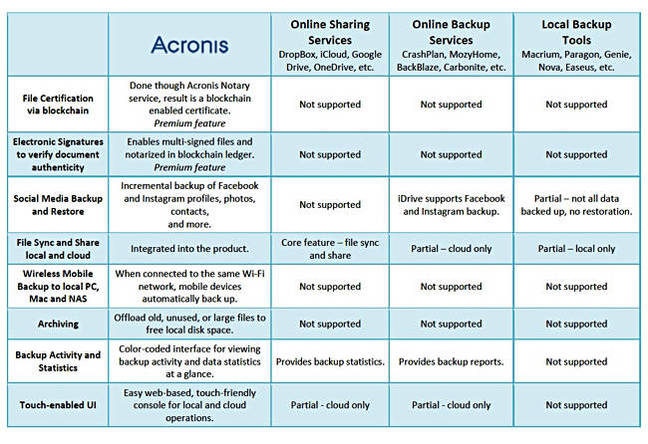 Cloudian
Object storage supplier Cloudian says its Cloudian HyperStore adoption by global service providers has doubled over the last year. We're told Cloudian systems now serve tens of thousands of enterprises in over a dozen countries, on nearly every continent.
A sample list of partners includes Federal Hill Solutions, Global Micro, HIAG Data, Internet Unie, Interoute, NTT Communications, NTT East, Nexinto, Purity IT, rediCloud, ReeVo Cloud, Sithabile Technology Services (STS) and Technoserv.
IBM
Big Blue announced Spectrum Protect Plus; a data protection and availability product for virtual environments. It said it can be deployed in minutes and protect an IT environment within an hour. The product uses the Open Virtual Appliance (OVA) distribution format* and has an agent-less architecture.
It protects data in physical, virtual, software-defined and cloud environments, and can be implemented as a stand-alone system or integrated with an existing Spectrum Protect environment to off-load copies for long term storage and data governance.
There is a portal, a RESTful API, and policy-driven data protection. IBM says the product features a global catalog of VMs and files to enable fast search and restore across many VMs and recovery points.
Hedvig
Hedvig, the startup building a universal data plane through which stored data is accessed,has announced v3.0 of its product which offers better caching, more integrations and improved security.
Such abstraction layer blankets always have to be extended to cover the latest and greatest underlying storage, be as fast as possible so they don't add delay to data accesses and also need to be secure as their gateway to stored data is potentially vast, being both deep and wide.
Hedvig has added;
Veritas OpenStorage Technology (OST) plugin - to connect NetBackup to Hedvig as a deduplicating backup target.
Enhanced VMware plugin - adds new security, backup, and data protection capabilities.
Red Hat Certified container - a Hedvig Storage Proxy container is now Red Hat certified for customer production use and published in the Red Hat Container Catalog. It supports Red Hat Enterprise Linux (RHEL) and OpenShift featuring docker and Kubernetes.
Encrypt360 delivers a native, in-software approach to protecting data throughout its entire lifecycle, encrypting data that's in-use, in-flight, and at-rest. It supports a variety of key management systems, including AWS, and enables customers to select a 256-bit AES encryption policy on a per-volume basis.
FlashFabric suite of flash caching technologies;

More advanced auto-tiering,
Better read caching,
NVMe drive support,
3D XPoint media support.
Qubole
Big data-as-a-service company Qubole announced the immediate availability of three new products;
Qubole Data Service (QDS) Enterprise Edition - a single platform for ETL, reporting, ad-hoc analysis, stream processing and machine learning,
QDS Business Edition - free access to enterprise edition and customers only pay the regular fees to their cloud provider of choice, but it's limited to a specified amount of compute hours per month,
Qubole Cloud Agents - optional add-on to QDS Enterprise Edition, autonomously executing a range of data management tasks, with three initial agents;

Workload-Aware Auto-Scaling Agent – optimizes cluster sizes for workload requirements to reduce over-provisioning and automates management of heterogeneous clusters,
Spot Shopper Agent (AWS Only) – intelligently shops across AWS cloud to assemble the compute instances in the optimal combination of performance and cost,
Data Caching Agent – optimizes the locality of your data for fast, interactive access speeds.
These are components of its autonomus data platform and, we're informed, customers are already saving more than $10 million in total cloud compute costs every month with it.
QDS runs on AWS, Microsoft Azure and Oracle Bare Metal Cloud and supports the open-source engines such as Apache Spark, Hadoop, Presto, Hive and others.
Qubole's new architecture analyzes metadata (queries, clusters, users, data, etc.) generated by platform usage and applies machine learning and artificial intelligence to create alerts, insights, and recommendations, and offers autonomous agents that perform actions automatically.
Customers using the "Qubole Spot Shopper Agent" to leverage AWS Spot Instances can save an average of 68 per cent on total cloud compute costs, while companies maximizing the use of Workload Aware Auto-scaling save an average of 80 per cent.
This sounds pretty cool.
Later this year, Qubole will also offer QDS Community Edition as an educational tool for students and others looking to explore big data. QDS Community will be free for up to four nodes and five clusters.
All-in-all we're seeing a determined marketing effort here to broaden Qubole's adoption.
Western Digital
Regarding its participation in a bid for Toshiba's interest in the pair's three joint-ventures for flash fabrication WDC is reportedly not seeking a management role.
It will initially not seek voting rights, and will then limit its voting rights to no more than one-third even after it converts its bonds to shares.
This might make elements in Toshiba's upper management less apprehensive about WDC involvement.
Virtual Instruments
VI has put out a report from analyst house Enterprise Strategy Group (ESG) that says IT teams across Europe are putting their IT infrastructures – and businesses – at risk by failing to profile application workloads and test data storage systems before purchase and deployment; not buying and using VI's products in other words.
ESG says that of the 412 IT professionals surveyed, only 41 per cent said that they will profile their workloads before buying their next storage system and 56 per cent trust either storage vendors or their VARs to advise them on the right solution.
We're urged to understand that solely depending on vendor recommendations or partners who are aligned with specific vendors could leave IT teams vulnerable. At best, there's a significant likelihood of over-provisioning and wasted financial expenditures; at worst it can mean a new storage system is unable to keep up with the organisation's business requirements and lead to lost revenues.
Customers
Hybrid cloud service provider Vivavo is using Excelero's NVMesh server SAN for cloud-based analytics offerings. The first is Vivavo Video System (VVS), an intelligent video analytics platform for CCTV use that can improve security using on-site camera footage. This is being offered to mid-size enterprises and through telecom company partners.
Vivavo CEO Francis Au said; "NVMesh has dramatically shortened the time it takes to complete analytics on large data sets."
Shorts
Atto Technology says its 16Gbit/s and 8Gbit/s Fibre Channel ThunderLink Thunderbolt devices have achieved VMware Ready status for ESXi.
NeuVector, which provides continuous network security for containers, says it has demo'ed the capabilities of the NeuVector container security product to monitor and protect applications running in nested VMware vSphere Integrated Containers environments. It reckons it has the first product to do this at the application layer.
Adaptive flash tuning technology supplier NVMdurance is being reduced to a much smaller operation. Marketing head Kevin Kilbuck has left. Attempts to expand beyond Ireland with a US west coast presence appears to have failed.
SwiftStack says its hybrid cloud storage software is now validated by Cisco for the UCS S3260 storage server and integrated UCS Manager, having gained Cisco Validated Design (CVD) status. It wants the world to know that SwiftStack is the only object storage product with product bundle part numbers on Cisco's global price list, and is the only such product with the option of Cisco Solution Support.
An X300 3.5-inch SATA disk drive with 8TB of capacity was announced by Toshiba in the USA. It was announced and available in Europe last year and is not, by the way, a helium-filled drive. ®
* A single file distribution of a virtualised appliance file package, stored in the TAR format.