Privacy-focused search engine DeepSearch slinks out of hiding
New web crawler from TSignal doesn't care who you are
---
Developers are working on a privacy-focused search engine that goes beyond the likes of DuckDuckGo.
DeepSearch from TSignal is an AI-based search engine that does not collect any user information, according to the team behind the project. The crawler-based engine aims to maintain user privacy while offering unbiased information discovery.
"TSignal does all the heavy work in-house, including crawling, language detection, indexing, ranking etc, while DuckDuckGo results are based on Bing/Google APIs," TSignal founder Vipin Kumar told El Reg. "DuckDuckGo is basically another front-end for Bing/Google with some tweaks."
TSignal has built its own engines, algorithms and stack, which handle, index and rank all data. The search engine has already indexed more than 4 billion web pages, according to its developers, with plans to index 100 billion more pages over the coming months.
The search engine's rank algorithms are completely AI based and its stack is "extremely fast", with 90 per cent of queries delivered in less than 200ms, according to Kumar. "There is no human curation of results at any stage," he added.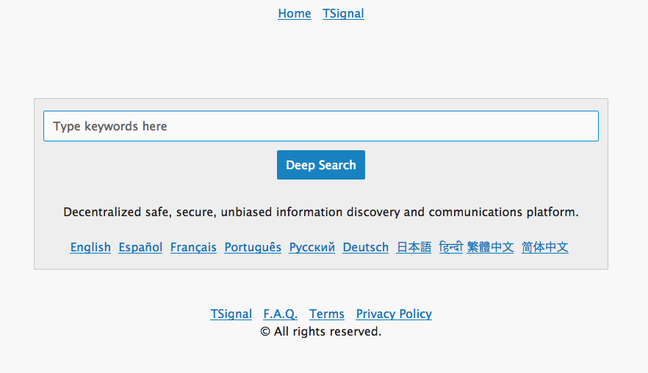 TSignal's DeepSearch
The project is pitched against the likes of Google, Yahoo!, Bing and Yandex. TSignal promises that it does not track its users with cookies, JavaScripts or with any other technologies in any form, not even for the sake of better or personalised results.
DeepSearch is currently at the alpha stage. Some features, such as query auto-correction and suggestions – commonplace with other search engines – are not yet available. It also does not currently index news or social media websites, but adding this support is a priority.
"We completely respect users' privacy," Kumar concluded. "Users' communications/search history are personal data and should be treated as such and should not be used in any form. The platform provider is just the messenger." ®
Similar topics
Narrower topics