This article is more than 1 year old
SanDisk's little microSD card sucks up 400GB
iPhone charging and backup base unit also on cards
WDC has the highest-capacity microSDXC card at 400GB – pumping up mobile device storage space – and has launched a natty little iPhone charger that backs up the phone's data.
The SanDisk Ultra Plus microSDXC UHS-I card comes in a range of capacities, from 16GB through 32, 64, 128, 200, and 256 to 400GB. The read speed is up to 100MB/sec.
SanDisk introduced a 256GB card, with the same read speed, in February. That used ordinary 2D or planar NAND. This latest one uses, we understand, 3D NAND and 3bits/cell (TLC) flash.
An earlier 200GB microSD card was announced in March 2015, priced at $399. The 256GB card was priced at $200. Capacities have gone up and prices down.
iXpand Base
WDC has also launched a SanDisk iXpand Base, which charges an iPhone while also backing up its contents – photos, videos and contacts.
The Base has a capacity range of 32GB, 64GB, 128GB and 256GB, and the backup is run by an iXpand Base app on the iPhone, which can also restore files from the Base to a plugged-in iPhone – useful for data transfer.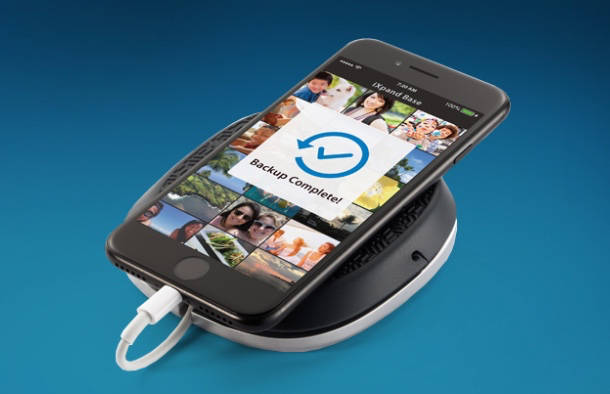 iXpand Base with phone charging on it
The unit has a rubberised non-slip surface and the Lightning phone connect cable wraps around the unit.
The latest 400GB microSDXC card has a 10-year limited warranty and a manufacturer's suggested retail price of $249.99.
The SanDisk iXpand Base has suggested retail prices of $49.99 for 32GB, $99.99 for 64GB, $129.99 for 128GB and $199.99 for 256GB. It's available now at Amazon, BestBuy.com, B&H Photo Video.com, and other retailers. ®