WDC's biz banquet has made it a chips-to-disks-to-systems monstrosity
CEO Milligan has reshaped firm upwards and outwards
Analysis Western Digital Corporation under CEO Steve Milligan's rule is becoming an aggressively expanding chips, disks, systems and cloud storage business. It's trying to buy Toshiba's flash foundry joint-venture interest and has just announced it's buying storage array-maker Tegile and personal cloud storage provider Upthere. What is Milligan up to?
He became Western Digital's CEO in 2012, coming in from running the acquired HGST disk and flash drive operation, and replacing the retiring John Coyne. Since then he had to wait till this year before WDC could fully integrate HGST into its own operations. In the meantime WDC bought SanDisk for a massive $19bn in October 2015.
A quick look at the acquisition history here shows the complicated way the modern WDC has come into being. WDC is:
Buying Tegile for disk and flash arrays in August 2017
Buying Upthere for cloud storage in August 2017
Fully integrated with bought HGST in 2017
Bought SanDisk for $19bn in October 2015
Bought HGST for $4.8bn in 2012
SanDisk bought SMART Storage Systems in July 2013.
HGST bought:
Amplidata in March 2015
Skyera in December 2014
sTEC enterprise SSDs acquired for $340m in June 2013
Velobit caching software bought in July 2013 for maybe $35m
PCIe flash card startup Virident bought for $685m in September 2013
SiliconSystems and its SSD tech purchased for $65m in March 2009
All this means WDC needed to integrate its own disk drive operation with HGST's disk and flash drive business, and with SanDisk's flash chips and SSD business.
Business structure
What we are seeing is the emergence of this kind of business structure: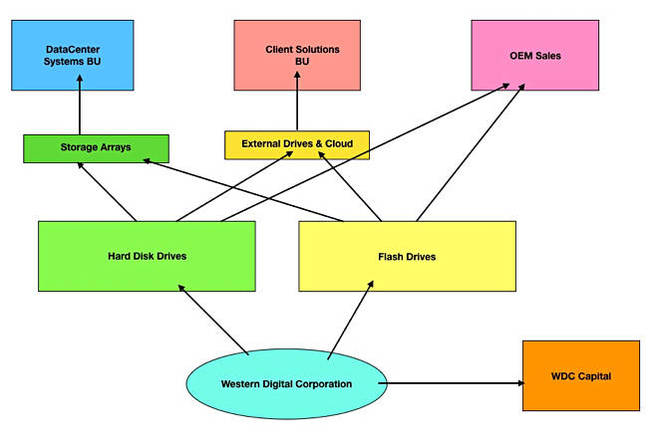 WDC business structure
There are three layers. At the bottom is the WDC entity with its investing WDC Capital arm.
Next up in a second layer are the two media manufacturing business. There is a vertically integrated set of disk drive manufacturing plants which pump out millions of 2.5-inch and 3.5-inch disk drives a year.
There is also a flash foundry business, operated with Toshiba and acquired with SanDisk. It pumps out millions of flash chips which go into flash drives; this being another vertically integrated operation.
The third layer has three separate business operations:
DataCentre Systems
Client Solutions
OEM drives
The OEM business sells disk drives and flash drives to storage array, system and device builders.
The Client Solutions business, run by SVP and GM Jim Welsh, sells disk and flash drives to consumers as externally attached drives for PCs, small NAS drive stores for the home and small business and, soon, personal cloud storage, through Upthere.
Barbara Nelson runs the Cloud Services business inside the Client Solutions business.
DataCenter Systems is run by SVP and GM Phil Bullinger and sells storage array systems. There are two strands to this, the first being big data and active archive arrays under the ActiveScale and ActiveArchive brands – secondary storage in other words.
Tegile with its hybrid and all-flash arrays will provide the primary storage complement to the secondary storage products.
Milligan's WDC is a fervent believer in vertical integration, with the disks and flash drives being made in-house from raw components, being sold to OEM customers and also used in house to build products for the DataCenter and Client businesses.
Competition
At its heart WDC is a disk and flash media company. On the flash side its competitors are Micron-Intel, Samsung and SK Hynix. Only Micron of this group sells a storage array, SolidScale, using OEM'd Excelero software. WDC is more vertically integrated upwards than any of its flash chip-producing competitors.
On the flash drive side there are a number of SSD suppliers using merchant chips, such as Seagate. It is competing with vertically integrated SSD producers, like Micron-Intel, Samsung, Toshiba and WDC but, so far, says it sees no need for a closer relationship with a chip producer.
In disk drives WDC competes mainly with the smaller Seagate and Toshiba. There appears to be no threat to WDC here, unless it stumbles in bringing out the upcoming HAMR technology drives.
In storage array systems WDC competes with many of its disk and flash drive OEM customers. They are listed here. Seagate is in a similar but weaker position with its DotHill-based array business.
Seagate
It was in a stronger position but has offloaded its ClusterStor array business to Cray.
Seagate also had its EVault data protection business which was, like WDC's DataCentre Systems and Client Solutions units, a captive market for its own drives. But it sold that off to Carbonite in December 2015, for just $14m, having bought it for $185m in 2006.
The lesson Seagate learnt is that running a storage systems-level operation is very different from running an enterprise storage media manufacturing operation.
Is this the same costly lesson that WDC will have to learn?
Consumer and Personal cloud storage
WDC, Seagate and Toshiba also compete in the consumer storage drive business, where vertical integration with a disk manufacturing base is seen as a natural fit.
As WDC sells more flash-based consumer drives then it will push the same idea, while Seagate, with no in-house foundry, will not. We might expect WDC's costs, as a result, to be lower than Seagate's.
Where WDC is setting out alone is in offering personal cloud storage based on its own data centres. This will require a whole new skill set; building, deploying and operating potentially massive scale data centres with extremely high reliability, and making money while doing so.
This is part of the reason why Seagate exited the EVault business. It needed too much money to build up to a scale where it could compete successfully.
Barbara Nelson has no such experience and we would expect WDC to either hire people with the requisite smarts or else make a further acquisition of a company already successfully running such an operation. May we nominate BackBlaze?
El Reg would suggest that, unless WDC gets itself a serious set of massive scale database building and operating smarts, then its Cloud Services business will fail to grow to its full potential and risks being a rerun of the EVault experience.
Where next
If WDC sees itself as a storage company then it could stop buying other businesses and expanding into new areas right now.
But if it sees itself as a storage systems company then the lure of data management software is out there, and that is a fast-developing minefield. Best let it mature before entering that market.
It will be fascinating and instructive to see how Tegile fares under WDC ownership; the next few Gartner storage array magic quadrants and IDC storage trackers are going to be pored over by industry marketeers to find out.
Our thinking is that Milligan is not done yet. We think WDC is still in an expansion phase and the boss wants all the main product-producing parts of it to be aggressive market competitors. Helium-filled HAMR disk drives could come out of WDC faster than Seagate. ®