Western Digital has cloudified the NAS and shoved it in a trendy box
Not a universal home data store, but it's close
+Comment WDC has released a home NAS that syncs with devices for storing, streaming and sharing wherever there's an internet connection.
It comes in a single-disk version called the My Cloud Home or a dual-disk version called My Cloud Home Duo, which uses a RAID 1 scheme to copy data from one disk to another for safer keeping.
The product is Ethernet cabled to a broadband Wi-Fi router and becomes a sync target for data on smartphones and tablets, notebooks and PCs, social media accounts (Box, Dropbox, Google Drive and Facebook) and USB sticks. Data is automatically uploaded to the product from these sync sources. The box can be a target for Apple's Time Machine or Windows Backup too.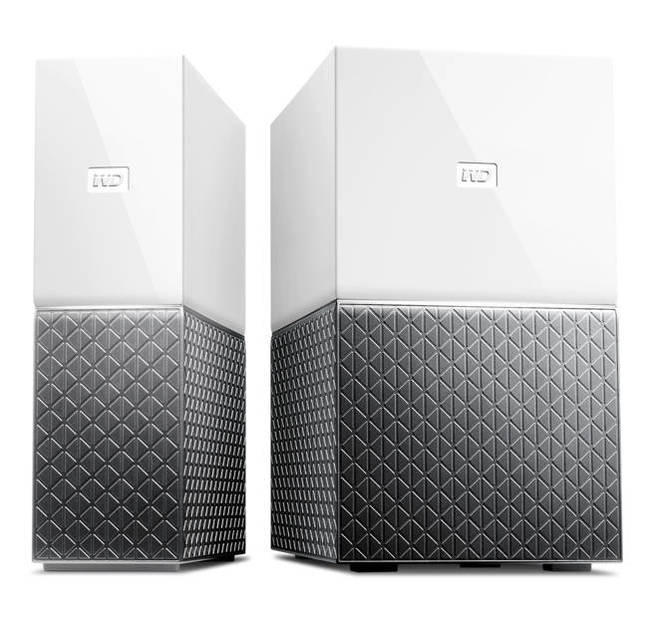 My Cloud Home (left) and My Cloud Home Duo (right)
It's managed via a My Cloud Home app on an iOS or Android mobile device which can be used to search, stream and share content. There is a My Cloud Home desktop app for the same. Individual home users can have separate accounts on the box for their private data.
Video content can be streamed to TVs or smart media players via a third-party Plex app.
WDC says the average US household has 4l.5TB of data spread across 14 digital devices, and this is only going to grow. The My Cloud Home box can centralise this, protect it, and make it widely available to the people with whom you wish to share it.
The box uses one or two 3.5-inch WD RED NASware drives and the capacity points are:
My Cloud Home – 2TB, 3TB, 4TB, 6TB and 8TB
My Cloud Home Duo – 4TB, 8TB, 12TB, 16TB and 20TB
WD ships the the box with a two-year warranty. The suggested retail prices range from $159.99 to $319.99 for My Cloud Home, and $309.99 to $699.99 for the Duo, but there is no 20TB price available yet.
Comment
We've been here before; witness Toshiba's STORE.E.CLOUD from 2012 as well as WD's own MyBook Studio and World editions from 2009.
Not a lot has changed really. The disk drives are bigger, we have social media support and auto-syncing, but the basic recipe is the same.
The My Cloud Home box provides a second and separate domain for data from your main home PC. Its contents are not part of that PC's folder structure but can be viewed either by browser access or by the My Cloud Home desktop app. We don't have a universal storage system here that's integrated into your home Windows and Mac devices.
The product would make a decent backup target for notebooks and desktops and an alternate sync target for phones and tablets. The ability to aggregate content from social media accounts could prove useful if you need to centralise and share it.
What we would really like to see is this product instantiated as a software app integrated with macOS or Windows and making its data part of the host's file:folder system so that apps there can work on the data as locally stored content.
Backup the data to an external unit and make it upgradable. Also please extend the warranty – two years is not enough – and make provision for transferring the content to an upgrade or replacement box. ®