This article is more than 1 year old
Nutanix reports record revenues for first year since going public
Sees itself as VMware rival
Nutanix closed its first year as a public company with a beat-and-raise quarter, firing on all fronts and heading confidently to a billion-dollar run rate next quarter.
It was a record FY17 final quarter for Nutanix with revenues reaching $226.1m, beating last quarter's guidance of $215m-$220m. GAAP net loss was $90.7m, down on the previous quarter's $112m, but worse than the year-ago $49.93m net loss.
Last year revenues were $139.8m, so they're up 61.7 per cent, and it's also a 17.9 per cent increase over the prior quarter.
The quarterly chart shows how Nutanix has had a seriously higher net loss per quarter throughout this fiscal year compared to previous ones.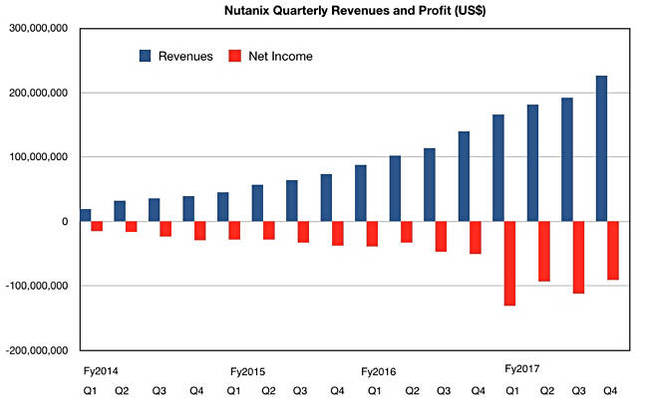 Nutanix revenues and GAAP net income to Q4 fy2017
Nutanix seems to be buying breakneck revenue growth with high net losses, but says it has $349m in cash and short-term investments so it can fund this level of growth for a few quarters more.
The full-year revenues were $766.9m, 72.4 per cent up on FY16's $444.9m, while the net loss of an impressive $458m, nearly half a billion, dwarfed that of last year's $168.5m.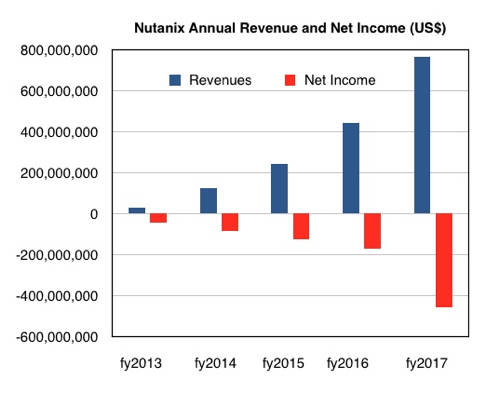 Nutanix full-year results to FY17
CEO and happy bunny Dheeraj Pandey pumped out a bullish canned quote: "The fourth quarter was another record quarter and an outstanding conclusion to the fiscal year... This quarter, marked by record revenues, continued adoption of AHV, increased software-only sales, strong growth from our OEM partners, and positive operating cash flow, was a great way to end our first year as a public company."
The company now has 7,051 customers, up 87 per cent year-on-year, and 70 per cent of bookings are from return customers. There are 559 customers now from the Global 2000 – it was 372 a year ago, and 37 per cent are outside the USA. The number of large, >$3mn deals grew as well. It has more than 11 customers with a lifetime spend of more than $10m with Nutanix. The land-and-expand strategy has worked very well.
Adoption of the Acropolis hypervisor (AHV) hit 24 per cent of nodes in the quarter (four-quarter rolling average). AHV adoption was 23 per cent in the prior quarter, 21 per cent in the quarter before that and 17 per cent in FY17's first quarter. Software-only bookings grew 96 per cent.
Earnings call
In the earnings call on Thursday, Pandey said: "[Our] 'One OS, One-Click' journey will continue as we blur the lines between owning and renting computing. Our strategy for the next several years is to continue building a hybrid cloud operating system that will converge the two consumption models with our current offerings – that is containers with virtual machines and public cloud with private."
He talked about the Xi service with Google, saying:
The idea of Xi is to run the same OS in both sides of the hybrid divide effectively converging all the elements of infrastructure so that the devices customers own seamlessly blur with a cloud service event akin to how apple iOS fuses an iCloud service with an iPhone.
Both Xi and containers will come together into a single hybrid umbrella with the help of our multi-cloud management software Nutanix Calm. Calm elevates automation from the lower layers of infrastructure app to an abstraction that is application centric. Effectively detaching applications from data centers and making them movable in a multi cloud world.
Calm, Xi and Kubernetes containers formed a trisect of a product strategy for the next several years. We continue to evolve just like when we decided to work on our own hypervisor, AHV. AHV, Acropolis and Prism are the architectural debts of the past eight years that will form a robust foundation for Calm and Xi in the coming eight years.
This strategy and its presentation seems more concise and pertinent to modern data centre IT trends than anything similar coming out of Dell EMC, HPE, IBM and Cisco.
Competition
So where's the bad news? CFO Dustin Williams hinted at what might be happening with OEM Dell EMC, whose own VMware-focussed VxRail and VxRack products sales are growing strongly. "Looking forward, we haven't built in the expectation that the Q4 Dell performance will continue into Q1." Dell represented some 10 per cent of sales in the quarter, a little higher than in prior quarters.
Fortunately, Nutanix has won IBM as a new OEM and sales on Cisco UCS hardware grew strongly. "We also doubled our Cisco UCS bookings in Q4 versus Q3."
As Cisco is now buying its hyperconverged system software supplier, Springpath, that trend might slow.
Pandey discussed Cisco and other competitors in the call. "It's about the entire operating system and increasingly it's about the same OS running on both public and private cloud side as you see from Microsoft talking about Azure and Azure Stack. And I think Cisco's current offering is very far from this. They are too focused on the form factor that [was talked] about five years ago. I think they and HP and NetApp are still playing a hardware game off HCI. I think the real game that's being played in pure software is... about the entire opening system itself."
By operating system he means a full stack embracing servers, networking, storage, virtualisation of all three and management services. Pandey only sees two companies with offerings in this area – VMware and Nutanix.
He said: "In the coming 12 to 18 months, you will actually see us become a full-fledged networking and software-defined security vendor just like what you are seeing VMware as well."
El Reg thinks Microsoft with its Hyper-V/Windows stack will be in this category as well.
Pandey dismissed composable infrastructure, like HPE's Synergy, saying: "It's a niche because it's about a hardware routing mechanism that let's you address disk drives using some hardware switching... I think composable is a cute terminology but at the end of the day the world is moving towards commodity, towards rack-mount servers that are off the shelf as opposed to using some hardware tricks to really go and build solutions."
Outlook
Nutanix and Pure are neck and neck in the revenue annual run rate charts. Nutanix is on $904.4m and should beat $1bn next quarter. Pure is on $898m and could also surpass the $1bn mark next quarter.
The outlook for the next quarter is for revenues between $240m and $250m – $245mn at the midpoint and 46.9 per cent higher than the year-ago quarter. This is continued breakneck growth.
The non-GAAP net loss is expected to be $0.37/share, which compares to $0.59/share this quarter. So the trend is down and suggests that profitability might, at some stage, actually happen. Perhaps FY18. ®