Detox from your weekend kebabs with a healthy storage golubtsy
Storage pigeons roost as we munch on cabbagey treats
---
Comment Did you overdo it with the bacon and buttered toast at the weekend? Never mind, who among us can resist cooked cabbage leaves wrapped round nutritious meaty storage fillings? Get your knife, fork, spoon and napkin ready and load up your plate with what we have in store.
Rubrik
NBA basketball champ Kevin Durant has joined Rubrik as an investor and board advisor. Durant is a member of the 2017 NBA Championship Golden State Warriors and the MVP of the 2017 NBA Finals. Through the Durant Company, he is a venture capital investor in technology companies including Postmates, Acorns and Propel.
He will leverage his experience creating a global brand empire to advise the B2B tech company on strategic initiatives. He will also advise on content development opportunities through his Thirty Five Media business arm, which includes his YouTube channel.
This channel has a welcome video, with Kevin saying: "Yo, this is KD. Welcome to my YouTube base. You'll get a look at what I love to do off court."
Durant had a canned quote in the news: "I invest in game-changing companies with a winning spirit. Rubrik is a rising tech powerhouse taking on a $48bn market opportunity. I'm excited to support Bipul and his team as they build a global brand."
In 2013 the basketball star featured in a story in the Forbes magazine; "Durant told Sports Illustrated a couple of years ago: "Global marketing and all that stuff" doesn't interest him and that, "it's all about basketball."
How times change.
This looks like an astute piece of basketball celebrity endorsement by Rubrik CEO Bipul Sinha. It reminds us of Primary Data and Steve Wozniak. We imagine the Rubrik boss may even be influenced to get his own YouTube channel: "Yo, this is BS. How ya doin?"
HPE
HPE's Synergy composable infrastructure product supports VMware Cloud Foundation (VCF). It says thus will enable IT organizations to deploy infrastructure as a service (IaaS) and private clouds in minutes and lower virtual machine (VM) costs compared to public clouds and traditional server racks.
HPE says Synergy plus VCF will enable customers to:
Operate a single platform to run traditional bare metal, virtualized SAN-based environments and new vSAN-based workloads,
Become an internal service provider of IaaS and private clouds deploying infrastructure and VMware Cloud Foundation software in minutes with a few simple clicks,
Perform at cloud speed – HPE Synergy offers the industry's fastest platform for VMware environments, with a world record VMmark 2.x Performance Benchmark, performing 41 per cent faster than the previous top scoring server,
Reduce capital and operational expenditure while increasing productivity – delivering VMs at a 29 per cent lower cost compared to traditional architectures and up to 50 per cent less than public clouds.
Arcserve
With three years of independence under its belt Arcserve wants us to know that:
Gartner confirms the company grew at 15 per cent YoY to its fy2o17, more than double the pace of the market,
Flagship Arcserve UDP suite up 28 per cent YoY
68 per cent of Arcserve sales were from net new customers,
Midsize and decentralized enterprise organizations accelerate adoption, driving a 28 per cent spike in average order value YoY,
It's revealed a roadmap to the claimed first affordable, near-zero recovery point objective (RPO) and recovery time objective (RTO) product. Arcserve says that, by combining its direct-to-cloud solution, data center and IP expertise with its availability technologies, it's developing a cost-effective, comprehensive and self-service offering that can recover real-time data, instantly.
It intends to release the first phase of this nearly eight months ahead of its internal schedule, and will deliver an RPO of minutes without the requirement of a public cloud or additional equipment, at a much lower cost than products available today.
Caringo
Object storage house Caringo has arranged for Storage Switzerland to produce a 30-page NAS vs Object eBook. You can download it, with no registration, here.
The book says: "When it comes to managing unstructured data, the data center has problems. The legacy network attached storage (NAS) systems that it uses to store this data are no longer keeping pace with the demands of the modern data center. As a result, IT planners are considering object storage as a potential replacement for their aging NAS infrastructures. Our 'NAS vs Object' series will perform a detailed examination of these technologies to help IT planners decide which technology is right for their data centers."
Its conclusion is: "Object storage and its associated protocols are a much better match for modern day applications that are written in and for the cloud. The more an application makes use of modern day development and deployment methods, such as the use of public or private cloud-based VMs and containers, the more object storage makes sense for that application."
Cloudian
Object storage software house Cloudian has teamed up with Skymind, the creator of the Deeplearning4j (DL4J) open-source deep-learning library, to create data management products for the hyper-scalable data sets necessary for artificial intelligence and machine learning use cases.
Cloudian will provide the "limitlessly scalable on-premises storage systems" and Skymind's DL4J will recognises patterns in the potentially massive amounts of data to provide actionable intelligence for customers.
Target industries include health care, fraud detection for financial services, security, and robotics.
Cloudian CEO Michael Tso said: "Training data is the foundation of AI and ML. More training data and better metadata tagging result in quicker, more effective learning, making data the dynamic asset that is the key to unlocking AI and ML's business impact."
The pair will develop a a security monitoring tool that identifies likely network attacks first. It uses pattern recognition to identify suspicious network traffic. Users will be able to see both the source and the destination of the attack, helping to simplify countermeasures.
Crucial
This Micron brand has announced its BX300 solid state drive. It uses 3D NAND, comes with a 6Gbit/s SATA interface and a Silicon Motion SM2258 controller.
It is available in 120GB ($59.99), 240GB ($89.99) and 480GB (£149.99) and comes in a 2.5-inch form factor. UK prices are 120GB (£55.99), 240GB (£83.99) and 480GB (£140.99). It's pitched as a replacement for the hard drive in a PC.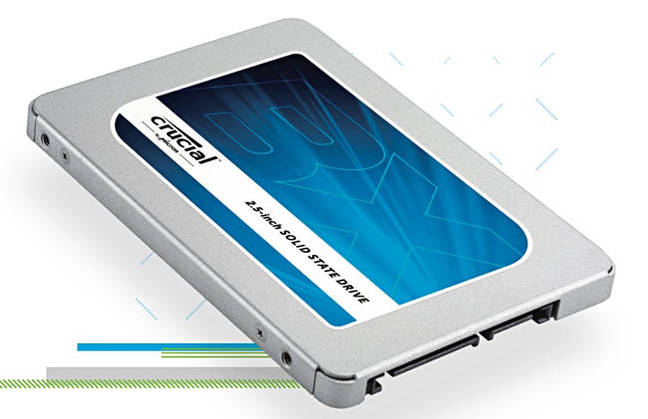 Crucial BX300
Crucial has a system scanner that will scan for compatibility and an SSD install mobile-friendly web-app. There's a datasheet here (PDF).
Object Matrix and SpectraLogic
A product bundle has been created from object storage supplier Object Matrix's Digital Content Governance Platform, MatrixStore with the Spectra BlackPearl Converged Storage System. BlackPearl is a disk-based, front-end gateway to archival storage, such as tape.
It acts as an object storage gateway to storage, enabling the use of RESTful interfaces to manage large amounts of data on multiple storage domains including online and nearline disk, LTFS tape, as well as public cloud. The Object
MatrixStore nearline storage software sits in front of this and squirts data off to BlackPearl for archiving. when this archive action occurs a searchable stub is left behind in MatrixStore.
Nick Pearce-Tomenius, sales and marketing director at Object Matrix, said: "This joint offering provides our customers with a tightly integrated, secure, tiered storage system, ensuring their assets are where they need them, when they need them."
Quantum
Quantum's Xcellis workflow rack storage has been twined with aiWARE from Veritone and gets an AI capability into the StorNext environment.
The firm says aiWARE for Xcellis brings Veritone's multi-engine AI capabilities into a Quantum StorNext-managed environment. It enables users to leverage the power of Veritone's cognitive services and applications ― beginning with optical character recognition (OCR), object detection and speech-to-text transcription as the first network-isolated engines ― to extract new value from their on-premise video and audio content.
The product twosome can:
Create more customized video-on-demand offerings through robust metadata tagging of existing content,
Provide better ROI data to sponsors by identifying where and how often logos, as well as spoken and text brand integrations, appear in broadcast media and redistributed clips,
Accelerate post-production work through enhanced context-based search and discovery.
It claims the product pairing is good for companies with significant investments in on-premise storage and/or latency, cost or security concerns about cloud storage.
Customers can use Veritone's array of cognitive engines in the cloud, either exclusively or in concert with on-premise engines, when desired or appropriate.
The product couple are available now in three forms:
"embedded" for containerized deployment on an existing Xcellis workflow storage system,
"standard" delivered on an Xcellis Application Director for more processing performance, and
"high performance" based on an enhanced Xcellis Application Director with additional processing cores and expanded memory.
SpectraLogic
Another BlackPearl integration: NL Technology has extended its NLT Archive for Avid Interplay Production Asset Manager to allow digital assets to be archived using the Spectra BlackPearl Converged Storage System. It used the .NET/C# software development kit to build a certified Spectra S3 client for its NLT Archive, providing long term storage integrated with Avid's MediaCentral | UX.
The two say the integrated pairing provide Avid Interplay Production users in the broadcast news, film production and reality markets a seamless archive workflow. Sequences and master clips are moved to the BlackPearl system at any time - prior, during or after production - a viewable proxy and associated metadata remain in the Interplay database for later reference. (See the similarity to the ObjectMatrix MatrixStore integration above?)
Using NLT Archive with BlackPearl is said to be completely intuitive to Avid users, there are no new tools to learn. Assets are easily selected for archive or retrieval using Avid's search and browse tools, which are fully integrated within the MediaCentral Platform. A simple right-click performs the operation.
Content can be moved from online to a near-line position and later restored to Avid's SAN for online reuse. Since clip and sequence metadata are always online within Interplay Production, users can quickly find and decide which assets to retrieve from the archive.
Storage Made Easy
Storage Made Easy (SME) has an Enterprise File Fabric product which has been integrated with HashiCorp's external Vault Key Server. Keys for data encryption/decryption are stored in a Vault instance and called on demand by the SME File Fabric as needed.
Vault is an enterprise grade centralised secret management platform providing audit logs and key rolling.
We're told the primary purpose of the File Fabric encryption feature is to protect a customer's files on local and remote storage resources, such as Object Storage, Dropbox or Google Drive, and to achieve this in an easy and seamless manner.
Service Providers, that offer File Fabric as a service to organizations, can now allow their customers to manage and securely store the encryption keys themselves to meet industry and region specific legal regulations such as GDPR or HIPAA.
For companies that deploy the File Fabric on-premises, this new Vault integration provides data protection with full secure audit logs.
The integration helps with the forthcoming General Data Protection Regulations (GDPR).
SME and Leonovus
SME also has a strategic partnership with Canada-based Leonovus software-defined object storage, delivering an Enterprise File Fabric to Leonovus 3.0 users to manage and operate governance and audit controls. The Storage Made Easy File Fabric will be sold with Leonovus 3.0 enterprise software-defined storage.
The two say that their combined offering provides tenant and user provisioning, policy-based controls, and compliant auditing that traverses all enterprises storage resources. It secures on premises and cloud storage infrastructure up through the application stack  which results in a fully compliant storage system.
The File Fabric encourages user adoption of converged storage with productivity tools including workgroup collaboration and file "sync & sharing" through a suite of desktop, mobile and web applications.
Customers
Apeiron has been awarded the federal contract to provide data storage and compute infrastructure to the FDA's electronic discovery environments. It says it proposed the all-NVMe ADS1000 with switching and compute integrated in a single environment.
Each system is capable of 18M IOPS per 2U enclosure, and 72GB/sec of throughput (limitation of the NAND drives). There are 32-40GbitE ports integrated in each enclosure so no need to procure, deploy and manage external storage switching. This integration of NVMe and switching saves the FDA significant dollars on both the initial procurement and future maintenance/management.
Open-Xchange, a developer of open source messaging and office productivity software for hosting, service provider and telco companies, says it has deployed Hazelcast's open source in-memory data grid (IMDG) to implement distributed session storage capabilities for OX customers. It ensures all user sessions are backed up in a distributed fashion meaning they are no longer bound to a specific server node.
User session data remains available after a server has been shut down and can be accessed from the remaining nodes in the cluster. This load-balancing technique routes users to another server, neatly avoiding "session expired" errors and maintaining a smoother user experience. ®