This article is more than 1 year old
Stealth, lightweight Android breaks cover
Google's new landfill strategy
It's 16 months since Google declared Android One not dead, so it's time to declare it not dead all over again.
First announced in 2014 by current Google CEO Pichai, Android One was intended to be Google's way of bringing order to the anarchic phone market on the Indian subcontinent.
It looked promising; the continent was just turning from durable feature phones to low-cost Android, but fragmentation was the norm. So Google developed a reference platform for devices expected to retail at around $100 and signed up the three big local Indian vendors – Karbon, Micromax and Spice – and notably didn't deny suggestions that the cheapies would eventually come to the West. That was premature, as it turns out.
But Google ruled Android One with an iron fist, precluded OEM or operator customisation, and deviating from the reference platform was difficult. This made differentiation difficult. There were other issues, we noted last year: lack of language support, dust proofing, and FM or AM radio. And $100 was twice what customers were used to paying.
Less than a year later, the programme was rebooted.
Google might have struck gold with Mi as previously 18 OEMs couldnt ship more than a few million Android One phoneshttps://t.co/8il8MsXZDu pic.twitter.com/QpWzDfXeTI

— Neil Shah (@neiltwitz) September 5, 2017
Strangely then today Android One came back to life. But it isn't clear that Android means "Google-approved landfill" any more. The Xiomi Mi AI model unveiled under the Android One brand today is priced at Rs14,999, or around $230. Featuring a dual-sensor main camera, 64GB of storage and 4GB of RAM, it could pass for a subcontinental flagship and runs the same Snapdragon 625 BlackBerry Mobile uses in its £499 ($599) BlackBerry KEYOne. Google has simply reused the brand.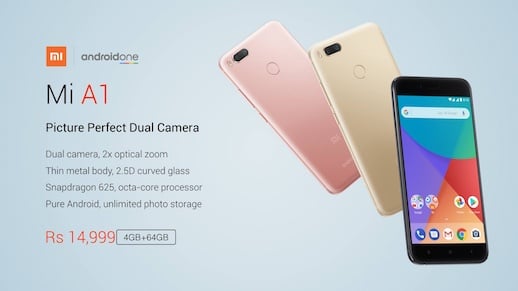 The Mi A1 is more interesting for using Google's official "Android lite", Android Go, which was launched in May. This is a lightweight version of Android Oreo 8.0 intended to run phones with 512MB or 1GB of RAM – far less than the A1, you'll note. Google has also developed a lightweight YouTube Go app, to be launched in the Indian market first.
With interest from markets like Mexico and Poland, it wouldn't be a surprise to see it pop up in pay-as-you-go landfill here. ®