This article is more than 1 year old
A furious think-tank boss, Google, and an academic 'fired' for criticizing ads giant
Strange tale takes a new turn as CEO fights back
Analysis The CEO accused of caving in to pressure from Google when she fired an academic that was critical of the online giant has fired back.
In a blog post titled "When The Truth is Messy and Hard," Anne-Marie Slaughter – the CEO of think-tank New America – claims she did not fire academic Barry Lynn for criticizing Google. Rather, she said she let him go because he allegedly "repeatedly violated the standards of honesty and good faith with his colleagues, including misleading me directly."
We put these claims directly to Lynn. He has not responded.
Slaughter was sucked into the controversy after Lynn went to The New York Times following a decision by Slaughter to "spin out" his Open Markets program, and he claimed it was as a result of pressure from Google-Alphabet executive chairman Eric Schmidt.
Lynn told the paper that very soon after he published a statement in response to the European Union fining Google for anticompetitive behavior – in which he argues that the US federal regulator should also take a harder line on the search engine giant – Slaughter received an angry phone call from Schmidt.
A few days later Lynn was called to Slaughter's office, where he was told: "The time has come for Open Markets and New America to part ways." The reason given was that he was "imperiling the institution as a whole."
The story led to an explosion in articles about Google's overweening influence in Washington and similar tales about how the online giant has used its vast resources to exert soft money power.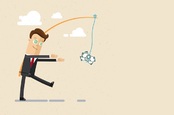 Criticize Google, get fired: Spotlight spins on ad giant's use of soft money
READ MORE
In her post, Slaughter is surprisingly open and personal about the subsequent storm and aims to give her version of events.
"I have racked my brain for the last two months, and certainly over the last two days, as to what I, in consultation with my leadership team, could or should have done differently about the departure of Barry Lynn and Open Markets from New America," she wrote. "At its core, this was a personnel issue that I knew others would see as a program issue."
Falsiness
Slaughter also admits that tweeting that The New York Times article was "false" was an error of judgment that she regrets. "The blanket claim that the entire story was 'false' contributes to the kind of degradation of our national discourse that I often publicly lament," she lamented.
The truth, according to Slaughter, is that although Google was at the heart of the issue, it was not a quid pro quo.
She acknowledges that think tanks are not analogous to universities in that there is less institutional independence to funders. She makes it plain that she was very annoyed with Lynn's published statement – not because of the content, but because she wanted to give her old friend Eric Schmidt a heads-up before it was published.
"I wanted to see a press release before it went out ... It was posted before I had a chance to give it a final review. Indeed, I was talking to Barry about it on the phone when it went up. I have never, nor would I ever, censor anything, but I might ask questions about accuracy or tone," she explains.
She paints the "heads up" as "a defensible minimum courtesy that an institution can offer its funders: we're about to do something you are really not going to like, but at least we are telling you about it."
Tellingly, she draws repeated references to journalism before explaining why think tanks are different: "I recognize that the best journalists operate on a different principle – notice seems to imply interference. But we are not a newspaper, yet we try to uphold the best journalistic standards in our writing."
Ignoring the fact that journalism actually works very differently from her summary – you typically contact someone and ask them for a response or reaction to what you intend to publish – Slaughter's post explains, seemingly honestly, how she views things and why she feels the claims that Lynn was fired because he criticized Google are inaccurate.