Dude who claimed he invented email is told by judge: It's safe to say you didn't invent email
Libel lawsuit bounces
---
A US district judge has dismissed the libel lawsuit entrepreneur Shiva Ayyadurai filed against bloggers who rubbished his claims he invented email.
Judge Dennis Saylor ruled [PDF] on Wednesday that Techdirt posts that trashed Ayyadurai's claims of inventing an electronic message system we know today as email were covered by the First Amendment as protected speech and did not run afoul of libel laws.
The decision was hailed as a win for journalists and free speech by Techdirt's supporters, who had opposed the defamation suit and other legal challenges Ayyadurai has filed against his critics.
BREAKING: District judge dismisses defamation case against @techdirt. This is a huge victory for free speech online & journalism.

— EFF (@EFF) September 6, 2017
The lawsuit, brought against Techdirt's parent company Floor64 as well as editor Mike Masnick and journalist Leigh Beadon, alleged libel, intentional interference with prospective economic advantage, and intentional infliction of emotional distress.
In dismissing the suit, Judge Saylor did not specifically address the issue of who or who didn't invent email, but rather found that there is enough doubt about the origin of the system that Techdirt's criticism of Ayyadurai could not be demonstrated as false and libelous.
"The articles at issue do not dispute that plaintiff created an email system. Rather, they dispute whether plaintiff should properly be characterized as the inventor of email based on that creation," Judge Saylor wrote.
"Accordingly, it is not clear that the allegations in the complaint are sufficient to show that the statements at issue are false. In any event, even assuming that the allegations of falsity are sufficient, the challenged statements are nonetheless protected under the First Amendment."
Additionally, Judge Saylor reasoned, the ambiguity of what exactly email is makes it all the more impossible for Ayyadurai to prove his case, and pushes the articles further into the realm of protected speech.
"Whether plaintiff's claim to have invented email is 'fake' depends upon the operative definition of 'email'," the ruling reads. "Because that definition does not have a single, objectively correct answer, the claim is incapable of being proved true or false."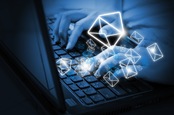 'Inventor of email' receives damages from Gawker's collapsed empire
READ MORE
In other words, the Massachusetts court ruled that there is enough doubt about Ayyadurai's claim of inventing email that doubting it in print is not considered outright libelous.
Essentially, Ayyadurai bragged that in or around 1978, when he was 14, he created a program called EMAIL for sending messages to people. And sure, he probably did. But Techdirt argued that software was not the email we use today.
Techdirt said the ruling was a victory for free speech. "We are certainly pleased with the decision and his analysis, which notes over and over again that everything that we stated was clearly protected speech, and the defamation (and other claims) had no merit," the site said in a statement. "This is, clearly, a big win for the First Amendment and free speech – especially the right to call out and criticize a public figure such as Shiva Ayyadurai, who is now running for the US Senate in Massachusetts."
Meanwhile, Ayyadurai's team says they will be appealing the decision.
"Dr Ayyadurai has a long history of standing up for free speech. As a strong proponent of free speech, he also believes in truthful speech. False speech is not protected by the Constitution, and TechDirt's false and malicious speech about Dr Ayyadurai should receive no legal protection," Ayyadurai attorney Charles Harder said in a statement to The Register.
"False speech does harm to readers, who are misled by it; it does harm to journalism, which is weakened by it; and it does harm to the subjects of the speech, whose reputations and careers are damaged by it," Harder stated.
"The public, and the courts, should not tolerate false speech, particularly when it causes people harm, and irresponsible media companies should stop using the Constitution as an excuse for their reckless dissemination of false information." ®
Ray Tomlinson, who died in March 2016, is generally credited with pioneering computer-to-computer electronic mail in 1971 for BBN. This software, Tomlinson pointed out, was built upon SENDMSG, which provided user-to-user messaging on a single computer, which had been in common use since the early 1960s.
Similar topics
Broader topics