This article is more than 1 year old
.UK domains left at risk of theft in Enom blunder
Registrar finally plugs web address hijacking vulnerability
Updated Thousands of UK companies were at risk of having their .uk domain names stolen for more than four months by a critical security failure at domain registrar Enom.
The security lapse allowed .uk domains to be transferred between Enom accounts with no verification, authorisation or logs.
Any domains hijacked would have been "extremely hard or impossible" to recover, according to The M Group, the security firm that discovered the flaw.
The M Group said it reported the issue to Enom on 2 May, but the problem was only addressed on 1 September. The practical upshot of the problem was that anyone with an Enom account would have been able to transfer another Enom customer's domain to their control without consent or authorisation.
Enom sent a customer advisory saying it had fixed the issue by disabling all inter-account .uk domain transfers, mitigating the security oversight.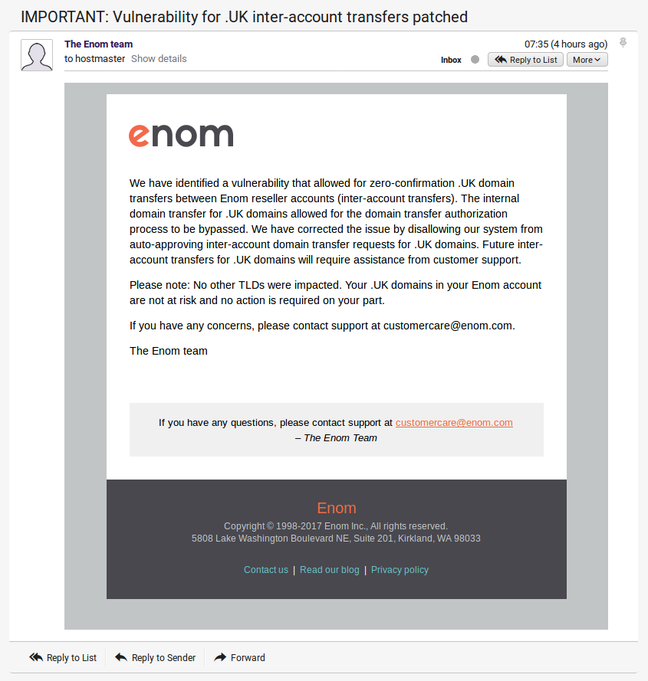 Enom's breach notification email (source: M Group)
The issue was announced on the full disclosure mailing list. The M Group's advisory is here.
Enom is owned by Canada-based domain name services company Tucows. ®
Updated on 13 September to add: Tucows, which owns Enom, has acknowledged the problem and offered a fulsome apology.
"It's obvious that we have dropped the ball on this one," a spokeswoman told El Reg. "It took way too long for us to recognize that this is a serious vulnerability, and then to eventually fix it. Our resellers expect us to provide a safe and secure platform to manage their .UK domains, and by failing to deliver on that promise, we have caused a horrific customer experience - which we accept full responsibility for."