This article is more than 1 year old
Oracle 'systematically denies' its sales reps their commissions, forces them to work to pay off 'debts', court told
Wage rows in limbo as IT giant drags heels over arbitration
A former Oracle sales rep seeking to resolve a pay dispute has asked a California court to force the company to participate in arbitration over all wage claims against the database giant.
Marcella Johnson, in her US district court filing [PDF] on Wednesday, claims Oracle "systematically denied her and other sales representatives their lawful commission wages and further compelled her to work against her will for months in order to pay off a supposed 'debt' to the company."
Johnson sued Oracle in February, charging that the company habitually underpays sales employees by coercing them to accept changed compensation contracts that reduce both owed and paid wages.
Her complaint contends that these revised compensation contracts "claw back" previously paid commissions by applying the reduced rate retroactively – the contractual terms force salespeople to refund Oracle the overpayments arising from past wages at a higher rate or to work for free to make up the contractually conjured debt.
"If employees cannot afford to fork over substantial sums, employees are left with a Hobson's choice: pay off the supposed debt by continuing to work for Oracle without being paid commissions or be threatened with a collections lawsuit if they leave before completely paying off their negative commission balance," the complaint says.
The case moved to arbitration because Oracle's contract requires resolution by arbitration rather than court proceedings. But Oracle, according to the demand petition filed Wednesday, has refused to engage in arbitration and has obstructed the process.
"The defendant is trying to have this case held in limbo indefinitely rather than to allow an arbitrator to decide whether this can proceed as a class arbitration," said Michael Palmer, a partner at Sanford Heisler Sharp and one of the attorneys representing the plaintiff, in a phone interview with The Register.
A thousand
Johnson's legal team is seeking to have Oracle sales people who may have experienced a similar pay reduction recognized as a class. Palmer suggests there may be more than 1,000 such individuals in California alone.
Johnson's dispute is over roughly $20,000 in pay; her complaint filed in February seeks $150m in damages.
The case has some similarity to a claim filed by Felicia Wilson, an Oracle sales rep based in New York. Wilson entered into arbitration with Oracle to recover more than $250,000 in pay denied by the company through revised compensation agreement. When the arbitrator sided with her, Oracle asked a court to undo the award, but the judge in the case recently let the award stand.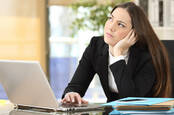 Oracle has to pay top sales rep stiffed out of $250,000, US court rules
READ MORE
In 2015, Sanford Heisler Sharp filed a complaint over Oracle's commission wage practices on behalf of Maryam Abrishamcar, who worked as sales rep for the company from November 2014 through May 2015. That complaint, still being litigated, alleges Oracle's sales commission contracts are designed to allow the company to illegally deduct from earned commission wages.
The Register asked Oracle to comment, but a company spokesperson declined.
According to Johnson's demand petition, Oracle wants the dispute to be covered by a second arbitration agreement that waives the right to a class action. Having to deal with aggrieved employees as a single group would put Oracle at greater risk of a costly adverse legal judgement.
The petition argues that it's up to the arbitrator to decide whether class-based procedures are available.
In a phone interview with The Register, Xinying Valerian, founder of Valerian Law in Oakland, California, and another member of Johnson's legal team, explained that the current precedent set by the Ninth Circuit's 2016 ruling in Morris v Ernst & Young is that mandatory class action waivers violate federal labor laws.
That ruling, she said, is now being reviewed by the US Supreme Court, based on a challenge by companies that wish to impose class action waivers on their work forces through the mechanism of arbitration agreements.
Oracle, she said, is hoping to delay arbitration until the Supreme Court rules, in order to avoid facing a class action.
"At the end of the day, they are doing what they can to avoid a reckoning on a class action basis," said Valerian. ®