SpaceX sneaks in X-37B space plane launch ahead of Hurricane Irma
Air Force picks Florida as new center for mini-shuttle
---
Video SpaceX today successfully launched the US Air Force's secretive mini-space-shuttle X-37B from the biz's launch pad at the Kennedy Space Center on Cape Canaveral, Florida.
The blastoff was scheduled for Wednesday and delayed, until now, by bad weather as Hurricane Irma menaced the Sunshine State. It was SpaceX's first shot at launching the X-37B. Usually the United Launch Alliance handles the Air Force's launch needs using an Atlas V rocket, but this time Elon Musk's company got the contract, almost certainly on the grounds that the Musketeers can do launches a lot more cheaply than the ULA.
The Falcon 9 lifted off cleanly at 1000 local time (1300 GMT), and the first stage separated a couple of minutes later. Given the secrecy surrounding the X-37B, the webcast cut away from the second stage deployment, allowing the space plane to discretely decouple and head off on its mission.
Meanwhile, the first stage was headed back to Earth. The Falcon wasn't pushing the X-37B into a high orbit and so was able to return to land for touchdown, instead of landing on SpaceX's autonomous barge Of Course I Still Love You. Touchdown was near perfect, with the rocket landing directly on the launch pad's SpaceX logo.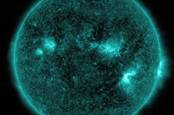 As Hurricane Irma grows, Earth now lashed by SOLAR storms
READ MORE
The Air Force is keeping quiet about the X-37B's mission, other than to say it's carrying small satellites – potentially surveillance birds – and scientific test equipment. Last time it flew, the space plane was in orbit for nearly two years, breaking the record for a reusable spacecraft in space.
After that trip the X-37B landed in Florida, and the Air Force has said that it wants to base the aircraft in the Sunshine State in the future. That bodes well for future contracts with Musk's orbital delivery team.
As for the first stage of the Falcon, that's off to the factory for a refurbishment before it's put back to use, in line with SpaceX's plans to save costs by reusing rockets. Its next launch, an EchoStar delivery scheduled for October, will use one of the refurbished Falcons – the rocket that flew in February to resupply the International Space Station.
Today's liftoff is going to be the last for a while from the Kennedy Space Center. With Hurricane Irma looking increasingly likely to hit Florida, the site is being locked down in preparation. ®