Storage sicked up on Dell Technologies' second quarter results
Servers, switches, PCs all did well, but traditional arrays left a nasty balance sheet stain
---
Weakness in traditional disk array sales held Dell Technologies back as it posted otherwise solid results for the second quarter of its FY 2018, the numbers for which were released a year on from the formal conclusion of its EMC acquisition.
Revenues were US$19.3bn, compared to $13bn a year ago; a 48.5 per cent rise, but of course EMC's results weren't included then. The GAAP net loss was $978mn; up from $262mn a year ago. At quarter end Dell Technologies had a cash and investments balance of $15.3 billion and had paid down $1.0 billion of core debt in the quarter and has repaid $9.5bn of core debt since acquiring EMC, leaving it with $40.5bn or of core debt.
Dell Technologies CFO Tom Sweet said; "Today we celebrate one year since the historic combination between Dell and EMC. ... In the second quarter, we generated strong cash flow and made progress on our de-levering goal. We were pleased with the growth velocity of our client, server, hyperconverged and all-flash array offerings."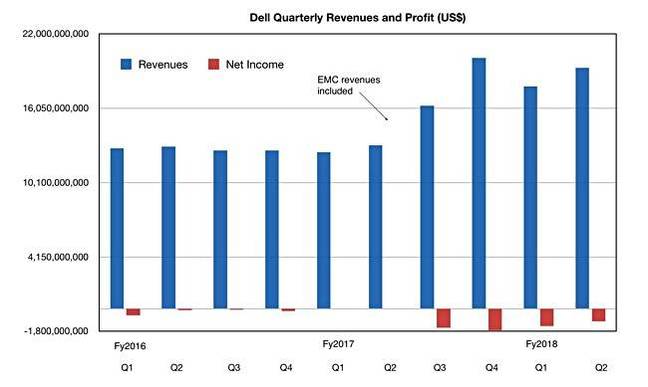 The segment results;
Client Solutions Group (CSG) - revenue of $9.9bn, up seven per cent year-on-year and the highest for two years;
Infrastructure Solutions Group (ISG) - revenue of $7.4bn, up seven per cent quarter-on-quarter;

Server and networking revenue $3.7 billion, 16 per cent up year-on-year and quarter-on-quarter;
Storage revenue - $3.7bn, up 0.4 per cent quarter-on-quarter and down year-on-year, maybe 15 per cent when you consider combined storage revenues from the overlapping Dell and EMC portfolios.

VMware - revenues of $1.9bn.
CSG did well and the highlights included;
Increased PC shipments by 3.7 per cent, with 18 consecutive quarters of year-over-year PC unit share growth and the highest market share since 2006;
Strong notebook momentum and double-digit revenue growth across all high-end commercial and consumer product lines;
Ranked top workstation vendor worldwide;
No. 1 displays provider worldwide for the 16th consecutive quarter and double-digit revenue growth.
For ISG servers and networking did okay but storage let the side down. Although Dell claims industry leadership in all-flash arrays and hyperconverged infrastructure products their revenues weren't strong enough to offset weakness in legacy hybrid arrays.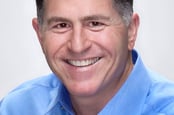 Dell/EMC year one has exceeded Michael Dell's expectations
READ MORE
Dell EMC head David Goulden said the company will therefore add "several hundred storage specialists across our Commercial go-to-market segments, our global storage specialty team and our channel team to increase our storage go-to-market capacity. We expect the impact of these changes to build over the next few quarters."
The company's execs are also happy with its Virtustream public cloud and why wouldn't they be as revenue has grown "more than 50 per cent each quarter since the merger."
CFO Sweet declared himself "pleased with momentum we've seen in cross-selling across the portfolio between the VMware and Dell sales forces as we leverage the family of businesses to expand our customer base."
William Blair analyst Jadon Ader said; "Dell delivered weak results in its storage unit ... driven by softness in traditional hybrid storage arrays. ... we suspect the culprits here are competition from more modern solutions (both from within its own portfolio and from competitors), substantial product overlap within Dell-EMC, and sales execution issues arising from the merger integration."
"In contrast to the legacy-end of the storage product spectrum, Dell-EMC's next-generation solutions (e.g., all-flash arrays, hyperconverged systems) are seeing strong demand. Overall, we estimate that the apples-to-apples year-over-year decline in Dell-EMC's total storage business was in the midteens (accounting for EMC results in the year-ago period)."
Overall Ader thinks; "It is clear to us that product and execution challenges in Dell-EMC's storage business have been benefiting competitors like NetApp and Pure Storage and will continue to do so in the near term. Still, we remain cognizant of the potential for Dell-EMC to flex its bundling and pricing muscle moving forward and retake lost market share, especially as the acquisition dust settles.
"Specifically, we will keep an eye out for new, needle-moving storage products (especially in the all-flash-array space) and improved sales and channel execution (particularly in the commercial segment)." ®