This article is more than 1 year old
Looking forward to Solaris 11.next this year? Whomp-whomp. Check again in 2018
Operating system release pushed back to next year
Oracle's latest roadmap for its SPARC and Solaris platforms shows that at least one major milestone has been delayed.
The database tax giant just published online a new version [PDF, Reg mirror] of its product roadmap that shows Solaris 11.next pushed back from its late 2017 release date – announced in its January roadmap [PDF] – to now 2018.
Other planned releases, including SPARC next, were unchanged.
Oracle revealed the Solaris 11.next plan back in January when it quietly announced it would be getting rid of the planned Solaris 12 release in favor of a continuous update system on the Solaris 11 line. Now it looks like even that move will be pushed out until sometime next year.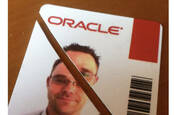 Oracle staff report big layoffs across Solaris, SPARC teams
READ MORE
Oracle did not respond to a request for comment on the matter. We're not sure if that's because they have nothing to say or if, as one tipster told us, the California goliath's email and messaging platforms went down earlier this afternoon.
The revised schedule comes as Oracle continues with a series of layoffs that seem to be targeting those in the Solaris and SPARC ranks. Last week, word broke of a fresh round of layoffs, and a few days later the cuts were confirmed.
Since then, El Reg has heard reports from other former staffers that the layoffs had been underway well before last week, and Solaris fans have long feared Oracle's interest in the platform was waning.
We've got an Oracle story coming up. As usual, there's no comment. Probably because Oracle's internal email and messaging is down, globally.

— The Register (@TheRegister) September 8, 2017
If the roadmap is any indication, however, Big Red still plans to keep both SPARC and Solaris going into the immediate future, and Oracle has indicated it will be providing further details on its plans for Solaris early next month, when the annual OpenWorld conference kicks off in San Francisco. ®