This article is more than 1 year old
Tintri stock plunges as first results since IPO show mounting losses
Every $1 of sales costs array supplier $1.50
+Comment Hybrid and all-flash array supplier Tintri is haemorrhaging cash – the latest quarterly results show every $1 of sales costs it $1.50. And its been getting worse. In the previous quarter $1 of sales cost it $1.01.
Revenues for its second fiscal 2018 quarter, ended July 31, were $34.9m, up 27 per cent on a year ago and 14.9 per cent from the first quarter. The GAAP net loss was a huge $51.7m, which compares to -$25.7m a year ago and -$30.7m a quarter ago. That's a $21m increase in losses in just one quarter. Has cost control gone out of the window?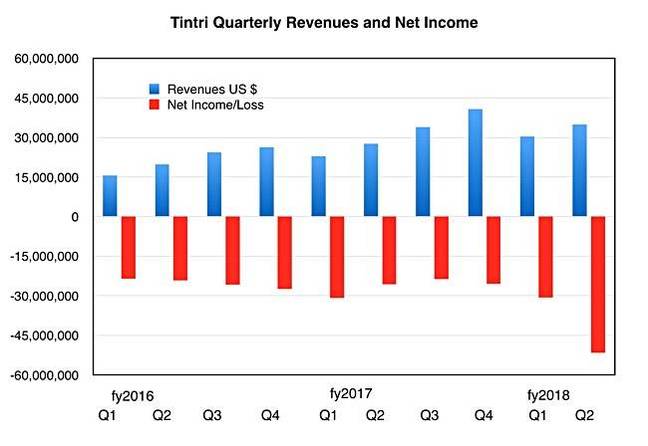 The stock price fell to $5.80 in after-hours trading, down 13.17 per cent.
The company grew its customer count past 1,400, gaining around 80 new logos including Fox, Bechtel, Volkswagen and the Salvation Army.
Chairman and CEO Ken Klein said: "While the company's revenue came in at the low end of our expectations, we delivered stronger than projected profitability and cash flow improvements.
"We remain confident in our competitive position and in the strength of our value proposition. In the quarter we received the largest order in the company's history and added new enterprise logos. Additionally, we experienced continued momentum in our land-and-expand strategy with more purchases from current customers."
But he sounded an optimistic note about the rest of fiscal 2018, and needs to. "We enter the second half of our fiscal year having just announced a new all-flash platform and additional software offerings – these further enhance our differentiation and better enable our customers to transition to the enterprise cloud."
Comment
How about enabling a transition to profitability, Ken? Revenues in the first half of fiscal 2018 amounted to $65.2m and the net loss exceeded them at $82.3m. That can't go on; the company will run out of cash.
In the earnings call Klein said this was Tintri's first quarter as a public company. Then he dropped a bomb – the poor results were due to "distraction, disruption and sales attrition which occurred during and after our IPO". Chief sales officer Mike Maguire has departed and the sales unit has been flattened into two regions, North America and international. Klein is now running the department with no plans to recruit a new head.
He said Tintri was increasing its focus on sales retention. Clearly their has been under-performance and it appears Tintri doesn't have enough customers.
The outlook for next quarter is for revenues between $36m and $37m, a mere 7.6 per cent increase on a year ago. CFO Ian Halifax said: "While we are impacted by short-term issues we look forward to increasing our momentum over the second half of the year." He insists the problem is transitory rather than structural. There was no forecast for Q4.
The company isn't looking to increase its sales headcount though – it probably can't afford that – intending to grow revenues instead by getting more revenues from existing customers as the customer land and expand multiplier (lifetime sales versus initial order) grows.
Cash, cash equivalents and short-term investments were $80.6m at the end of the quarter. It lost $51.7m this quarter, on revenues of just $34.9m; we can see the company is burning cash. That surely has to stop.
If the land-and-expand strategy doesn't deliver sufficient revenue growth then we expect corporate cost-pruning is coming. Say it ain't so if you can, but we simply cannot see how Tintri can avoid grasping that stinging nettle. ®