This article is more than 1 year old
London Tube tracking trial may make commuting less miserable
Fascinating detail on how people move around the system
The people in charge of the London Underground transport have released a report [PDF] in their month-long tracking trial of Tube users – and the results are fascinating.
Transport for London (TfL) used Wi-Fi access points in 54 stations in central London in December last year to track nearly six million mobile phones, and gathered over 500 million pieces of data related to 42 million journeys on the mass transit network.
Fortunately, TfL did it right: they used ICO guidelines to protect users' privacy by grabbing and tracking MAC addresses and then depersonalized them using a salt which then discarded at the end of each day. That in effect makes it impossible to know what the original MAC address was.
The data was then stored on a restricted area of a secure server with limited access and whose users all had privacy and data protection training. The server was not linked to any customer data and there was a strict no-data-sharing policy. TfL also put up posters at every station being tracked and gave people a simple opt-out.
So, in terms of process, a firm 10 out of 10. But what about the data?
TfL already tracks its passengers using the electronic Oyster card, which a huge percentage of Londoners use out of convenience and cost on their daily commute. But that data only tells the transport folk where people go into stations, where they exit, and any transfers they make to other lines.
The Wi-Fi tracking provided a whole depth of new information, more notably the route that people take getting from A to B and how long it takes them. It was also able to access how busy specific trains and platforms became at any given time.
The end result is a wealth of real-world data that TfL can use, if it's smart enough, to make every commuter's life that little bit easier.
The two most interesting examples highlighted in the report concern transport both within a single station and travel between two specific stations.
The difference between Oyster data and real-world congestion was also demonstrated clearly in a graph of traffic at the main intersection of Oxford Circus.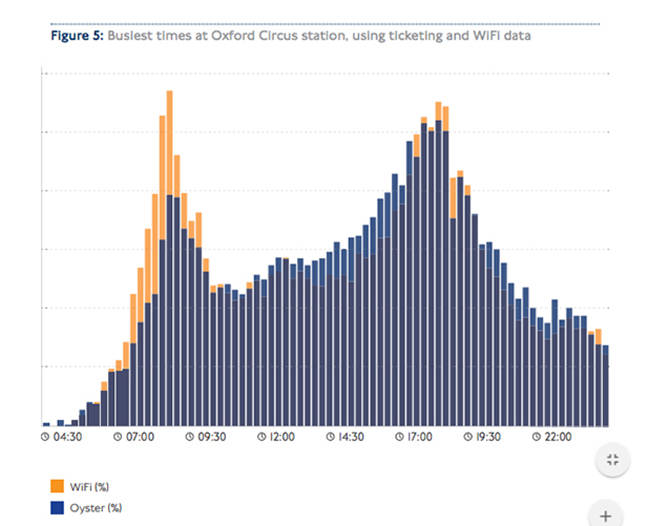 Extra passengers revealed by Wi-Fi data (the orange)
At peak rush hour, a huge additional number of people were in the station because they were passing through the station to get somewhere else. That can cause significant delays as people jostle past one another, and can then have significant knock-on impacts on the rest of the system.
For example, the route from the same platform at Euston station – which contains northbound trains on the Victoria and Northern lines – to the southbound Victoria line on a different platform was analyzed.
And while 68 per cent of customers went the fastest route – which took 1-3 minutes – the remainder went a longer route, which took 3-5 minutes. Why? Because of straight lines and signage. Many of the interconnection tunnels on the Tube are at right angles so people breeze past them.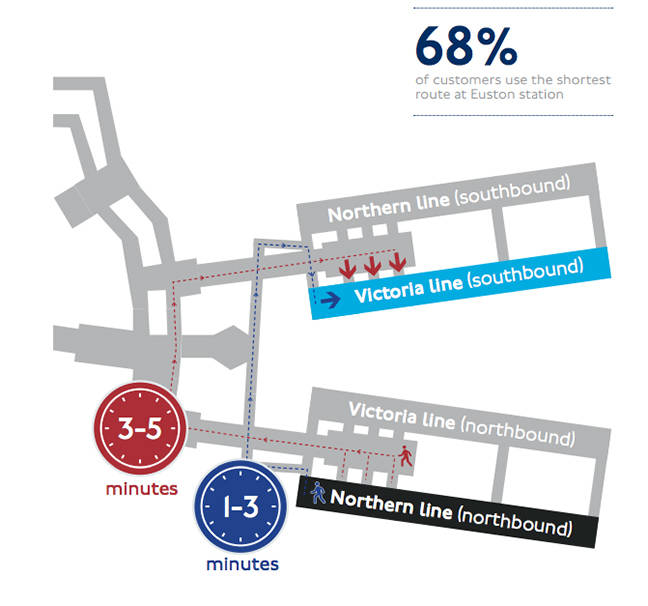 How people move within a station
It is very likely that with increased signage, TfL could reduce the journey times of millions of people by several minutes every day. And in a system as large and complex as the London Underground, that would be a huge improvement.
Another interesting example was the multitude of different paths that people took to get from two main hub stations: Waterloo and King's Cross. It broke out no fewer than 17 different routes and calculated the percentage of people taking that route.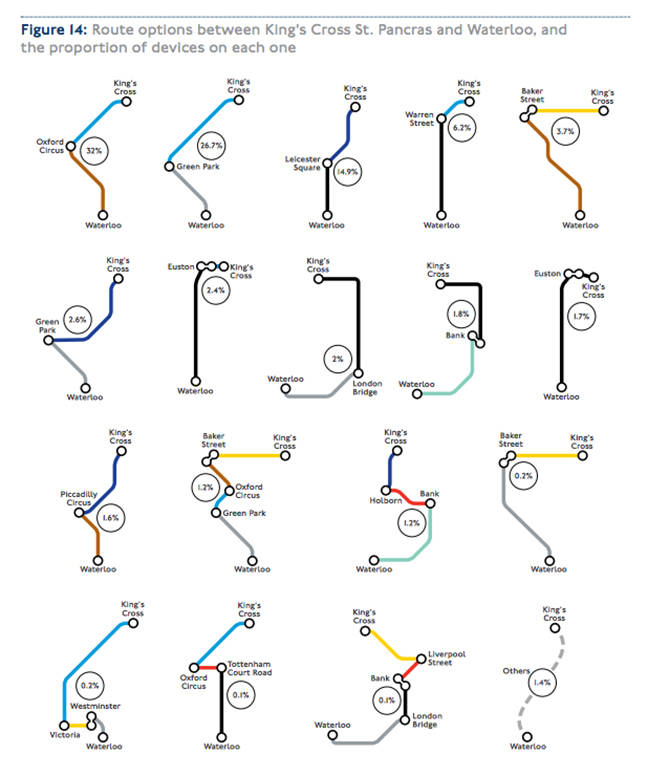 The different routes people take
As any Londoner will tell you, take the route often enough and you end up with a peculiar individualized way of getting there in the most convenient way possible, including standing at the right point on the platform, and taking specific routes through specific stations – the difference can often be significant in terms of the time it takes.
TfL found that on this particular route:
32 per cent went through Oxford Circus (causing congestion at a very busy station).
27 per cent used a completely different line and went through Green Park (to our mind the smartest route).
15 per cent went through Leicester Square.
And so on, all the way down to 0.1 per cent of people, who we can only assume were lost tourists and went from Waterloo to London Bridge to Bank to Liverpool Street to King's Cross.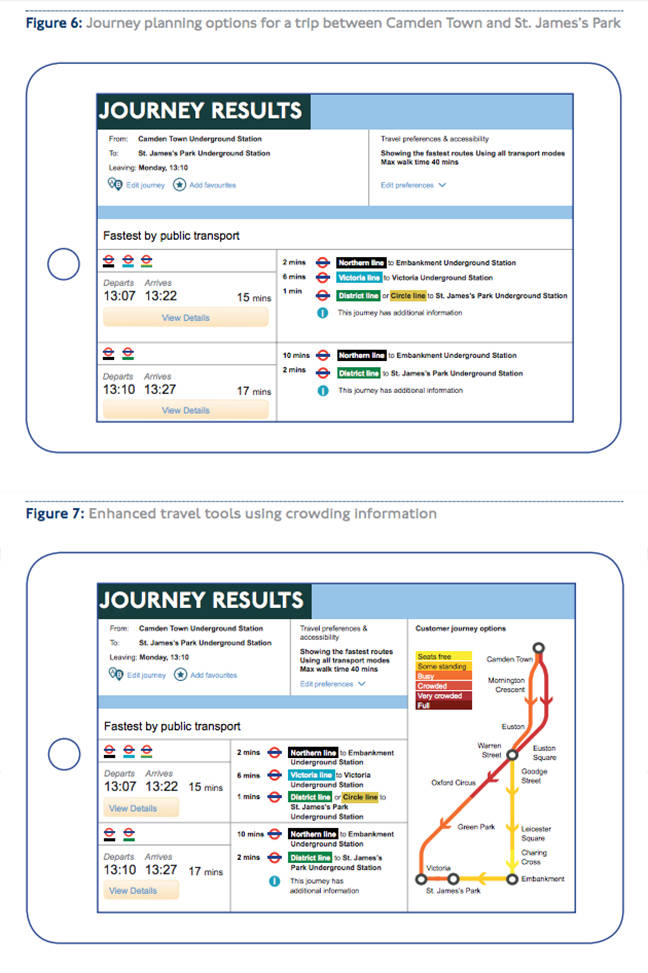 Improved travel apps should be on their way
In terms of practical impact, TfL is looking to update its travel assistance tools and apps both in terms of data and design.
Rather than the current text-heavy journey guide that relies on less-accurate data to give people the fastest route from one point in the system to another, updated services will include not only more graphics – making it easier for people to immediately understand the information – but should also let people decide a preferred route based on preferences.
You will still be able to choose the fastest route (and that fastest route may change based on the real-world data of people on trains and in stations), or the route with the least walking, or the route with the least crowding.
It may even be possible for TfL to update commuters in real time about a faster or less crowded route to their destination, and so reduce the pressure on the system overall. And that will be music to millions of Londoners' ears. ®