This article is more than 1 year old
Google will appeal €2.9bn EU fine
But has less than three weeks to comply with Brussels
Alphabet will appeal the €2.9bn fine imposed by the European Commission in June for abusing its market dominance in search.
It's no surprise, particularly after Intel's successful appeal last week bounced the Commissions case back down to the lower court.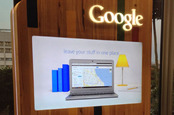 WHAT did GOOGLE do SO WRONG to get a slapping from the EU?
READ MORE
Google has already said it will comply with the changes to vertical search that Brussels requested.
If it hasn't made these changes by September 28, the EU can fine the company 5 per cent of its daily revenue each day.
Brussels opened a separate Android investigation in April 2016.
Google has a monopoly in 13 out of the 14 top commercial functions of the web, including data collection and analytics, and five of the six billion-user web platforms (search, video, mobile, maps and browser).
The vertical search probe began in November 2010 and the Competition Commissioner at the time, Spanish trade union economist Joaquín Almunia, had hoped to avoid a formal investigation and fine. But Google's "fix" – which turned search placements into a pay-to-play auction – appalled critics. The clock ran down and incoming Competition Commish Margrethe Vestager wasn't in a mood to play nice.
Google contends that its vertical search integration didn't just put competitors out of business - although that may have happened too - it made the world a more wonderful place.
Vestiger reckons her team analysed 5.2TB of data before coming to its conclusion. ®