This article is more than 1 year old
Geepers, Huawei: New AI-tastic G series servers to hold up 'intelligent cloud'
GPU-accelerated for AI and video analytics, Atlas cloud
Huawei has added two G-series boxen with GPU acceleration to its server portfolio, with a focus on AI-type work and video analytics, saying they are going to be used to build a cloud hardware platform.
This company's server portfolio includes RH series modular rack servers, X series high-density servers, E series blade servers and KunLun mission-critical servers, amongst others.
There are two FusionServer G series, the G5500 and G2500, and they are primarily intended to build Huawei's intelligent cloud hardware platform, Atlas.
Atlas is a platform to be used in the public cloud, AI, and HPC scenarios and will, Huawei claims, drive an over 50 per cent higher resource utilization efficiency, and boost performance by over 10x compared with the traditional x86 architecture. It has a composability aspect, provisioning logical servers in different resource configuration ratios, and deploying them in seconds.
The G5500* has a focus on data centre deployment. There can be 8 x Tesla P100 GPU accelerators fitted inside its 4U chassis, and it is compatible with the soon-to-be-released Tesla V100. Huawei says it can "effortlessly process several hundred billion data records within milliseconds." Since we don't know what 'process' means and don't know the record type, this is not that informative.
The G2500 has 24 x 3.5-inch drive bays in its 4U enclosure and is a smart video analytics server positioned for applications such as safe city and smart transportation. It supports 16 x Tesla P4 GPUs. in the 4U chassis. Huawei says it is suitable for inference, analysis, and data storage for high-definition video streaming of 256 channels.
Qiu Long, Huawei's President of its IT Server Product Line called the G Series a heterogeneous computing platform, and said; "Huawei is happy to join forces with NVIDIA** for comprehensive, deep collaboration in the AI computing front."
The idea of heterogeneous servers came from AMD around 2014 with its Berlin Opteron processors. These had a mix of x86 CPU and GPU cores with a shared memory, called a heterogeneous unified memory architecture with heterogeneous queueing to enable threads to run simultaneously and independently on the CPU and GPU cores.
Huawei is going to launch GPU-accelerated cloud services based on these servers equipped with NVIDIA Tesla P100 and P4 products.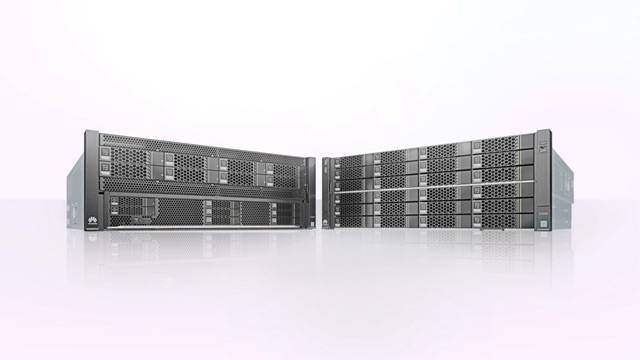 G2500 right and G5500 left
The G series machines have, Huaewei claims, an innovative HW architecture and heterogeneous resource pooling and orchestration capabilities. This means resources like GPUs, HDDs, and SSDs can be pooled together and provisioned on demand to suit the needs of specific service models, such as algorithm training, inference workloads and more.
An Atlas display at Huawei Connect 2017 in Shanghai also mentioned FPGAs.
Huawei has not released any speeds and feeds type information for its G5500 and G2500 servers. We don't have any details of CPUs, DRAM amounts, flash and disk storage capacities or the networking ports. It's website sucks up search requests for the boxes and spits back "Failed to search the related data." Grrr. ®
* Confusingly, Huawei also had a G5500 mobile phone, which was released in 2011.
** NVIDIA is also partnering Alibaba in China for its AI-influenced cloud.