This article is more than 1 year old
Giant frikkin' British laser turret to start zapping stuff next year
That's part one sorted. Now, who's supplying the sharks?
The Dragonfire laser cannon consortium has unveiled a fullsize mockup of its shipborne blaster at the Defence and Security Exhibition International arms fair in London.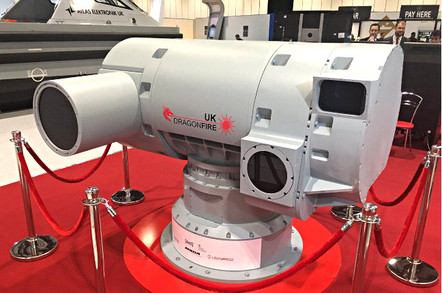 The £30m Dragonfire laser turret mockup at DSEI 2017
The £30m turret-mounted laser cannon is being developed for the Royal Navy by a consortium formed of various defence companies, the lead of which is EU missile firm MBDA.
Known formally as a Laser Directed Energy Weapon (LDEW), the Dragonfire system will be tested on UK ranges next year, according to the Defence Science and Technology Laboratory (DSTL) which is buying Dragonfire on behalf of the navy. Once those tests have ironed out any bugs, a public demo will take place in 2019.
Peter Cooper, DSTL's project technical authority for Dragonfire, said in a canned quote: "Dragonfire is the culmination of many years of work in the area of laser directed energy weapons. We are looking forward to the 2019 demonstration and, working with our industry colleagues, we aim provide the UK Armed Forces with innovative, effective and affordable solutions to the emerging threats they face."
Dragonfire builds on work done by MBDA's German arm into laser weaponry. Starting in 2008, the Germans built and tested a "high energy laser weapon demonstrator", according to MBDA's own self-puffery, including firing it at "mini UAVs" (drones, to you and I) at distances of up to 2.5km. The laser reportedly drew 10kW during its 2010 trials, with MBDA claiming 50kW would be possible with extra funding.
Some minor industrial controversy has surrounded the award of the contract to Dragonfire. Originally awarded in July 2016, a challenge by a losing bidder delayed it until September that year, with the Ministry of Defence re-announcing the winner for good measure in January this year. As we wrote back then:
"[Dragonfire] will have to meet five criteria to satisfy defence chiefs, including tracking targets in all weathers, maintaining sustained operation over a period of time, and various safety-related criteria, mostly aimed at ensuring the laser's operators or innocent bystanders don't get accidentally fried."
We intend attending DSEI tomorrow to ask about plans for procuring sharks to go with the frikkin' laser. ®