Unloved Microsoft Edge is much improved – but will anyone use it?
We saw what you did there, Windows 10 web browser bods
---
Why Edge still matters to Microsoft
Like IE before it, Edge is not only a web browser, but also a key component of Windows. If you add a WebView control to a UWP (Universal Windows Platform) application, it will use the EdgeHTML rendering engine.
Further, Microsoft is keen for developers to make web applications that behave like desktop or mobile applications, installed from the Windows Store. The process begin in Windows 8 with a technique called Hosted Web Apps. This has evolved into support for packaged Progressive Web Apps (PWA), web apps that behave more like native apps thanks to features like service workers, supported in EdgeHTML 16, which let you intercept network requests and handle background sync, local storage and push notifications. Google Chrome already supports PWAs, but Microsoft hopes that store delivery will make Windows 10 a strong PWA platform.
The latest Edge is much improved from the early releases. JavaScript-based extensions were added in EdgeHTML 14, delivered with the Windows 10 Anniversary Edition in August 2016. HTML5 standards support has increased from 377 in the first release, to 478 in EdgeHTML 16, out of a possible 555, or more if you enable experimental features, according to the html5test site.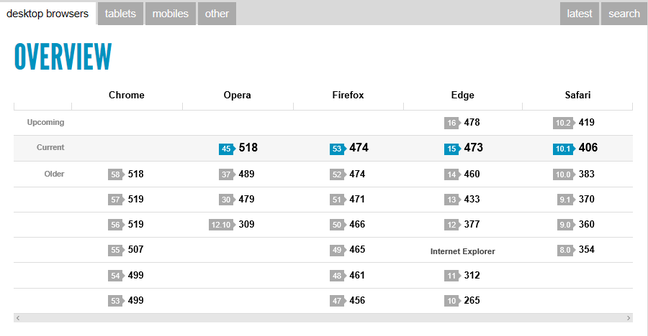 Standards support measured by HTML5Test show decent results for Edge
The Edge user experience is also better.
Here is a quick summary of what's new for users:


Application Guard (Enterprise only): untrusted sites open in a VM-like isolated instance;
Improved PDF Reader with form-filling, annotations, table of contents and rotation;
Improved EPUB support, with Edge the built-in EPUB reader for Windows 10. Annotating support, ink notes;
Favourite management: view favourites as a directory tree, edit Favourites URL, drag and drop favourites, pin "Favorites" to the taskbar;
F11 Full Screen mode. Actually a delightful feature, press F11 to view sites full-screen, F11 again to exit;
New look with the Windows 10 Fluent Design System;
No more jiggling urls: previously Edge would suppress the http prefix in the address bar, but re-insert it if you click there, messing up text selection. Now the prefix always displays;
WebVR support. In conjunction with new Mixed Reality headsets, it is possible to create virtual reality games and experiences in Edge;
Right-click Read Aloud;
Close tab even if a JavaScript dialog is open; and
Import cookies and settings from Chrome.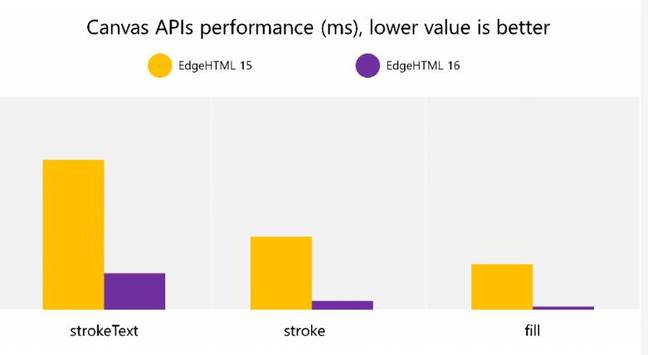 Performance improvements from independent rendering
From a developer perspective, the EdgeHTML 16 update is significant. Key features include:
CSS Grid Layout without prefixes
Improved F12 developer tools with new live JavaScript editing, CSS @rule support, CSS fonts pane, DOM breakpoints that trigger when a selected element changes, dedicated support for PWA debugging, and a revamped console panel.
Updated Payment Request API to match new W3C standards
139 new API calls supported overall.
Performance improvements, in particular independent rendering, a technique which offloads selective graphics processing to a separate thread.
What next for Edge?
Microsoft shows no indication of pulling back on Edge development, despite its poor market share. Is it worth it? From an overall web perspective, having a major independent implementation of web standards alongside the ubiquitous Chromium is a good thing, since it helps to keep standards honest. For Microsoft though, the strategic advantage of having its own integrated web browser, which helps to promote Cortana and various cloud APIs, will only pay off if it can win more users.
Edge today is for sure a viable browser, but Microsoft's problem is coming up with reasons for contented users of other browsers to switch. The company's retreat from mobile also works against it, since Chrome in particular can exploit mobile/desktop integration.
It is worth noting, though, how far Microsoft has come since the dark days of IE, creating a browser that has merit in standards support, performance, security and accessibility, as well as now integrating well with Windows 10. ®