This article is more than 1 year old
Check in my all-flash server-storage system? You must be mad! I'm taking it on-board
Carry on, X-IO: Suitcase-sized Axellio for the edge computing crowd
X-IO has devised a portable Axellio all-flash server/storage system that you can take on an airline, with the flash in the overhead locker and the main enclosure in checked luggage in the hold.
Er, why? So disaster relief teams have the compute and storage power they need to help plan a better disaster relief response. But wouldn't a bunch of notebook computers be sufficient? Apparently not.
A canned quote from Duncan Stewart, retired Air Force officer and X-IO director of strategic development, stated:
"It's a logistical nightmare to quickly move with large amounts of hardware and classified data.  The teams want to be able to throw their gear in a case and jump on a commercial flight."
His boss, CEO Bill Miller, added some marketing spiel colour to this point:
"Sometimes you must take the power of advanced computing to the epicenter of a crisis or event. By putting Axellio on a plane and then at the scene, deployable teams have the power they need to quickly analyse and address any event with a unique combination of performance, density and cost at a remarkably small and easily portable footprint. No other technology can simultaneously ingest and process large data flows at such high-performance speeds and such low cost."
And Reginald Hyde, former deputy undersecretary of Defense for Intelligence, added an intelligence angle. "Portable Axellio is a fast, powerful, and portable edge computing solution that provides military and intelligence units the capability necessary to maintain global vigilance and readiness in a dangerous world."
A brochure says the system is perfect for cyber protection teams, real-time intelligence, and tactical edge computing. Well, that sounds more like it than responding to hurricane hits.
The system is good, X-IO said, for packet capture and inspection, network anomaly monitoring, streaming data analytics and multi-sensor fusion. Think more about the military and intelligence angle to a crisis than sorting out a refugee camp.
The hardware looks like this:
Two dual Intel servers,
Up to 88 CPU cores,
2TB of RAM
6 removable flash drive canisters with 12 drives per canister,
Up to 460TB dual-ported NVMe flash,
4 x 100GbitE network connectivity.
There are six modular slots for any mix of Flash. The system users X-IO's FabricXpress architecture (Proprietary NVMe over PCIe application) to accelerate storage access, throughput, and compute speeds.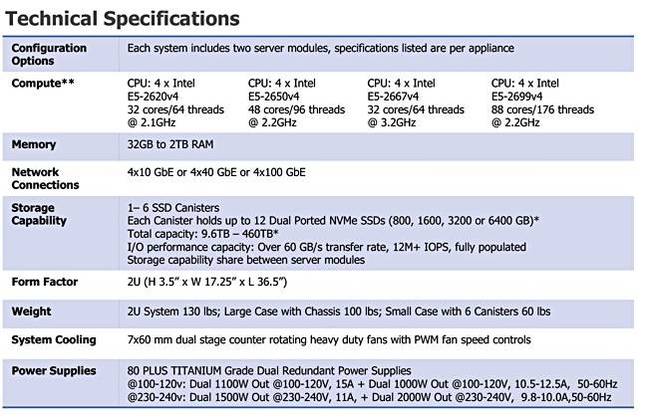 Portable Axellio tech specs
The Compute ** point leads to a note that revealed Axellio can use the full line of Xeon E5-26xx V4 processors as well as the four in the table above.
Portable Axellio is split into two suitcases that meet commercial airline standards. One carry-on suitcase contains the system's removable NVMe flash storage for secure transportation of sensitive and classified data. A larger suitcase contains the main server chassis, which weighs less than 100lbs (45kg), meeting commercial air weight requirements for checked luggage for US military personnel.
X-IO says this 2U box can run at 12 million IOPS and 480Gbit/s transfer rates with under 50 microseconds of latency and enables advanced analytics in real time. The system can be re-assembled and become operational in minutes.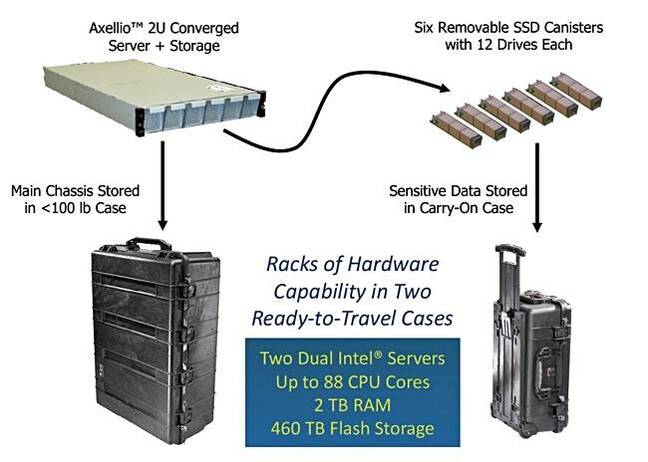 X-IO has a focus on big data analytics and edge computing in an IoT world. It's come up with a corner case here that might provide a halo effect and encourage wider use of its 2U, all-flash Axellio array, which it calls the world's most powerful 2U server.
X-IO Technologies is offering the portable Axellio solution via global solution partners. It sounds like they should knock on military and defence organisation doors rather than disaster relief charities – more Seal Team Six than Oxfam. ®