This article is more than 1 year old
Why the Apple Watch with LTE means a very Apple-y sort of freedom
Caveat emptor: It's not what you think
While Apple was making the iPhone less dependent on a Mac or PC, this week, it was tying its Watch even closer to the iPhone - contrary to what Apple's marketing material wants you to think.
If you didn't know anything about Apple Watch Series 3 other than that it "now has a 4G SIM", you'd be forgiven for thinking this is a more independent computing device than its predecessors. Apple encourages you to think of "freedom" in its promotional material for AW s3:
Surely this now puts everything a phone does on your wrist?
Not quite.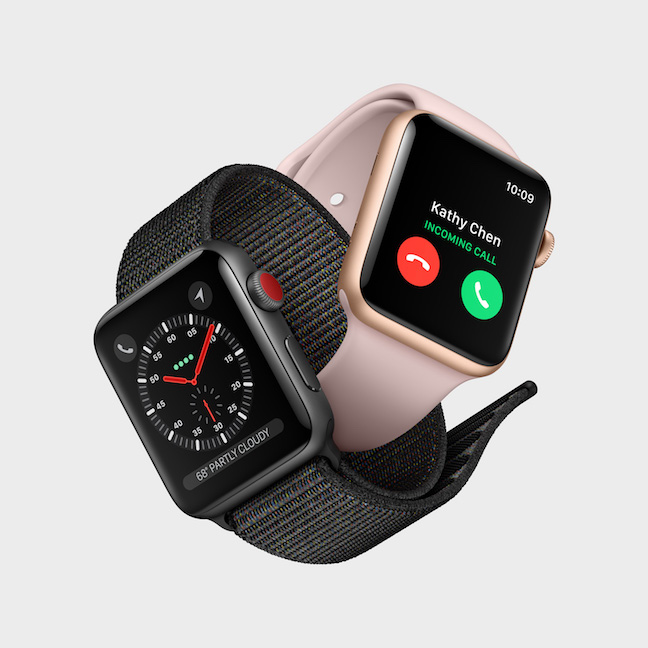 Apple Watch Series 3 comes in LTE and non-LTE versions
In the small print you'll find that the Watch "SIM" must come from the same network that you're using in the connected iPhone. (Watch doesn't work alone, and you must use a Watch with an iPhone; iPads don't support them, nor does any other mobile device). You can't mix and match.
Users are also disappointed that Watch Series 3's LTE seemingly won't roam. That's not quite the deal being offered by Apple, interestingly. And with mandatory roaming in the EU, things could get interesting.
Oh. And it won't make independent voice calls, as 4G watches from Huawei and LG do. (As some suspected). The workaround will be to use a VoIP FaceTime or WhatsApp or Skype.

"No longer paired with an iPhone, leaks suggested. The reality...?

That's because Watch Series 3 uses an virtual, embedded SIM "card" - and Apple helped co-author the spec (PDF). The GSMA's Embedded SIM spec is really a family of specs confusingly covering soft SIMs (with no electronics) and old style plastic ones too.
The eSIM uses the same 8-pin electronics as a nano SIM or micro SIM, but solders it into the board. The Spec is largely about provisioning, and you can switch from one provider to another Over The Air.
But the important point is it was designed for M2M, not consumer markets, the eSIM allows the mobile networks to claw back control. The GSMA envisages there will be around 15 billion M2M devices by 2020, with most in "smart cities" infrastructure, but also in automotive and health. The benefits here are great: but notably, they accrue to buyers and producers, and only indirectly to the end consumer.

Sounds great. But remember, the customer isn't you
Bill Ray, research director at Gartner (and once of this parish), told us, "Apple hates SIMs because they don't own the SIM: it's somebody else's bit of hardware in their bit of hardware."
Fanbois should blame Apple: "They helped write the specs. It would be perverse for someone intimately involved in creating the specs not to then follow them."
Here he thinks Apple's decision to put shackles on the Watch is policy not technology:
"The eSIM allows you to change operators - the business side may well lock it to EE, or the regional operator."
So there you go. Freedom with Apple is an Apple-y kind of freedom. ®