Apocalypse now: Ad biz cries foul over Apple's great AI cookie purge
It'll break the internet, cries Madison Ave
Fear of the Adpocalypse has died down in recent months - but new platform Apple releases have revived it.
Apple's imminent decision to throttle third-party cookies poses a mortal threat to behavioural advertising, says Madison Avenue, and therefore to Life On Earth as we know it.
Apple is building "Intelligent Tracking Prevention" into Safari on desktop and mobile. iOS for iPhone and iPad is due to drop this week, with MacOS following a week later.
Intelligent Tracking Prevention uses a heuristic to delete cookies from sites that the user doesn't interact with. Apple uses machine learning model to classify which top domains fall into the naughty bin. If a site has not been visited in 30 days then cookies are purged and stay purged. This makes it hard for silent third party trackers to build up a long-term profile of your habits.
In a note for developers, Apple says this strikes a balance between privacy and commerce, as users returning to a primary domain will be unaffected.
Google has already quietly tweaked the behaviour of its analytics data scraping to be ITP-compliant, with more data now stored at the server.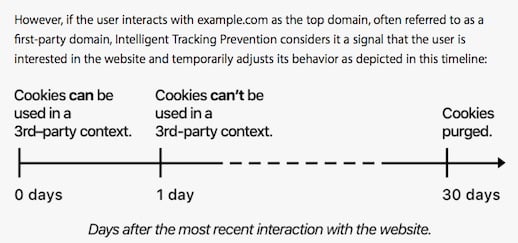 Last week six trade bodies including the IAB wrote an open letter to Apple, arguing that it breaks standards.
The infrastructure of the modern internet depends on consistent and generally applicable standards for cookies, so digital companies can innovate to build content, services, and advertising that are personalized for users and remember their visits. Apple's Safari move breaks those standards and replaces them with an amorphous set of shifting rules that will hurt the user experience and sabotage the economic model for the Internet. Apple's unilateral and heavy-handed approach is bad for consumer choice and bad for the ad-supported online content and services consumers love. Blocking cookies in this manner will drive a wedge between brands and their customers, and it will make advertising more generic and less timely and useful.
Unusually, Apple has fired right back, telling TechCrunch in a statement:
Ad tracking technology has become so pervasive that it is possible for ad tracking companies to recreate the majority of a person's web browsing history. This information is collected without permission and is used for ad re-targeting, which is how ads follow people around the Internet. The new Intelligent Tracking Prevention feature detects and eliminates cookies and other data used for this cross-site tracking, which means it helps keep a person's browsing private. The feature does not block ads or interfere with legitimate tracking on the sites that people actually click on and visit. Cookies for sites that you interact with function as designed, and ads placed by web publishers will appear normally.
Google has only just settled a privacy suit with Safari over collecting user behaviour between summer 2011 and spring 2012, even when the user had explicitly turned off cookies.
Google's controversial cy pres class action settlement saw $5.5m distributed to Google-friendly organisations including the Berkman Center for Internet & Society at Harvard University and the Center for Internet & Society at Stanford University (Consumer Privacy Project), without a penny going to class members. ®