This article is more than 1 year old
Microsoft teases web-based Windows Server management console
Project 'Honolulu' gives some PowerShell-only jobs a GUI and hyperconverges Windows
Microsoft's Ignite gabfest kicks off in a fortnight and Redmond will use it to show off a shiny new Windows Server admin GUI that includes tools previously only available in PowerShell.
Project "Honolulu", as the tool is known for now, appears to address two issues for Microsoft.
One is that it says Windows Server users say "PowerShell is necessary but not sufficient, and that Windows Server ease-of-use is still largely dependent on GUI tools for core scenarios and new capabilities." A richer GUI should sort that out.
The other is that hyperconverged infrastructure is hot, but nearly always features either vSphere or open source software.
Microsoft therefore created vendor alliances for Windows-powered hyperboxen and has been pumping out blog posts saying Windows Server really is hyperconverged too for about ten days now. El Reg has ignored the hype until now. Project "Honolulu" was a tipping point because it looks and feels like the consoles we see from pure-play hyperconverged products
That the post announcing Honolulu makes much of "modernizing" Windows Server also suggests that Microsoft feels Windows Server is a bit behind the current state of the art, at least in terms of management experience.
Has Microsoft succeeded? The company's not given us a lot to look at for now, but here's a look at Honolulu's Hyper-Converged Cluster Manager.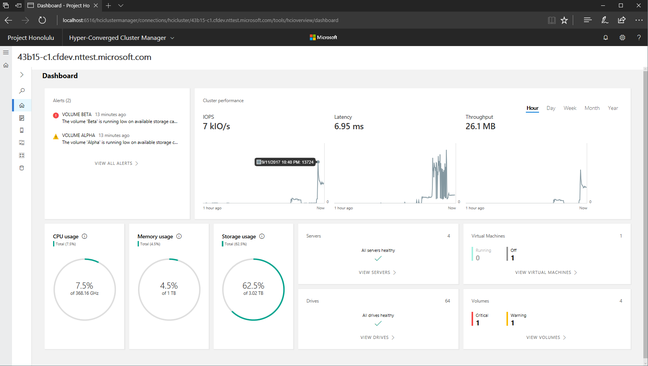 Honolulu's Hyper-Converged Cluster Manager. Click here to enlarge.
Microsoft says this interface lets you manage hyper-converged clusters comprising Hyper-V and Storage Spaces Direct. The screen above apparently lets you "provision and manage VMs and volumes, see drives, servers, and their health status across the cluster." Want more? You can also "See historical and real-time performance charts for cluster-wide CPU/memory/network usage and storage IOPS, throughput, and latency, then drill in to see metrics for individual VMs, volumes, and drives."
Here's a look at Honolulu's core server management tools.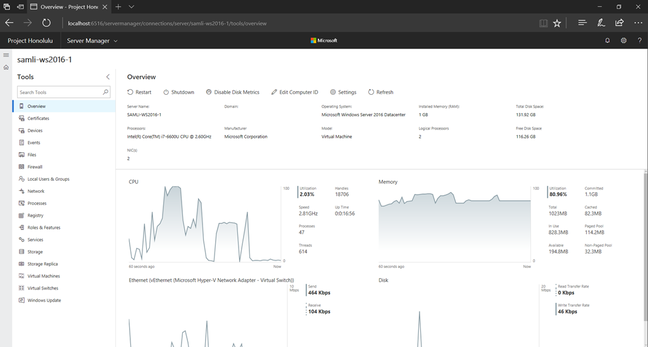 Core server management functions in Microsoft's project Honolulu. Click here to enlarge
Microsoft says Honolulu includes "some Windows Server capabilities, which were previously manageable only via PowerShell". The post appears to style Honolulu as the best of both worlds, with an improved and more functional GUI than System Center or the cloudy Operations Management Suite, but with PowerShell a click away when you want to get serious.
Honolulu will debut "late next week" as a Technical Preview. There's no word on when it will ship and the fact that Microsoft bills the Hyper-Converged Cluster Manager depicted above as an "early preview" suggets is is months, not weeks, from shipping.
The Register imagines the software will be formally launched at Ignite, with a delivery date a few months way into 2018. And the beginning of a campaign to position Windows Server as real hyperconvergence, and all that Nutanix, VXRail, VSAN, Maxta, SimpliVity and Datrium kit as nice tries that Microsoft has now leapfrogged. ®