Stack Overflow + Salary Calculator = your worth
In case you were wondering what Git, SQL and JS skills will get you, new online tool measures your value
---
Developers may be no more curious about salaries than any other set of workers, but their high degree of variation in terms of education, skillset and experience – not to mention the often ill-defined nature of their work – gives them ample reason to be curious about pay among their peers.
Stack Overflow, a community site frequented by developers for answers to technical questions, on Tuesday plans to indulge that curiosity with a Salary Calculator.
In a phone interview with The Register, Julia Silge, a data scientist at Stack Overflow, said the goal of the Salary Calculator is to allow developers to gain more information about professional pay practices and to see potentially suitable job opportunities.
"We see time and time again that developers want more transparency around job search, careers, and salaries," said Silge.
That may be because data related to salaries isn't always available, in part because it can raise uncomfortable questions related to pay inequality. Google last week was forced to confront this issue when it was sued by three women alleging systematic gender-based pay discrimination.
Salary secrecy also gives employers an advantage when negotiating pay packages – would-be employees may not be aware of their salary potential.
In the tech industry, companies often pay significant sums to top technical talent. To mitigate that cost, some have colluded to keep prized people from being lured away by better offers, while others prefer H-1B visa abuse. Anything to reduce payroll expenses.
Such coyness about pay has raised the value of salary data. Stack Overflow has found that job-oriented display ads that include salary figures get 75 per cent more clicks than those without.
Stack Overflow's Salary Calculator won't necessarily solve these problems, but it should nourish the site's corporate recruitment business, Stack Overflow Talent, with useful data. Perhaps too it will help developers gain a better understanding of their salary potential and of the most lucrative skills to learn.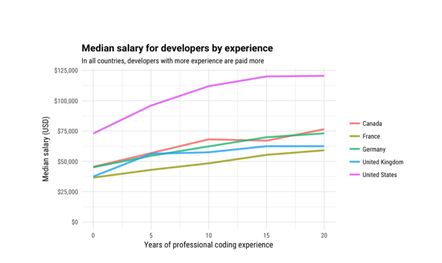 For example, Silge reports that this year, Stack Overflow has seen a significant increase in salary for developers who list React, a popular front-end library for web applications, or AWS among their skills.
At the moment, according to Stack Overflow data, DevOps specialists are the most highly paid among the various types of developers tracked. That's followed, in order of average salary, by:
Data scientists
Embedded applications/devices devs
Quality assurance engineers
Web devs
Mobile devs
Desktop app devs
Sysadmins
DBAs
Graphics programmers
Graphic designers
Silge said the Salary Calculator covers five different countries – Canada, France, Germany, the UK, and the US – but does not include cost-of-living calculations for the various locations. While salaries for developers in the US may be higher than those elsewhere, she said, the cost of living tends to be higher in the US due to the way US healthcare and education is structured.
Data for the site is based on responses from about 3,000 developers who provided salary data, out of 65,000 who responded to a prior survey.
The Salary Calculator invites users to improve the data by submitting their own salary information, with the proviso that submissions will only be used to improve the data model and will not be shared with recruiters. ®