Say Hello to my little friend: Nest blasts IoT world with doorbell, home security gear
Hope it doesn't freeze out folks like its thermostat
Smart home poster child Nest on Wednesday launched two new products: a video doorbell and a security system.
The hardware maker hopes the Hello (doorbell) and the Secure (security system) will put to rest criticism of the biz that it only produces iterations of its smart thermostat and camera.
The bigger goal, however, is that by offering products in each of the smart-home's most popular areas it can sweep the growing market for internet-connected, intelligent home devices.
It also hopes to benefit from the network effect: as more products are capable of talking with one another, it allows for the kinds of interactions that genuinely create a "smart" home. It also means that all Nest products can be controlled through a single app.
The Hello doorbell is a logical extension for Nest: it is the "number one requested product from our customers," the company said. Many customers already use their existing Nest cameras to point at their front doors.
So what is different about it? It is smaller and thinner – an oblong with a camera at the top and a button beneath. Its camera gives a broader range of vision – so you can see someone from feet to head when standing in front of your door.
It incorporates Nest's intelligent person alerts – so it can identify people – and it lights up at night. It also has a "nap time" feature so you can turn off the chime if you don't want to be bothered (pitched as good for those with small children). And it has pre-recorded messages – like "please leave the package at the door."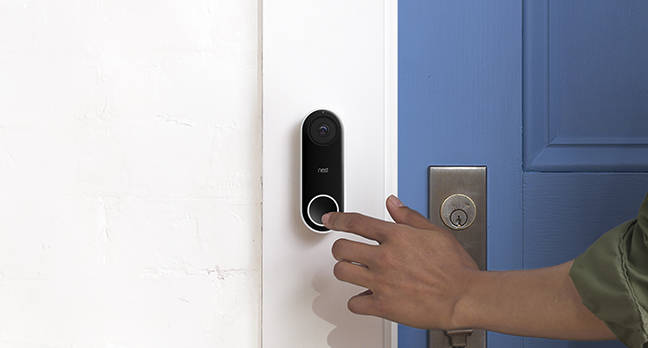 The new Nest Hello smart doorbell
Security
As for Nest Secure, the company appears to have done for the security system what its famous thermostat did for the beige temperature box: redesign an existing product to be easier to use, simpler and more elegant.
The Secure tries to fix all the most annoying aspects of current security systems: the ugly beige box, a passcode, bulky sensors, the dreaded beep countdown and so on.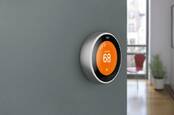 Nest thermostat owners out in the cold after software update cockup
READ MORE
The new system uses a small round base station called Nest Guard that is intended to be placed on a surface. The alarm can be turned on and off either by punching in the traditional passcode or by using a special small white security tag – similar to the electronic tags used in large corporations.
The system uses the traditional group of small sensors placed in rooms and on doors and windows. The sensors are roughly the same size and style as most modern security systems: a three-inch sensor and a corresponding magnet. The advantage that the Nest Detect has over traditional systems is that it has both motion and movement built in (as opposed to two different sensors).
A small button on each sensor also allows you to gently override the security system for that one sensor so you can, for example, open a back door, go for a run and come back in without having to turn off the overall system. Each sensor also has a small pathlight to light up your home as you pass by.
In addition to the doorbell and security system, Nest has also updated its outdoor camera with its latest indoor camera technology. The NestCam IQ Outdoor has additional zoom, tracking and facial recognition features.
Taken together, the product list is impressive and will have executives from security companies and doorbell companies scrambling.
And now... the price
The downside? They all come with Nest-style price tags.
The Nest Secure – the base station, two sensors and two tags – will cost $499, with extra sensors costing $59, extra tags $25, and cellular service (ie, not just Wi-Fi) for $5 a month. Later this year, Nest will also offer a security monitoring service from MONI Smart Security, but won't disclose pricing just yet.
At the prices above, Nest is more expensive than other systems on the market. And it isn't offering ADT-style discounts, where if you sign up to a monitoring contract your equipment is free or greatly reduced. So it's a big upfront cost if you want a Nest security system. It can be ordered today and will be available in November.
Likewise the outdoor camera. At $349, it is significantly more expensive than competitors. But Nest does have the edge with its intelligent software processing. As with the security system, you can order now and it will be available in November. Pricing was not available for the Hello doorbell, but again we would expect that Nest premium.
In short, it is a very logical move for Nest to move into doorbell and security systems. And, as ever, the company looks to have done a lovely job of it. But it comes with a cost.
To load up your whole house with Nest products – from thermostats to smoke detectors to cameras, security system and doorbell – will be thousands of dollars. For that, it will be on a lot of people's wish lists, but may not make it onto many shopping lists. ®