More on pricing
One of Nest's real strong points is its video processing software.
As we remarked in an earlier review, the company's ability to accurately and swiftly identify what is happening and relay that information intelligently back to you (ie, not bother you unless it's important) is the difference between having a camera system and wondering why you bothered, and having one and feeling glad to have it.
But under Nest's current pricing, that video processing comes in at $10 a month for the first camera and then $5 a month for each subsequent camera. Assuming that stays the same, if you add more cameras and doorbell and a security system, you could very quickly be paying $50 to $100 every month solely for peace of mind.
At that price, you have to consider whether better insurance might be the answer.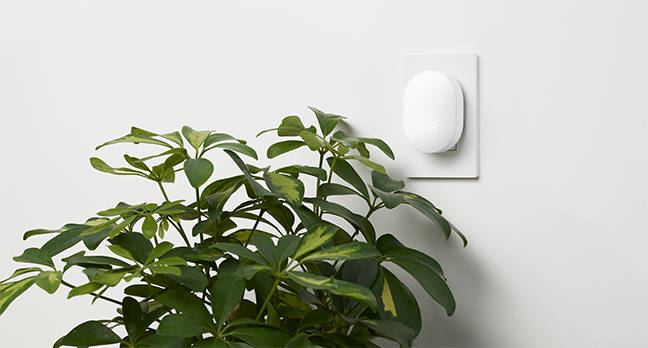 And what is this exactly? Shhh. It's the Google Nest Connect
What about the secret router?
One thing Nest didn't talk about but which appeared in the press materials was an egg-like device stuck into a wall.
According to the picture title, it's called the Connect and it is featured behind a plant and has something to do with the Nest Secure security system.
Why does it exist and what does it do? Well, in that question lies another difficult reality: the world of IoT and smart home and all the problems that every smart home company faces in getting their systems to talk to one another.
The Connect exists because when you start getting into security sensors placed in the far reaches of your home (as opposed to the thermostat, camera or smoke detector), you start hitting connectivity problems.
The small sensors have to be battery powered to stay small and mobile and so have to use minimal energy. There are various standards that do this – Z‑wave, Zigbee, Bluetooth – but Nest is using parent company Google's Weave and Thread protocols.
Thread was also showcased in an unusual way at the event: with a demo of a Yale lock. According to the folk we spoke with, it is not a Yale lock or a Nest lock, but a "Nest + Yale" doorlock. And it was built jointly by the two, uses Thread, and will be included in the Nest app.
The good news is that if you buy this specific Yale lock and the Nest Secure system, when you punch in the entry code to your lock to enter, it will automatically turn off your alarm system. That we like. The tie‑in to a Google system is a little less exciting.
Losing the Thread
Anyway, the Connect egg is a Thread router that both acts as an extender and a routing system for the eco-system that Google and Nest have started to imagine – basically connecting everything up in an effort to rival Apple's HomeKit.
Nest still views itself as a semi-autonomous arm of Google and seems to have some discomfort with being sucked into the ad giant's orbit. At the launch event, Nest announced that its Nest Cam IQ line will now start working with Google's voice-powered Google Assistant.
OK Google, turn on my security system. OK Google, please turn on my lights. OK Google. OK Google. OK Google.
And so we have the Nest Connect – which is basically Google tech – but Nest doesn't say a word about it.
The Connect could actually be a good thing. As people add smart home products, their Wi-Fi networks quickly become overwhelmed. And so, something like a Thread router could enable a smart home to communicate and interact without having to use the same channels as your phone, TV, games console, tablet and whatever else rides on Wi-Fi.
But you do get the sense that the uneasy relationship between Nest and Google continues afoot.
In short, today's Nest products are good. They may even be the best on the market. But they are expensive, they are innovative with a small "i," and they mark the beginning of Google's efforts to take over your home. ®
Similar topics