Android slingers tout mobes with customized baked-in big-biz configs
Chocolate Factory pushing enterprises' corporate settings right out of the box
---
Google has said it will begin allowing its enterprise customers to purchase pre-configured Android smartphones and other devices that will ship with corporate policies and settings already in place.
The Mountain View ads giant said the feature, dubbed "Zero Touch Enrollment" would make it far easier for companies to get full deployments of new Android devices into the hands of employees and allow new workers to quickly get up and running.
The idea, says Google, is to let companies specify the security policies and settings they want for handsets and have those rules enforced on employee devices from the the get-go.
"For administrators, zero-touch enrollment removes the need for users to configure their devices manually and ensures that devices always have corporate policies in place," said Google product manager James Nugent.
"Support is also much easier, with no extra steps for end-users; they just sign in and get access to their work apps and data."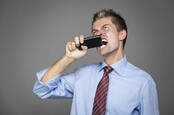 Google blows $1.1bn to hire HTC's Pixel people, forming one big happy handset team
READ MORE
Google will be offering the zero-touch service with its branded Pixel smartphones. Among the other vendors participating are Samsung, Huawei, Sony, LG, Nokia, Motorola, HTC, and BlackBerry.
Google said the service will be run through carrier partners, who at launch will be Verizon, EE, Telekom DE, Telstra, and Softbank. Google also says it is working to sign up other carriers and vendors in the coming months.
The management tools supported by the service include VMware AirWatch, BlackBerry, MobileIron, IBM, SOTI, and Google's own GSuite.
"If your company already uses other enrollment methods, don't worry — you can mix enrollment methods to suit your particular needs," notes Nugent.
"Samsung will continue to offer Knox Mobile Enrollment (KME) on Samsung devices, including pre-Oreo devices. Samsung devices that upgrade to, or ship with, Android Oreo will have zero-touch as an additional option."
The move signals an effort by Google to get Android further into an enterprise mobile space that chief rival Apple has increasingly been courting via partnerships with major software vendors like IBM and Accenture.
Google has also been pushing a larger enterprise effort across its platforms that rely on teaming up multiple popular offerings in various areas, such as GSuite, Google Cloud, and Android. The zero-touch program looks to further this by pairing up Android's ecosystem with multiple enterprise management tools, as well as the enterprise services offered by the carriers that support popular consumer Android hardware. ®