Researchers claim ISPs are 'complicit' in latest FinSpy snooping rounds
Dictators' favourite spyware is working at the top, says report
---
A surveillance campaign utilising a new variant of FinFisher, the infamous spyware also known as FinSpy, has been tracked by security researchers.
Seven countries have been affected, and in two of them, major internet providers have most likely been involved in infecting surveillance targets, according to security researchers at ESET. The suspected involvement of ISPs – if confirmed – would be a first.
ESET is not naming the countries involved ("so as not to put anyone in danger," it said – others have named names) but it is offering details of the mechanism of the attack.
FinFisher is marketed as a law enforcement tool but has a history of turning up in deployments in countries with a poor reputation for human rights. The software offers covert surveillance through keylogging, and exfiltration of files, as well as live surveillance through webcams and microphones.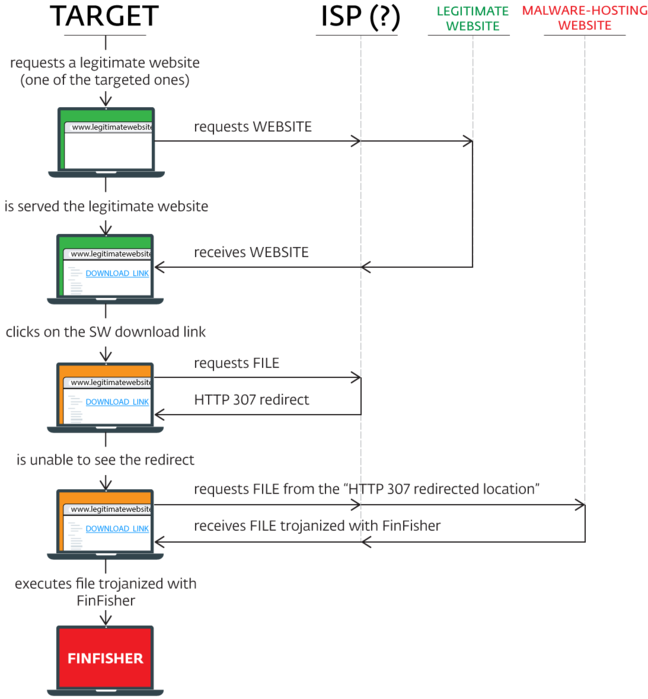 Detailed infection mechanism of latest FinFisher variants [source: ESET]
As part of the latest attack, when a user is about to download Skype, Whatsapp or VLC Player they are redirected to the attacker's server where they are served up by a trojanised version of the app they were seeking that comes contaminated with FinFisher. Other consumer applications ESET has seen being misused to spread FinFisher include Avast and WinRAR.
"During the course of our investigations, we found a number of indicators that suggest the redirection is happening at the level of a major internet provider's service," said Filip Kafka, the ESET malware analyst who conducted the research. ®