This article is more than 1 year old
Crap cracked fat-attack Pact app chaps slapped in pact backtrack infract
US watchdog raps breach-of-contract brats for retracted transacts
Defunct mobile app company Pact broke its pact with customers to pay them promised cash incentives, US trade watchdog the FTC said on Thursday.
Pact, which shut down in July, described itself as a 15-person San Francisco startup on its website. Few if any people remain.
According to the FTC, the Khosla Ventures-funded startup was incorporated in Delaware and, the last time anyone checked, based in Seattle, Washington.
The agency filed a complaint against Pact and its two co-founder executives – Yifan Zhang, CEO, and Geoffrey Oberhofer, COO – and simultaneously announced details of a settlement.
From about 2012 until this summer, the company peddled a mobile app, originally called GymPact and by 2014 just Pact, that aimed to encourage users to meet fitness and nutrition goals. It did so by inviting these naïfs to make a pact – a formal agreement – to exercise a specific number of times a week or to eat specific things.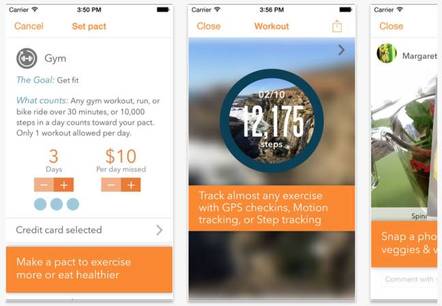 Those who failed to meet their pacts agreed to be charged automatically some amount in the range of $5 to $50, while those who succeeded in meeting their goals were to receive a share of the failure funds, with Pact collecting the remainder.
But the company did not take its name very seriously.
"Unfortunately, even when consumers held up their end of the deal, Pact failed to make good on its promises," said Tom Pahl, Acting Director of the Bureau of Consumer Protection, in a statement.
The FTC complaint indicates that the app biz regularly violated its commitments to users by doing just the opposite of what was promised.
"At least tens of thousands of consumers have complained to Defendants that they were charged rather than paid for completing a pact," the complaint says. "A payment processor and a bank with which Defendants worked warned Defendants about the app's high chargeback rate, and the company was fined by a financial institution for exceeding Visa's permitted chargeback rate for six consecutive months."
Pact doubled down on its claims by expanding the app to include pacts with third-party partners. Again, the complaint says, Pact charged people who completed their pacts rather than paying them, even as it acknowledged its failure to register progress toward goals in third-party apps as a "known issue."
Recounting a litany of other issues such as unwarranted charges and refusal to provide refunds, the complaint charges Pact with deceptive acts, unfair billing practices, violations of the Restore Online Shopper's Confidence Act (ROSCA), failure to disclose material terms, and consumer injury.
Under the terms of the $1.5m settlement, Pact is obligated to refund $940,000 to its customers over the next 30 days. The balance of the penalty is suspended unless the various representations made by the defendants are found to be untrue.
Attempts to reach Zhang at her new company Loftium and Oberhofer, through Pact, went unanswered. Several former employees, presently at other companies, also did not respond to requests for comment. ®