This article is more than 1 year old
You forgot that you hired me and now you're saying it's my fault?
Just install the trial software on 1,000 PCs and I'll be on my way
Something for the Weekend, Sir? "I'm sorry, who are you again?"
I am being challenged by a polite but slightly baffled receptionist. I repeat the declaration I shouted into the video intercom at street level a minute earlier: that I have been hired for the day to train a number of staff on-site.
Not being expected when I turn up at a customer site is an occupational hazard. It's part of the working rhythm I have grown accustomed to over 23 years of freelancing.
Often it's a case of mistaken identity, which sounds very mysterious but is just my little way of adding drama to the mundane likelihood that my customer contact simply hadn't got round to passing my name to reception.
Even more likely, the customer contact probably got distracted and inadvertently wrote down the name of someone else entirely, such as that of a friend she'd been chatting to earlier or her flatmate or (in one particularly memorable incident) her cat.
Perhaps she used to work at Starbucks and had added me to the day's Expected Visitors list as "Alostry Pablos".
For this reason, painful repeated experience has taught me never to rely on a colleague, agent or even one of those posh concierge services to make travel or hotel bookings on my behalf. More than once have I been left stranded at flight, car hire and hotel reception desks because the dickhead who booked me in decided for no good reason to do so in their own name rather than mine.
I realised the game was up for business travel agents while arguing over my identity at a hotel desk in Dublin at midnight. Even though we had at some length established that my booking had been recorded in the agent's own name in error, the jobsworth at the desk was unwilling to check me in to her fully booked hotel because my passport still failed to identify me as the "Gemma Richardson" in question.
"And who is it you want to see?"
Snap back into the present. Not only have I arrived at a customer site apparently unexpected, they can't check with my customer contact because she hasn't arrived at work yet. I made the foolish mistake of turning up ridiculously early, quite literally at the crack of 9.30am.
But that's OK, none of the day's prospective trainees have arrived either. And, as the receptionist is at great pains to tell me – several times, complete with wide eyes, raised eyebrows and awed voice for theatrical effect – "no one has booked a room."
Ah yes, the old room-booking saga: another beat in the daily rhythm of the workplace. It's the same everywhere I go. If a meeting room has not been reserved at least three generations in advance of the office building's cornerstone being ceremoniously laid by the Lord Mayor prior to its construction, there will be trouble.
Whether I'm sitting in day-long brainstorming sessions or attending boardroom meetings with senior executives (they hire me to serve the tea), it's guaranteed that we will be interrupted at least four times by random employees popping their heads round the door to ask: "Have you booked?"
No such concern at Amazon UK's lovely new London offices just off Bishopsgate in trendy (i.e. full of lap-dancing clubs) Shoreditch, as I discovered for myself earlier this week. They have rooms and breakout hubs galore, and enough space in reception alone to do cartwheels in front of surprised fellow visitors.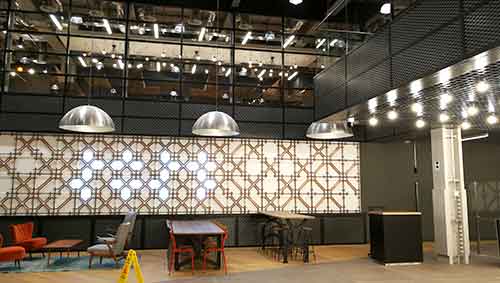 That said, something familiar about the decor and layout kept nagging at the back of my mind. It was only when I got home it hit me: this is how the first motorway service stations probably appeared to starry-eyed pioneering long-distance motorists back in the 1960s.
For example, here in this 1963 photo of the Luxury Grill Room at Knutsford on the M6, you can see hipsters of the day trying the sushi.
All Amazon needs is to add a Wimpy Burger, a pinball machine covered in cigarette ash and an outside toilet, then it'd be perfect.
Three-quarters of an hour later, my customer contact has arrived at work. I'd like to say she looked delighted to see me but to be honest she looked more surprised. I suppose it was telling when she blurted out: "Is it today?"
Yes it is. No, I don't want a coffee thank you. Yes, I'm ready to get started. No, I don't mind waiting until you book a meeting room.
Half an hour after this, she has rounded up half a dozen colleagues, all of whom were expecting me. They glare in my direction with accusing eyes because, as I discover only much later, my customer contact covered her own arse by telling them I arrived late.
The latter then asks how I would like everyone to position themselves around my desk so they can get a good view of my laptop. Why? Because the organisation has just a single user licence for the software I am due to train them in.
No one except me appears to be the least bit concerned by this but it is just part of the usual rhythm of providing on-site training. These guys really do think they will learn new software skills by watching me run a six-hour demonstration, albeit with Oreo breaks, while they sit and take written notes.
I blame PowerPoint culture: executive wage-slaves are forced to sit through so many slide presentations, their will has been broken. They have become institutionalised and have come to accept it as perfectly normal to be expected to sit through hour after hour of boring on-screen business wank.
Why, you may ask, should an organisation want to train a team of employees to use an application for which there is just the one-seat licence?
The answer is yes, they really do believe that it will be possible for them to use the application strictly one at a time. It could be worse: one day they might apply the same logic to the staff washrooms.
Anyway, this attitude is no surprise to me. I know eventually they will buy more licences. They have to and they always do. I am familiar with every beat of this rhythm.
I let them into a "secret": they can download and install the trial version onto multiple PCs, then use it on all of them simultaneously for 30 days free of charge. My customer contact is delighted and runs off to tell the lone IT support manager to arrange this immediately.
An hour afterwards, a severely pissed-off IT spannerhead visits me in reception to say everything is ready but it would have been nice to have learnt about my demand for all these software installations the previous afternoon.
Yup, all my fault again, you see. I nod apologetically but admit nothing verbally or in writing – this is important. It's just another beat of the daily rhythm as far as I'm concerned.
I'm a slave to it.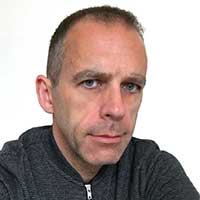 Alistair Dabbs
is a freelance technology tart, juggling tech journalism, training and digital publishing. Trivia Alert: Did you know that actor Ian McShane was only second-choice to utter the introductory lines that open the extended version of Grace Jones' classic hit? Orson Welles inconsiderately chose to die before recording his piece, forcing Trevor Horn to hunt for a last-minute replacement. A stroke of fortune or just more mischief from Mr Wednesday?