Limp Weiner to get 21 months in the hole
Hard time ahead for disgraced sexting politician Anthony
---
Disgraced American politician Anthony Weiner has been sentenced to 21 months behind bars – and three years of probation – for sexting an underage girl.
The former Congressman broke down as he was sentenced in a Manhattan court on Monday for sending penis pics to an unnamed 15-year-old girl and convincing her to undress and touch herself over a Skype call.
"This was a serious crime that deserves serious punishment," federal judge Denise Cote told Weiner as he hung his head and wept. "Because of the defendant's notoriety, there is intense interest in the defendant's plea and sentence," the judge added. "It could make a difference in lives and is a very significant part of this sentence."
The sentence did not come as a shock – Wiener agreed back in May not to contest a jail sentence of between 21 and 27 months for transmitting sexual material to a minor. At the time, he appeared to finally understand the depths of his sexting addiction. "I have a sickness," he confessed while entering his guilty plea, "but I do not have an excuse."
That didn't prevent him pleading for a last-minute deal, however, in which he asked to receive only probation, rather than a jail term, arguing that he was in a treatment program for his addiction and wanted to keep attending.
He argued that the messages he shared with the teenager was not about exploiting specifically underage girls but rather his compulsion to sexting strangers. In other words, she just happened to be a kid, he argued.
The prosecution pointed to Weiner's long history of being caught and yet continuing to behave improperly when it argued that the former politician needed to sit inside a jail cell to really grasp the issue. His behavior indicated "a dangerous level of denial and lack of self-control warranting a meaningful incarceratory sentence," Uncle Sam's lawyers argued.
Old Chokey
The judge agreed and in addition to the 21-month sentence and three years of probation, he was fined $10,000 and will be required to register as a sex offender. He has until November 6 to surrender to the low-security prison that the court will designate.
Even though 21 months is no picnic, Weiner faced as much as 10 years in the clink for his behavior, which, in this case, comprises of two months of sexting with the teenager from North Carolina who approached him first on Twitter.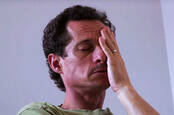 After stiffing us with Trump, Weiner 'fesses to underage cock shot rot
READ MORE
He earlier confessed: "I was contacted by and began exchanging online messages with a stranger who said that she was a high school student and who I understood to be 15 years old.
"I engaged in obscene communications with this teenager, including sharing explicit images and encouraging her to engage in sexually explicit conduct, just as I had done and continued to do with adult women. I knew this was as morally wrong as it was unlawful."
Weiner was joined in court by his parents and brother but notable by her absence was his soon-to-be ex-wife Huma Abedin, who filed for divorce shortly over he was exposed – again – for having exposed himself to strangers online.
Weiner addiction to sexting has twice destroyed his political career. And the third time, he was arguably responsible for helping Donald Trump become president.
Sad history
As a rising Democratic star, Wiener was elected to the New York City Council at just 27 and then to the US House of Representatives in 1998, aged 34. He married Abedin in 2010 and their ceremony officiated by former president Bill Clinton.
But the next year, in 2011, he accidentally sent what he thought was a private Twitter picture to his public account. It was Weiner's weiner. He claimed that his account had been hacked (of course, he did). But he really hit the headlines a few days later though when he was forced to confess live on TV that not only had he sent the picture but had been sexting "about six women" at the same time. Shortly after, he resigned from Congress.
Amazingly, Weiner then did the exact same thing a second time just two years later. He was trying to rehabilitate his image by running for New York mayor and had a film crew following him around. And a few months into the campaign, it happened again.
A 22-year-old named – you'll love this - Sydney Leathers went public saying she had received explicit photos from Weiner under the pseudonym "Carlos Danger." It became an instant late-night TV meme.
Twitter cock-up confession deflates Weiner
READ MORE
Despite sexting having destroyed his political career and then his comeback effort, Weiner wasn't able to stop himself. In August 2016, the media starting digging into reports that he was still sending explicit pics to dozens of strangers. One of those pics featured Weiner with his young son asleep on top of him and was seemingly the final straw for his wife who publicly announced the day after the news reports that she was leaving him.
In the course of that investigation, Wiener was found to have no only crossed the boundaries of decency but also legality when it was revealed he had sent dick pics to a 15-year-old girl, knowingly that she was underage. She sold her story to the UK's Daily Mail, an FBI investigation led to a prosecution, and then a court appearance and a guilty plea. The day after that plea, his wife said she was filing for divorce.
Trump time
Despite having destroyed his career and his marriage, Wiener was not finished: thanks to his wife's position as a top advisor to Hillary Clinton, he became implicated in the Clinton email scandal when detectives digging into his sexting case found emails from Clinton's account on his computer.
That discovery – which ended up amounting to nothing – is what sparked then FBI director James Comey to tell Congress that he had reopened the FBI's investigation into Clinton's emails.
That announcement came at the very height of last year's US presidential campaign and arguably played a significant role in the subsequent election of Donald Trump as he sought to make political hay of the "dishonest" former secretary of state and led calls of "lock her up" at campaign rallies.
It's amazing how much trouble one man's cock can cause. ®