This article is more than 1 year old
Microsoft: We've made a coding language for a quantum computer that may or may not exist
Windows giant touts magic to distract from its legacy tech battle
Ignite At the Microsoft Ignite conference today, the expert panel on stage burst into laughter. "This box right over here behind us – nothing! That's a quantum joke, that's an excellent joke," said Microsoft Technical Fellow Michael Freedman as the curtain failed to open to reveal it.
It being a quantum joke, the audience in Orlando, Florida, was a little slow to catch on. Quantum computing uses qubits, which unlike conventional bits can be in a superposition of one and zero at the same time, enabling the extremely rapid parallel processing of data. A box that is both present and not present, how appropriate.
Math problems that would take a lifetime on today's computer architectures to solve may be cracked in hours using a quantum machine, enthused the Windows giant. "It would be so powerful it's able to model nature itself," said Microsoft CEO Satya Nadella, raising the hope of fixing climate change by working out how to absorb carbon, for example, as well as transforming health and agriculture.
A further implication is that quantum computing would force us to rethink encryption, since such computers are excellent for cracking it. Microsoft did not talk about that.
How close is Microsoft to building quantum computers? Not very. What was on stage was research, using the concept of topological qubits, which can be used to weave processor logic gates using quantum braids. "Our approach focuses on topological quantum computing through Majorana fermions, which promise to yield fast, stable quantum bits, also known as qubits," says the corporate giant's blurb.
The quantum computing box that failed to appear as expected was supposed to show how the use of extreme cold can enable stable computing using this topological approach. It did eventually make an appearance: a quantum qubit device typically cooled to 30 millikelvin.
Microsoft has also developed a new programming language – the name of which was not revealed – and tools in Visual Studio for developers to start playing with quantum code at some point in the not too distant future, though without the massive speed advantage of true quantum computing.
That Microsoft is researching quantum computing is not a surprise. The question though is why it is hyping the technology at Ignite, an event where IT professionals come to learn what is new on Redmond's platform. The answer is that it fits perfectly with how the company wants to be perceived, which is innovative and cutting-edge, not an IT giant straining to haul its massive base of legacy technology into a new cloud-centric world.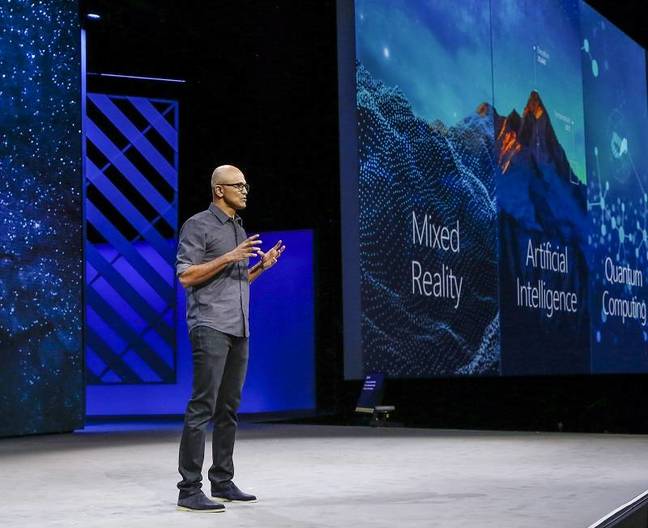 Microsoft CEO Satya Nadella on stage at Ignite
The value of Ignite for attendees lies in more humdrum matters. One of Microsoft's legacy problems is how to integrate the old on-premises world of Windows domains, Group Policy, and System Center management with the new cloud world of Office 365, Azure Active Directory and Enterprise Mobility plus Security (EMS), which treats PCs more like handheld devices to be configured. Starting with the Fall Creators Update, Windows 10 devices can be both Azure AD connected and also domain joined, attendees learned, a feature called co-management, and there is a tool to manage any conflicts.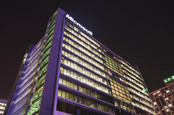 Microsoft sparks up Ignite with fresh Azure, Office 365 features
READ MORE
Office 365 plus EMS forms Microsoft 365, and the company is keen to upsell customers from one to the other, and to rethink a Windows PC as a Microsoft 365 device. If that PC runs Windows S, the locked-down edition that installs only applications from the Windows Store, so much the better. Legacy desktop applications can be packaged using the Desktop Bridge.
During the Ignite "Modern Workplace" keynote, corporate veep Brad Anderson demonstrated AutoPilot, whereby a PC is pre-registered to an organization using a hardware ID, and thereby configures itself automatically. "Immediately the end user's e-mail, files, apps, and preferences are automatically deployed – and IT's security policy is enforced," he explains in a blog post today. This feature is not quite new, but until now only worked with the company's own Surface devices. Now PCs from several other manufacturers will also be supported.
This is the kind of thing that can greatly simplify PC deployment; but the snag is that few organizations are in a position to let go of their AD-controlled environments and thousands of desktop applications to the point where something like AutoPilot will work for them.
Another big theme at Ignite is artificial intelligence. Bing for Business – don't laugh – is coming in preview and enables integrated search across both internal and internet data. The idea is compelling: a single user interface for searching for information, whether that is recent documents authored by the person coming to your next meeting, or the weather in the town where it is taking place. One suspects it also has the potential for annoyance; and again, it will only work for businesses that have fully embraced Office 365, for documents as well as email.
AI also appears in new features in Dynamics 365, a suite of business solutions covering CRM, support, human resources, ERP and more. AI will enable virtual assistants with the potential to reduce support costs, as well as examining the sentiment of communications in order to measure the health of relationships with individual customers.
Creepy? A bit.
Microsoft, however, is aware of the coming EU General Data Protection Regulation (GDPR) and told the press at Ignite that Office 365 will be fully compliant in time for the May 2018 deadline. That includes the right to erasure so we can expect an intriguing combination of privacy-busting AI and privacy-protecting controls in the company's products and services.
Finally, we're told SQL Server 2017 will be generally available on October 2, for Linux, Docker and Windows, with a graph engine, automatic tuning, and other bits and pieces. ®