This article is more than 1 year old
What's in this Monday morning storage BLT? A 12TB WD HDD, wars of words – and more
Bacon, lettuce, tomato? No, loads of tasty bytes, layers and topologies
Roundup Hungry for storage news? Tuck into this bulging storage sarnie for breakfast.
Cohesity's war of words
Patrick Rogers, marketing and product management veep at Cohesity, took exception to comments about Cohesity by Rubrik CEO Bipul Sinha earlier this month. Rogers told El Reg: "I just read your article about Rubrik where Bipul Sinha stated that Cohesity doesn't generate metadata and so doesn't possess the granularity that Rubrik does.
"I'd like to clarify that Cohesity DataProtect actually provides a native metadata store that indexes each backup image, and provides granular VM or file-level recoveries. Furthermore, because DataProtect stores each incremental backup as a clone using our branded SpanFS file system, we provide instantaneous recovery of granular objects from any previous backup.
"Lastly, because we provide globally consistent NFS mount points, we can also ingest backup images directly from SQL Server, Oracle, or any other backup software application."
Or rather not lastly, because Rogers continued: "Based on their own publicly available information, it appears Rubrik can only do the first item above. Rubrik is missing an underlying file system in their architecture. Instead, they use a simple distributed blob store which makes reconstruction, of anything but the latest backup image, a lengthy and compute-intensive process.
"This impacts their ability to deliver speedy RTOs and granular RPOs which is of paramount concern to most backup administrators. To adequately handle SQL or Oracle dumps, it appears Rubrik requires additional proxy servers which further complicates their data center implementations."
So, in summary: Rubrik's booed.
Druva hyped for Hyper-V
Druva has added support for Hyper-V to its Phoenix product, joining its VMware vSphere and Nutanix-supported virtual machine environments. Through the Hyper-V support customers get:
Incremental backups via the Windows Volume Shadow Copy Service and Microsoft's Resilient Change Tracking, combined with Druva's global deduplication.
Granular virtual-machine recovery: Hyper-V customers can restore full environments, or down to the file level, to optimize RTOs.
Unified Policy Management with a single control plane for using the public cloud.
Cloud-based disaster recovery so sysadmins can configure and immediately boot virtual machines in the cloud during failover and testing.
Cross-environment workload mobility, which is a fancy way of saying you can move workloads from hypervisor to hypervisor to support different business needs.
More on Hitachi Vantara
As we saw this month, Vantara is a new Hitachi subsidiary combining Hitachi Data Services (HDS), Hitachi Insight Partners, and the Pentaho analytics product.
Vantara is all about data, and Hitachi could have added Insight Partners and Pentaho to Hitachi Data Systems, thus keeping HDS as the main brand. But, with this birth of Vantara, Hitachi appears to be saying the HDS brand equity is worth less than starting afresh with a new umbrella organization.
Hitachi is ultimately looking to sell IoT edge devices and analytics into the worlds of railways, power stations, smart city infrastructure, and so forth.
HDS could be viewed as having missed the hyper-converged infrastructure appliance wave, and also was not making much of a splash as an all-flash array supplier. With traditional enterprise on-premises storage under threat both from hyper-converged boxes and the public cloud, coupling HDS technology to Internet of Things gear, analytics software, and associated services, looks to be a good sideways pivot.
And don't forget: back in August, Jack Domme rapidly ejected from the HDS CEO chair. Perhaps, as one HDS source whispered to us, he was pushed out ahead of the forthcoming Vantara shakeup.
ProphetStor serves a turnkey dinner
ProphetStor Data Services has announced the availability of its StellarFlash array technology on certified commodity storage servers. These are turnkey boxes available as all-flash arrays or as a hybrid combination of SSDs and hard disks offering a blend of capacity and performance.
StellarFlash silos come with VMware's storage hardware certification including VAAI Block Devices, and StellarFlash is also supported as a Cinder block driver for OpenStack. StellarFlash is positioned as a low-latency storage source. ProphetStor's Federator flash-optimized software-defined-storage software, we're told, has the following features:
Smart Caching: StellarFlash's Smart Cache uses predictive analysis of IO operations to dynamically design an optimized cache policy based on predicted workloads, improving IOPS efficiency by 45 per cent, apparently.
Optimized Storage Utilization: native deduplication and compression reduce the storage footprint by up to 5X, it is claimed.
Faster deployment: StellarFlash features a GUI to manage and monitor the entire storage environment from a single pane of glass; it also provides a set of RESTful APIs to programmatically create and provision flash capacity for workloads.
Scalability: StellarFlash says its management software allows enterprises to scale up for performance or scale out for capacity at the same time.
Data Protection: StellarFlash arrays have point-in-time snapshots, replication, high availability with active-active controller failover, encryption, and RAID.
Qumulo's domain gain
Scale-out filer startup Qumulo has announced its Qumulo File Fabric (QF2) with a single file domain that spans your data center and the cloud. It has also launched QF2 on Amazon Web Services, available immediately. Qumulo offers a free tier for using QF2 on AWS for up to 5TB.
Peter Godman, Qumulo's founder and CTO, claimed QF2 is "the only unified fabric to span on-premises and public cloud storage for customers at petabyte scale, QF2 is in an entirely new class of enterprise storage."
QF2 runs on standard hardware, and, we're told, provides billion-file capacity at a claimed one third the cost of legacy storage appliances (measured by cost per usable terabyte.) Qumulo also claims it is the highest-performing file storage system on premises and in the cloud.
The product has cross-cluster replication to move data around your on-site servers and on the cloud. QF2 can be implemented across multiple operating environments that are connected using replication relationships. It also has real-time quotas, directory-level snapshots, and real-time visibility into large data sets. Qumulo says it has built-in block-based tiering of hot and cold data that delivers flash performance at hard-disk prices.
The Seattle-based upstart wants us to know it is the highest rated in its class on Gartner Peer Insights and enjoys one of the highest net promoter scores (NPS) in the storage industry.
QF2 is available now. For on-premises data centers, Qumulo offers subscription-based pricing that includes software and support. QF2 clusters on AWS have utility pricing that is based on hours of use, capacity and performance. And as mentioned, QF2 can be used for free in non-clustered, standalone mode on AWS.
Toshiba continues reign of tera
Tosh has a new 1TB 2.5-inch form-factor disk: the MQ04. This device – aimed at notebooks, slim PCs and games consoles – is an update on the 2013-era two-platter MQ02. Like the MQ02, the MQ04 has a 5,400 RPM spin speed and a 6Gbit/s SATA interface. There is a 128MiB cache buffer, an MTTF of 600,000 hours, and the average latency is 5.56 ms. It weighs 92gm and is 7mm thick. Tosh says its 34 per cent faster at data transfer than the 1TB MQ01, as well as being quieter and more power-efficient.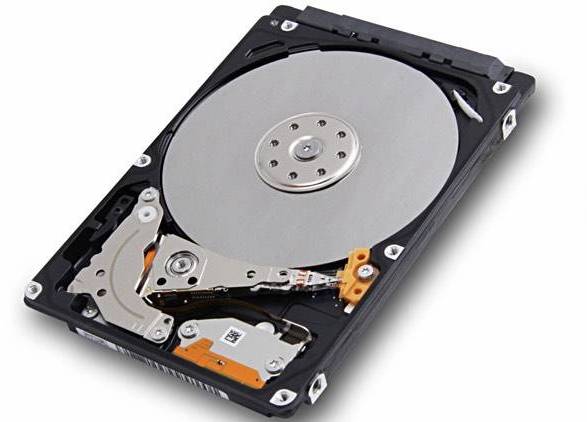 Toshiba MQ04 – looking like a single platter drive.
We think it might be a single platter drive, in which case the areal density will be impressive. El Reg has asked Toshiba to confirm this.
Western Digital expands gas drive
The 3.5-inch form factor WD Gold Helium-filled disk has been given a maximum capacity increase from 10TB to 12TB. It transfers data at a sustained rate of 255MB/sec whereas the previous 10TB max capacity Gold managed 249MB/sec. The basic details are the same as before, though: 7,200 RPM spin speed, 6Gbit/s SATA interface, a 550TB/year workload, a 2.5 million-hour MTBF, and five-year limited warranty.
Various tech details are here.
Veritas goes hard on software
Veritas Technologies has announced Veritas Cloud Storage, software that, Veritas says, is designed to help organizations turn massive amounts of dormant unstructured data into intelligent insights. It has also announced the Veritas Access Appliance, an integrated software-defined-storage box for long-term data retention with multi-cloud capability.
Customers are promised:
Intelligent data management by applying analytics, machine learning and classification technologies to unstructured data.
Lower costs and no vendor lock-in.
Scalability with the ability to store billions of files in preparation for an AI-driven future.
The product can be geo-distributed with storage policies and features that provide global outfits access to the same data no matter where their sites are located. The Access Appliance lets enterprises replace outdated or sub-optimal storage, including tape storage, with an integrated offering that combines the Veritas Access software with pre-tested and configured hardware. It promises:
Scalable software-defined storage – as with the Veritas Cloud Storage offering, customers can use the appliance to scale up and scale out storage capacity as their organization grows. Integration with Veritas NetBackup provides consistent end-to-end long-term data retention and protection, complete with classification and global deduplication features.
Multi-cloud capabilities – enterprises can build their own private cloud or provision cloud storage platforms across a range of cloud service providers: Amazon, Azure, Google, and IBM Bluemix.
Cost-effective data retention that helps customers meet recovery time objectives.
Archiving integration – this works as a primary archive store for Veritas Enterprise Vault, offering an alternative for archiving retention.
Veritas Cloud Storage and Veritas Access Appliance solutions will be available in the coming quarters. Access Appliance brochure info can be accessed here.
And now in brief...
ReRAM technology developer Crossbar will be attending the Leading-Edge Embedded NVM Workshop between September 25 and 27 in Gardanne, France. Sylvain Dubois, veep of business development and marketing, will talk about how to "unleash new system architectures with Crossbar ReRAM for embedded applications and storage class memories" on Tuesday at 9am.
IBM has made Spectrum Sale available on AWS. There is a quick start reference deployment document here.
Thomas Isakovich, the punchy CEO of Nimbus Data, has another provoking blog asserting Tintri is on a downwards path because its business model is wrong. He concluded: "Storage systems companies without massive scale that run the unsustainable "golden era" playbook will fail. They will share the same fate of brick-and-mortar retailers in the era of Amazon or traditional taxi companies in the era of Uber."
Scality has made a trio of appointments:
David Savage will head the Americas sales organization, which includes all US-based account executives, sales development representatives and sales engineers, and will drive the go-to-market strategy for the region across all Scality sales functions, including strategic alliances, professional services, and support.
Michelle Rockler, who joined in July, heads the company's global strategic alliances organization, which includes partnerships with Cisco, Dell, and HPE.
Wally MacDermid, who also joined in June, heads the biz's cloud-focused business development efforts and its recently-announced Zenko Multi-cloud Controller.
Spanning Cloud Apps has extended its Office 365 data protection product to support SharePoint Online data. Spanning Backup for Office 365 customers can now, we're told, get backup and restore capabilities for SharePoint Online content including automated, point-in-time backup snapshots of document library contents in Team Sites and Group sites. Microsoft Teams Spanning Backup for Office 365 also protects OneDrive for Business, Mail, and Calendar.
All-flash array pioneer and crashed Violin Memory, active again now that it's out of bankruptcy, has signed up JPR Communications to do its PR. The Ebrahim Abassi-led management team wants to turn the company around and reestablish it with new hardware and software products. Expect to hear more on this front soon. ®