HPE showers trios of storage boxes and servers on SMEs
And a Wi-Fi hub and an Ethernet switch and the kitchen sink
---
In a small-biz blitz, Hewlett Packard Enterprise has announced three servers, three MSA storage arrays, a new hyper-converged system, a Wi-Fi hub, and an Ethernet switch.
Specifically, the hyper-converged system is a SimpliVity 380 box using a gen-10 ProLiant. The trio of servers are the gen-10 ProLiant ML110, ML350 and DL580 systems. The Wi-Fi product is an OfficeConnect OC20, and the Ethernet announcement is the StoreFabric M-Series switch. Separately, HPE has announced exclusive availability of the full and freshly acquired Nimble Storage product and service portfolio from its channel partners worldwide from November 1.
Starting with the three new servers, HPE is continuing to add gen-10 compute capacity to its ProLiant line-up:
The ML110 is a single processor tower. HPE claims this box is the best performing single-processor tower for SMBs and ROBOs.
The ML350 is a dual-processor tower.
The DL580 will be a makeover of the gen-9 DL580. It can have from two to four CPUs for mid-size businesses.
HPE has announced one new MSA storage array and two updated ones – the dual-controller MSA line being HPE's small and medium business data storage offering with Fibre Channel interfaces. They all use a fifth-generation architecture. The product family also gained a new bezel design:

Here's the trio of arriving MSA SAN arrays:
The 2050, a flash-ready base model, and the 2052 hybrid model. Both deliver two times more performance than the previous 2040/2042 generation for the same price, it's claimed.
The 2050 can, we're told, deliver more than 200,000 IOPS. The 2052 is basically a 2050 minus self-encrypting drive support and with 1.6TB of flash (two 800GB drives) and software licenses integrated.
The 1050, a cheap entry-level hybrid storage array that, presumably, replaces the older MSA 1040. It has iSCSI, FC and SAS host interface connectivity and can be upgraded to the 2050.
Here is an MSA 1050 data sheet extract: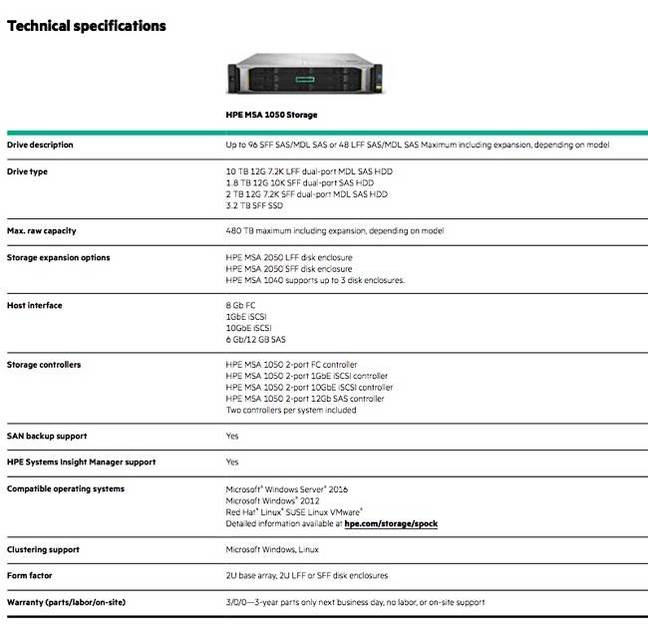 HPE MSA 1050 tech details ... click to embiggen
And here is one for the MSA 2050: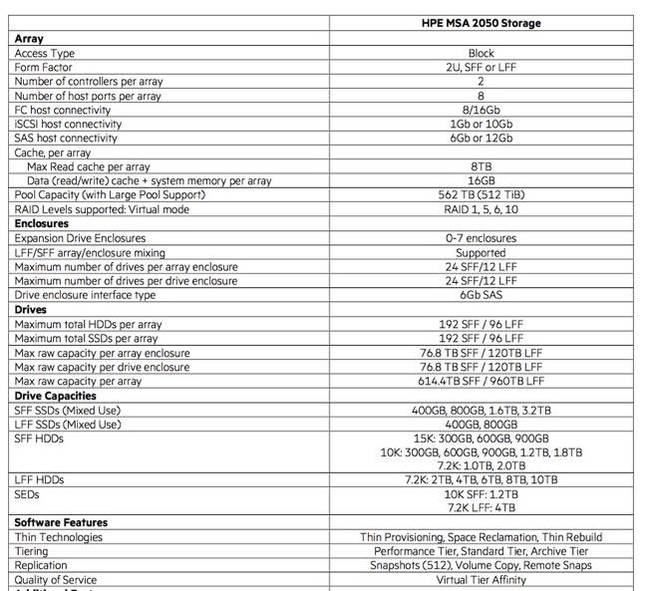 HPE MSA 2050 tech details ... Click to embiggen
The 2050 and 2052 differ very little, judging by the 2050 and the 2052 spec sheets. Notably, the 2050 supports self-encrypting drives, while the 2052 does not. HPE has provided an intro video to its new MSA gear, here. It also is providing direct SAS connectivity between its gen-10 ProLiant servers and the 1050 and 2050 arrays with no other network infrastructure required.
Hyper-converged
The SimpliVity 380 is an existing hyper-converged infrastructure appliance to which HPE has added new entry-level and all-flash SimpliVity 380 HCI configurations that are claimed to be 20 per cent cheaper than competing kit. It said the technology has built-in data protection, disaster recovery, deduplication, and compression.
Wi-Fi and Ethernet
The StoreFabric M-series switches provide flash-optimized networking over standard iSCSI connections. HPE said they have an industry leading price point. The OfficeConnect OC20 is a cost-effective Wi-Fi access point for businesses without dedicated IT resources. HPE claimed it is easy to set up with a mobile app. The IT titan has also launched StoreOnce CloudBank, pumping out array data to AWS, Azure and on-premises object storage, for long-term data retention.
Pricing and availability
Small biz and medium-sized enterprises can now pay over time for their tech kit with HPE's Consume IT for SMB program. Customers select products from a menu of options that include gen-10 servers, storage, and networking hardware, software, and support services, and then pay a monthly subscription fee. Here's a run down of the costs:
The SimpliVity 380 system is currently available to order.
Nimble Storage arrays are currently available with US street pricing starting at $20,000.
The MSA 1050 hybrid storage array starts from less than $5,500, and is HPE's lowest-priced shared storage array.
The ML110 is currently available with US street pricing starting at $1,299.
The ML350 is currently available with US street pricing starting at $1,899.
The DL580 is currently available with US street pricing starting at $15,449.
StoreFabric M-series switch is currently available with US street pricing starting at $7,990.
HPE OfficeConnect OC20 is currently available with US street pricing starting at $250. ®