This article is more than 1 year old
Scared of that new-fangled 'cloud'? Office 2019 to the rescue!
Next release promises nice offline features, Matlock before bedtime
Microsoft has shed light on next year's preview of Office 2019, talking up the new productivity suite as a boon for those who may prefer to work outside of the cloud.
The Redmond giant says the first builds of Office 2019 will arrive in the back half of 2018. It will be considered the first major "perpetual release" version (as opposed to the more lucrative subscription-based Office 365) since Office 2016 debuted two years ago.
As the perpetual release version is contrasted to the cloud-centric Office 365 suite that has become one of Redmond's focal points under the reign of Satya Nadella, Microsoft is talking up the benefits that Office 2019 offers for offline use – or at least outside of the cloud applications.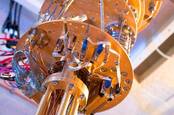 Microsoft: We've made a coding language for a quantum computer that may or may not exist
READ MORE
In other words, Microsoft wants the businesses that opted out of Office 365 to know they haven't been abandoned just yet.
"Cloud-powered innovation is a major theme at Ignite this week. But we recognize that moving to the cloud is a journey with many considerations along the way," Jared Spataro, general manager for Office, wrote today.
"Office 2019 will be a valuable upgrade for customers who feel that they need to keep some or all of their apps and servers on-premises, and we look forward to sharing more details about the release in the coming months."
For end users, the Office 2019 suite will include new versions of Word, Excel, PowerPoint, and Outlook. Server versions will include Exchange Server, SharePoint, and Skype for Business.
Among the promised upgrades is better support for tablets through better support for pressure-sensitivity and ink replay (the playing back of pen strokes to diagram or highlight something). Microsoft also says it will add more animation options in PowerPoint, and new formulas and chart options for Excel spreadsheets. ®