This article is more than 1 year old
Mobile stock trading apps riddled with security holes
Did someone just nick your shares?
Mobile stock trading apps are riddled with security bugs.
Stock trading apps have millions of users worldwide and process billions of pounds in traded shares but the security of the apps compares poorly with comparable mobile banking applications, security firm IOActive warns.
Alejandro Hernandez, senior security consultant at IOActive, found vulnerabilities that could allow the would-be hacker to sell user's stock, steal money or snoop into the personal details of the user's net worth and investment strategy. Hernandez put 21 of the most used and well-known mobile trading apps available on the Apple Store and Google Play through their paces. Testing focused only on the mobile apps; desktop and web platforms were not tested.
Four of the 21 apps (19 per cent) exposed user passwords in clear text, meaning an attacker with physical access to the device could easily log in to trade their stocks or steal money. Nearly two in three (62 per cent) of the apps send sensitive data to log files and (67 per cent) store it unencrypted, allowing attackers with physical access to gain insight into a user's net worth, investment strategy and balances.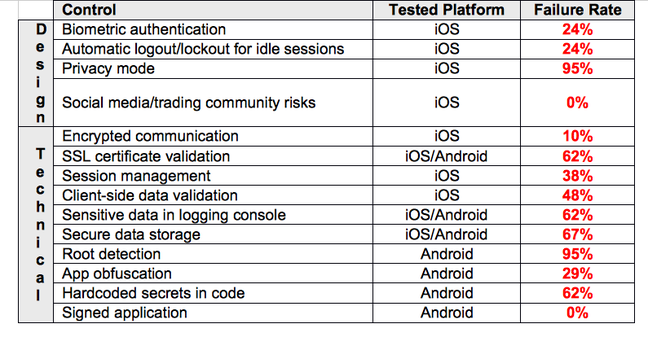 IOActive's score sheet from an audit of mobile stock trading apps
Two apps use unencrypted HTTP channels to transmit and receive data, and 13 of the apps that use HTTPS do not check the authenticity of the remote endpoint by verifying its SSL certificate. Both shortcomings make it possible for miscreants to run man-in-the-middle attacks to eavesdrop and tamper in cases where users are using public Wi-Fi hotspots without taking adequate precautions, such as using VPN software.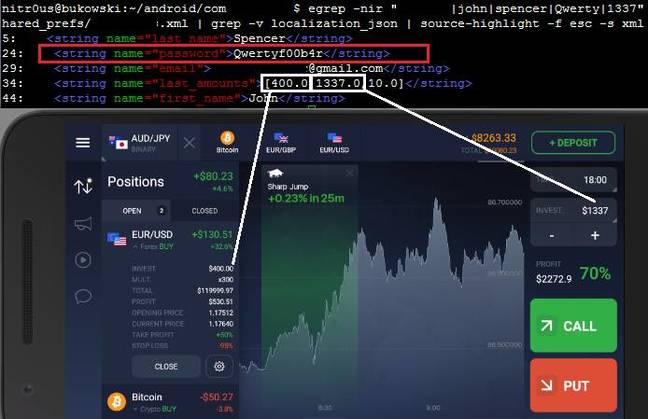 Cleartext password problems in of the tested apps [source: IOActive]
The results for trading apps proved to be much worse than those for personal banking apps in 2013 and 2015.
It's a bleak picture overall but there is one positive development to report. The app developed by a brokerage firm who suffered a data breach many years ago was found to be the most secure of the 21 apps tested.
IOActive notified app developers of the issues it uncovered only earlier this month, following completion of its research. It is currently going through the disclosure process hence its decision not to release the names of the apps it tested.
The security firm is encouraging regulators should encourage brokers to implement safeguards for a better trading environment.
"In addition to the generic IT best practices for secure software development, regulators should develop trading-specific guidelines to be followed by the brokerage firms and fintech companies in charge of creating trading software," according to IOActive. "Brokerage firms should perform regular internal audits to continuously improve the security posture of their trading platforms," it added. ®