White House staffers jabbed with probe over private email use
Clinton calls hypocrisy but somewhat misses the point
---
The US House of Representatives Committee on Oversight and Government Reform has sent a letter [PDF] to White House lawyers demanding details of how many of its staffers have been using private email for government business.
On Sunday, Politico reported that the President's son-in-law and adviser Jared Kushner used private email to conduct some government business since late last year, which could be a violation of the Presidential Records Act. On Monday, the number of staffers accused of similar had risen to six, including Kushner. Separately, documents released by an advocacy group claim the President's daughter Ivanka Trump has been using a personal email account for government business, too, although she is not a paid staffer.
"With numerous public revelations of senior executive branch employees deliberately trying to circumvent these laws by using personal, private, or alias email addresses to conduct official government business, the Committee has aimed to use its oversight and investigative resources to prevent and deter misuse of private forms of written communication," reads the committee letter, sent on Monday.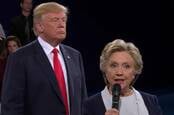 It's Russian hackers, FBI and Wikileaks wot won it – Hillary Clinton on her devastating election loss
READ MORE
The memo asks for details on any staffer who has used their personal email for government duties, or text messages, or phone-based message apps. In addition they want the names of anyone who has used encryption for personal contact.
The news is embarrassing to the administration, after a presidential campaign dominated by cries of "lock her up" from President Donald Trump over Hillary Clinton's private email server. Secretary Clinton certainly wasn't holding back, calling the news proof of Republican double-think.
"It's just the height of hypocrisy," she said in an interview on Sirius XM radio this week. "It is something that if they were sincere about it, I think you'd have Republican members of Congress calling for an investigation."
But the former secretary of state and presidential candidate rather misses the point on this. Clinton ran pretty much all her government business through a privately managed email server – and was ultimately cleared by the FBI – whereas Kushner et al are accused of using personal email inboxes every now and again to receive messages from people or forward notes to official addresses.
That's not to say that there isn't plenty of hypocrisy to go around. In 2007, an investigation in the Bush administration found that the Republicans had been running a domain called gwb43.com to communicate and evade the Presidential Records Act. But before an investigation could take place, the party wiped the servers, destroying some 22 million emails.
The fact of the matter is that it's going to be near impossible for the Presidential Records Act as it is currently written to work. The legislation was passed in 1978 during the post-Watergate reforms and at a time when email, mobile phones, and encrypted messaging apps didn't exist in the mainstream.
It's clear that the law needs a revision, but even so it would be near-impossible to enforce. A couple of hundred dollars will buy anyone a smartphone with encrypted applications and, short of body searching people when they enter the building, there seems to be no solution. ®