Feasting on Azure blobs: Caringo and Scality are doing it
Adding S3 gateways to Mr Blobby's storage in the Microsoft cloud
---
Both Caringo and Scality are adding S3 gateways between their object storage and Microsoft's Azure Blob storage.
This is a bit old hat really – startup NooBaa provided an S3 frontend to Azure Blobs (Microsoft's form of object storage) in November last year, with a February 2017 ship date. You can download it here.
Anyway, established object storage players Caringo and Scality are now doing this too. Caringo's Swarm Hybrid Cloud for Microsoft Azure replicates data from Amazon S3, NFS and HDFS formats to and from Azure Blob storage's native format.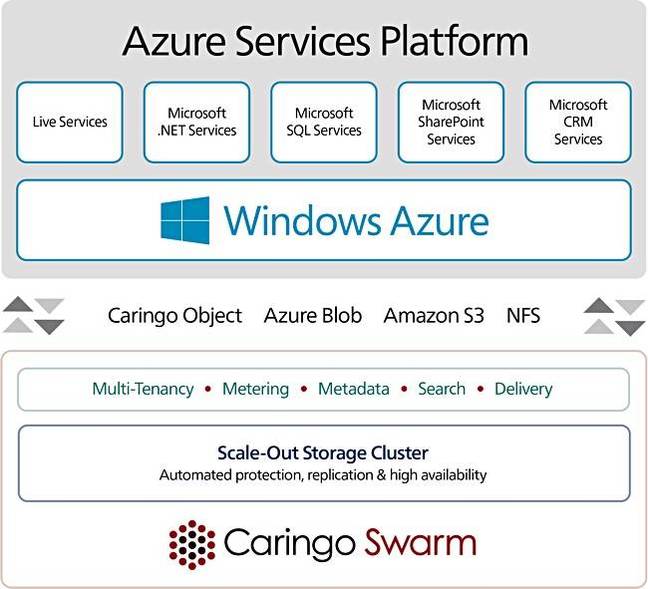 Caringo Swarm and Azure Blob graphic
Caringo and Microsoft say Azure Blob storage can be used for analysis, data protection (DR) and archival storage. It says this helps security as data never leaves the user's subscription. The product automatically translates Amazon S3 API calls to Azure Blob Storage API calls and stores data in Azure native format.
Scality CMO Paul Turner tells us Scality Connect is a "stateless server which means it isn't another point of failure" and offers "configuration-less scale on demand; to increase the S3 interface scale you just add another stateless server."
Scality Connect for Microsoft Azure Blob Storage runs as a a stateless container within a customer's Azure subscription. It enables any app working with Amazon S3 to support Azure Blob Storage without change.
With Caringo and Scality delivering S3-to-Azure gateways, adding to the NooBaa capability, customers can now avoid putting all their public cloud eggs in a single AWS or Azure basket and have a multiple public cloud strategy for object storage. ®