This article is more than 1 year old
Massive revenues from RAM, flash make Micron chief a happy chappy
Mehrotra hints beyond 64-layer tech could land next year
Massive revenues from DRAM and flash have made Micron CEO Sanjay Mehrotra a happy chief. Third-quarter revenues were good but they have just been eclipsed.
Instead of the forecast midpoint estimate of $5.9bn for Micron's fourth fiscal 2017 quarter, it made $6.14bn as supply failed to meet demand and prices, and profitability, went up.
A year ago revenues were $3.22bn and a quarter ago they were $5.57bn, meaning increases of 90.7 and 10.2 per cent respectively.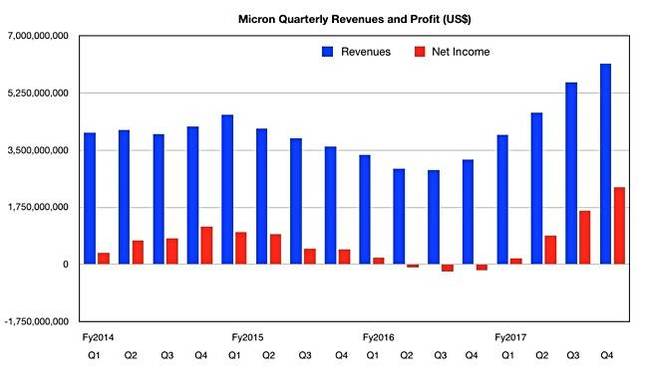 Net income of $2.37bn – yes, $2,370,000,000; imagine the magnitude of that profit for a minute – compare to a loss of $170m a year ago and a $1.65bn profit last quarter.
In the quarter DRAM sales volumes were 5 per cent higher q-o-q and NAND sales volumes 3 per cent higher. DRAM and NAND average selling prices for the quarter increased 8 and 5 per cent respectively.
The full-year numbers are, well, splendid seems to be the word, at revenues of $20.32bn and net income of $5.9bn. A year ago the two numbers were $12.39bn and a loss of $276m respectively.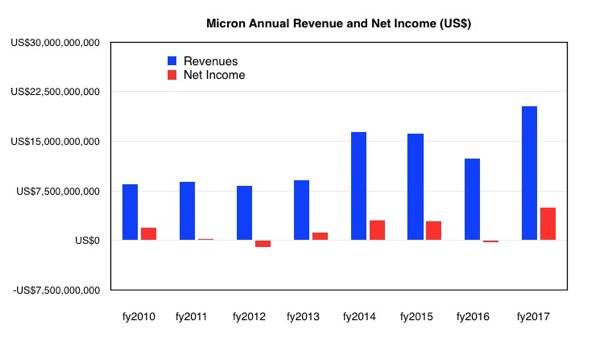 New CEO Sanjay Mehrotra has stepped aboard an accelerating train. His canned quote couldn't help its congratulatory tone: "Micron delivered exceptional fourth quarter and fiscal year results, reflecting solid execution and robust demand for our memory and storage solutions. We expect healthy industry fundamentals to continue into 2018."
SSDs are replacing disks, computers need more memory, and both AI and automotive applications are driving memory and NAND demand higher. These are solid and persistent trends in the industry.
It's looking good, Sanjay. With this set of numbers the earnings call was a cruise. In it he pointed out: "Our fourth quarter results accentuate an unprecedented year for the company... Full year revenue, profitability and free cash flow also set company records."
There was growth in all Micron's business units: Compute and Networking, mobile, storage and the embedded business unit.
He did point out a blip in SSD revenues, though: "Late in the fourth quarter, we identified and corrected a flash component issue on select TLC 3D NAND products. We paused shipments of affected products as we worked to implement a solution to the issue, which appeared only under a narrow set of performance conditions. As a result, our SSD revenue declined sequentially during the quarter. Shipments have now restarted and we expect to resume solid sequential SSD revenue growth in Q1."
If that had not happened then revenues and profits would have been even higher.
Mehrotra set out five strategic priorities:
"Driving our cost competitiveness to best-in-class levels, primarily by accelerating the percentage of our output on leading edge technology, in both DRAM and NAND"
"Delivering solutions to customers quickly, predictably and in line with their product launch windows"
"Accelerate our transition to high value solutions. We intend to lead the industry in deploying disruptive memory and storage solutions"
"Develop deeper collaboration and partnerships with marquee customers"
"Strengthening our focus on our teams, investing in the best talent and driving a winning culture"
Number 4 hopefully means Micron gets its dratted Quantx 3D XPoint persistent memory products out into the market faster, and about time too – it has allowed Intel to make all the running with its Optane brand gear.
That should mean its maturing storage systems business gets motoring much faster.
Mehrotra refused to confirm that Micron's next (beyond 64-layer) 3D NAND was a 96-layer technology. He said good progress was being made and we should see a 2018 introduction.
Asked about catching up with Samsung in DRAM and NAND, he said: "In recent times over the course of last couple of years, Micron has lagged the competitor in terms of getting advanced technology ready at par with them and deploying those technologies into volume production."
He wouldn't predict when or if Micron would catch up with Samsung, saying only: "Driving accelerated deployment of new technology nodes into volume production and continuing to narrow the gap on the cost front is a multiyear phenomena and we have made very good progress."
What about acquisitions? "We do not rule out M&A in the future. Right now, our focus is on the priorities that I mentioned that include cost competitiveness and strengthening the high-value mix in our revenue."
There we are. Micron is flush with cash, well able to afford next-technology product investments, facing a solidly healthy demand environment and with scope to grow revenues and profits higher over the next few quarters.
Watch this, WDC and Toshiba, with your difficult partnership, and weep. ®