Samsung has 128GB and 64GB eUFS flash cards for automotive use.
These are intended for vehicle infotainment, next-generation dashboards and advanced driver assistance systems – hence basically in-cabin gear rather than next to the hot and vibrating engine. It's still a worse environment than a data centre or mobile phone, so the embedded Universal Flash Storaqe (eUFS) standard reflects that and is, we assume, tougher than the eMMC (embedded Multi Media Card) standard for flash cards in mobile phones and tablets.
The eUFS standard refers to the JEDEC UFS 2.1 standard.
Samsung's 128GB card reads data at up to 850MB/sec and pumps out 45,000 random read IOPS. By data centre standards these are slow and low-capacity devices.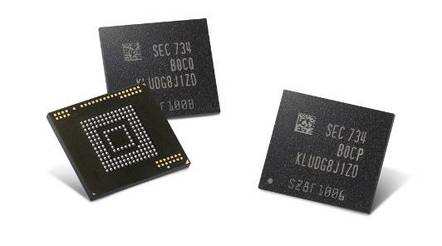 Samsung eUFS auto flash cards
Nevertheless Sammy wants us to know that compared to eMMC devices, they are fast. The 850MB/sec is around 3.4 times faster than the 250MB/sec read speed of today's eMMC 5.0 products. The 45,000 IOPS is about 6.3 times faster than an eMMC product.
What does that mean? The South Korean chaebol suggests:
Better audio content management performance in coming infotainment systems.
Faster navigation systems.
Improved ability to access internet-enabled traffic and weather reports.
Better handling of hands-free voice commands.
And, for the kids, faster rear-seat social media interplay.
We were prompted by this to wonder about the use of this tech in mobile phones and tablets, making them faster and capable of doing more too.
Sammy says infotainment systems will benefit from the card's error-handling process, which is based on the MIPI UniPro protocol, and says it enables detecting and recovering from I/O error on hardware layers – without having to involve the host software or restarting tasks.
We're told better data reliability comes from the products having a choice of refresh methods, and providing information on the refresh unit, frequency and progress for the host device's control system.
The products also have a temperature sensor inside the controller for device temperature control. This prevents the eUFS cards from crossing upper and lower temperature boundaries, and helps ensure correct NAND cell functioning.
On this basis, embedded storage in industrial IoT edge boxes looks like a possible market too.
We're not told anything about the type of NAND used, wear-levelling or any other info that we're used to with data centre and consumer flash devices. That means we can't speculate about 3D NAND use and wonder if 128GB is just a tad, well, small, really?
We'd have thought 256GB and 512GB cards would be more useful because data storage in vehicles is surely going to rocket up.
No doubt Sammy has a firm grip on automotive OEM demands and its 3D NAND tech gives it lots of headroom for capacity upgrades in the future. ®