Helium's for balloons and squeaky voices, not this 10TB Toshiba beast
Gas-free drive war with WDC and Seagate ramps up again
Toshiba has reached the 10TB disk drive capacity level without the help of helium, providing OEMs with an alternative to Seagate and WDC.
Its MG06 is a straight 25 per cent capacity upgrade on the MG05 with its six platters. Both are classed as enterprise capacity drives.
The speeds and feeds are:
7,200rpm spin speed
6Gbit/s SATA interface
2.5 million hours mean time to failure (MTTF) rating, 25 per cent better than the MG05's 2 million-hour rating
256MiB buffer, twice as large as the MG05's
6, 8 and 10TB capacity levels
237MiB/s transfer at 10TB and 230MiB/s at 6 and 8TB; MG05 did 230MiB/s
Supports 512e advanced format and 4K sectors
550TB/year total bytes accessed workload
Sanitize Instant Erase (SIE) option model available
We think it has seven platters, judging by the supplied image: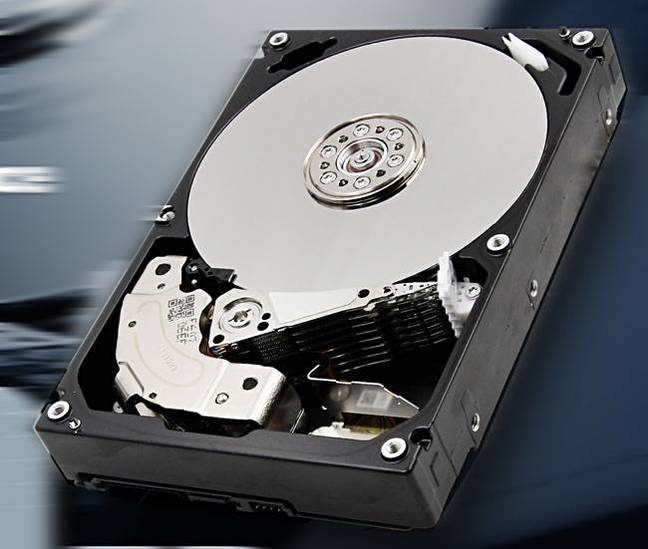 Toshiba MG06 disk drive
That would mean a 1.43TB/platter areal density, the same as our understanding of WDC's 10TB Gold drive.
WDC has 10TB Red and helium-filled Red Pro NAS drives with the former spinning at 5,400rpm and the latter at 7,200rpm. Both are 6Gbit/s SATA drives. Its 10TB Gold data centre nearline drive is also helium-filled and supports the same 550TB/year workload and 2.5 million-hour MTTF as Tosh's MG06. However, it transfers data at a faster 249MB/sec.
Seagate's 10TB drive portfolio includes the BarraCuda Pro, and helium-filled IronWolf/IronWolf Pro NAS drives. All three have the 6Gbit/s SATA interface, a 7,200rpm spin speed at the 10TB level, and, we understand, seven platters. The IronWolves transfer data at up to 214MB/sec and the BarraCuda Pro at 210MB/sec, so Tosh moves data quicker.
We expect Toshiba to add helium-filled 14TB drives to its range in 2018.
Your correspondent has a 1TB iMac with a 1TB external disk drive and is now feeling severely undernourished capacity-wise. ®