Essentially invisible: Android big-daddy Andy Rubin's hypetastic mobe 'flops in first month'
Just 5,000 handsets have been shifted since release – pundits
Android co-inventor Andy Rubin's much-hyped Essential Phone has thus far been a flop with consumers in its first weeks on the market, it is estimated.
According to numbers provided to El Reg by analyst firm BayStreet Research, since it began shipping pre-orders in late August, and in stores since mid-September, with the backing of Sprint, the Essential handset has only managed to move about 5,000 units.
By comparison, Apple in its latest quarter – ie, prior to the launch of the iPhone 8 – managed to flog more than 450,000 iPhones per day. That's more than 5,000 handsets every 20 minutes or so. Android, meanwhile, has two billion handsets in use around the world, so go figure.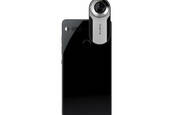 Much-hyped
Ara

Blackphone

LeEco

Essential handset introduced

READ MORE
In short, if these numbers are to be believed, Essential phone sales aren't even a rounding error in comparison to those of the market leaders.
This after the Essential Phone was showered for months with press coverage over both the handset itself and its creator, Android mastermind Andy Rubin, who left Google in 2014 to found Essential a year later. When the Essential Phone was unveiled in late May this year, execs showcased hardware features including a 360-degree camera and a sleek, branding-free design.
The early hype, however, faded as the upstart delayed its handset's launch into the late summer, and when the Essential finally began to ship in late August, much of its momentum had already been lost. The device's blastoff was met with little in the way fanfare.
While the Essential Phone is sold unlocked, the biz did sign a deal with US carrier Sprint to sell the handset at a discount with a new contract. The tie-up with the number-four carrier in a three-carrier US market was seen as a bit of a head-scratcher for a company that had no previous product history or customer base.
If these early returns are to be believed, it was indeed a poor decision that will prove difficult to overcome.
Essential did not return a request for comment on the figures. The Silicon Valley-based outfit still has plans to launch a second product, a smart home assistant, at a date to be determined. ®
Hat tip to Fierce Wireless.