This article is more than 1 year old
Microsoft gives all staff a marked-up 'Employee Edition' of Satya Nadella's new book
'Hit Refresh' becomes 'Hit FN+F5' as Azure moves into a tent
+Logowatch Microsoft has created a special "Employee Edition" of CEO Satya Nadella's new book, Hit Refresh – and The Register understands every full-time worker at the software giant will find one on their desks.
A copy seen by El Reg replaces some text from the edition ordinary folks can buy. Hit Refresh gets an added "FN+F5," presumably because Microsoft people are more comfortable speaking in keyboard shortcuts, not English.
The tagline that usually appears on the front cover, "The quest to rediscover Microsoft's soul," has the word "The" scratched out, with "Our" as a replacement.
Microsoft doesn't seem to think that all its staff will read the whole book – which is out this week – because its table of contents includes a suggestion for the time-poor to just read the afterword rather than attempt the entire tome.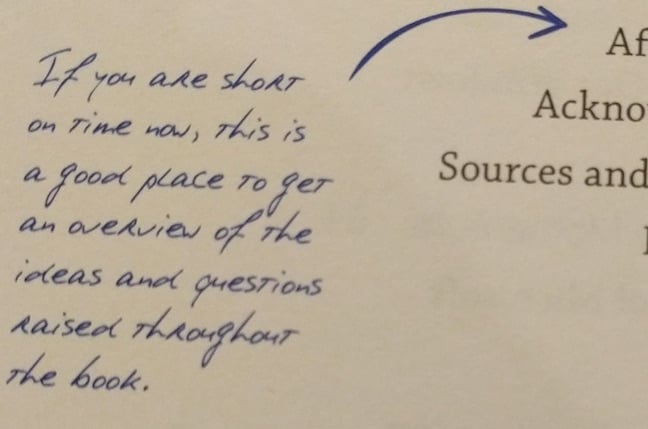 TL;DR in the employees edition of Satya Nadella's Hit Refresh
Several passages are also highlighted and/or annotated with margin scribbles to point out the bits Microsoft leaders want burned into employees' brains.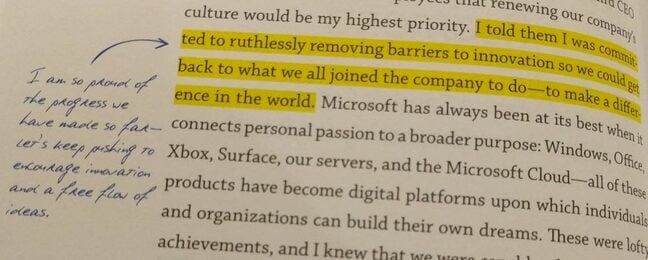 A highlighted and annotated passage in the employee edition of Satya Nadella's Hit Refresh ... Click here to enlarge
The Register understands the book is going down quite well inside Microsoft, because it admits that Microsoft has more work to do improving its culture. Staff like the idea of things improving further.
Logowatch
Microsoft's new inclusive values have now made it into a new Azure logo.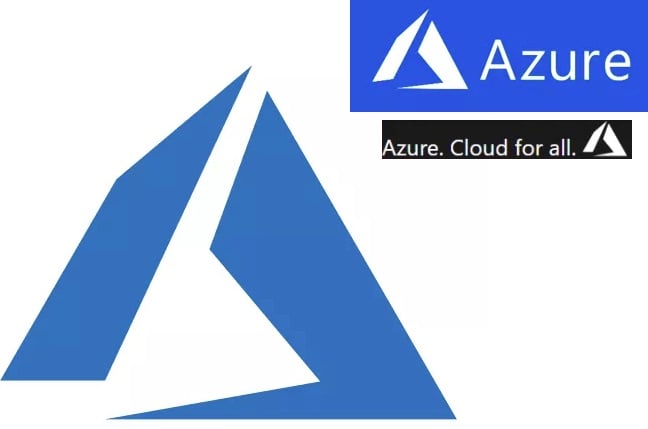 Microsoft's new Azure logo, three ways
Microsoft said the new logo "is a bit more abstract, and it doesn't include a cloud in it anymore. If you're familiar with the Microsoft Office icons / logos, then you may recognize a similar style theme. It also forms a letter 'A' that obviously represents the name 'Azure'."
It also looks like a tent to your correspondent. Is Microsoft therefore suggesting Azure is mere temporary shelter for your workloads?
No, it isn't. The company has also created an Azure "manifesto" to go with the logo.
That set of words is described as "sort of a mission statement for us to follow," Microsoft gushed, because apparently "we are all 'Change Agents' that need to work to unlock the cloud." If you can tolerate any more of this nonsense, there's a video of the manifesto here, and you can buy Hit Refresh here. ®