This article is more than 1 year old
Nokia updates classic comeback mobe 3310
Now with 3G
Only one phone from the "New Nokia" (aka HMD Global) has made any impact so far, and sadly for the startup's ambitions of returning the brand to market leadership, it's the remodelled classic, the 3310.
The Nokia 3310 was reintroduced to the world at Mobile World Congress in Barcelona generating enviable amounts of nostalgic TV and press coverage. The 3310 sold out as soon as it went on sale. In line with the other Nokia-branded featurephones that have sold millions in recent years without anyone really noticing, the Series 30 3310 phone was dustproof and boasted a month's standby. But it couldn't access 3G networks: a problem now that 2G coverage is getting patchy in mature markets.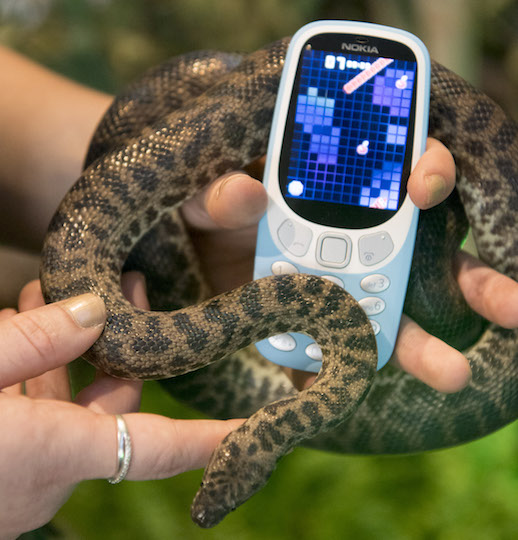 Don't try this at home please: a snake playing Snake
Source: HMD Global
Now HMD has remedied that with a 3G version of the 3310, which also comes with the UI overhauled and made more customisable. Two matte colours were announced, a pale blue ("Azure") and a dark grey ("Charcoal"), although O2 will stock the 3G 3310 in both grey and "Warm Red". Standby time has fallen from 31 days to 29 days, while talktime is touted as 6.5 hours.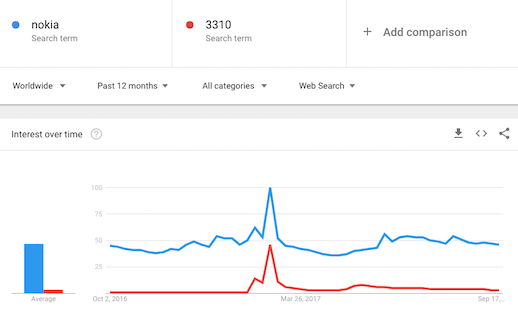 Interest in "Nokia" this year is almost entirely down to the 3310
Source: Google Trends
The device will be available in October, and expect it to pack the Christmas stockings of primary school children, easily confused relatives, and off-grid paranoiacs. ®