This article is more than 1 year old
Dome, sweet dome: UAE mulls Martian city here on Earth ahead of Red Planet colonization
Massive facility will try self-sustaining for a year
Three years ago the United Arab Emirates announced plans to stage a manned mission to Mars. Now the kingdom plans to build a massive Mars colony in the desert to test out the technologies they will use to live there.
The Mars Science City will be a series of domes with 1.9 million square feet of living space encompassing living quarters and laboratories for food, energy and water research. A team will also test how to grow food under Martian conditions, and hope to use the research to improve food security in the kingdom.
"The UAE is a great country with vision and understanding of the challenges we face and the rapid changes our world is experiencing," said Sheikh Mohammed bin Rashid Al Maktoum.
"We believe in the potential of space exploration, and in collaborating with global partners and leaders in order to harness the findings of this research and movement that seeks to meet people's needs and improve quality of life on earth."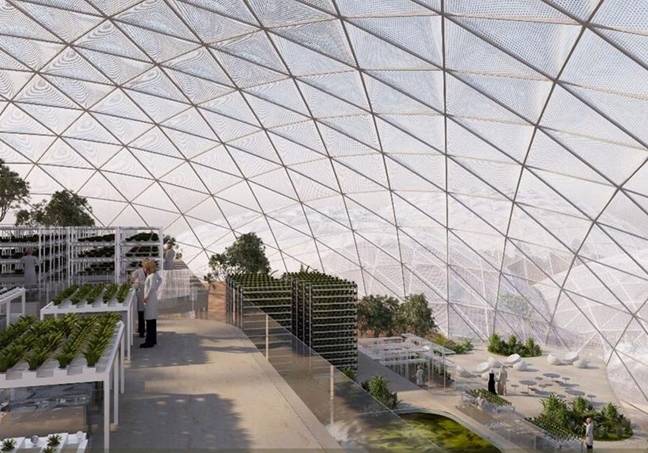 "Guys, which direction is Mecca again?"
Also inside the dome will be a museum dedicated to mankind's achievements in space. The walls of the museum will be fabricated under 3D-printed sand, which the UAE team thinks will be an essential building material on the Red Planet.
Once built, a team of specialists will attempt to live sealed in its domes for a year to prove that the design is sound. The facility will cost $136m to construct.
"We have great confidence in our national work teams, and Emirates Mars Mission proves that our youth are trustworthy and capable of achieving national ambitions," said Sheikh Mohammed bin Zayed Al-Nahyan, Crown Prince of Abu Dhabi.
The UAE is putting serious money into its Mars plans. The kingdom is aiming to put a survey satellite into Martian orbit by 2021 that will scout for water on the surface and take readings from the upper and lower atmosphere of the planet to assess the techniques needed to live there safely.
The long-term goal is to build a self-sustaining colony of 600,000 on Mars within the next 100 years. To do this, the kingdom wants to train a new generation of scientists and engineers to make the city happen, as opposed to its usual practice of bussing in low-wage workers from Asia to do the hard work. ®