Tarmac for America's self-driving car future is being laid right now
Senate draft law finds careful balance, opens doors to mass production
---
A law proposed in the US Senate would pave the way for hundreds of thousands of autonomous vehicles on America's streets in the next few years.
The AV START Act [PDF] was introduced Thursday by Senators John Thune (R-SD) and Gary Peters (D-MI), and not only represents a bipartisan effort but also reflects much of the contents of a similar bill introduced in the House of Representatives earlier this month. As such, it is likely to become law soon.
The main goal of the bill is to introduce a structure and legal framework around autonomous vehicles and it has taken a positive, open approach to the new technology, aimed at providing some certainty without imposing too many limits. As a result, it has largely received a warm reception.
The key elements of the AV START Act (the name arrived at through the tortuous construction American Vision for Safer Transportation Through Advancement of Revolutionary Technologies Act) are:
Safety: Car manufacturers – yes, including you, Tesla – will be required to submit safety evaluation reports to the Department of Transportation (DoT) before testing and deployment of a self-driving car.
Clarity over laws: The DoT will be in overall charge and will coordinate with states over their local laws. Car manufacturers will be expected to follow both local and state laws – particularly as they refer to traffic – but the DoT will work to come up with common or generally agreed standards where possible.
Deployment: Manufacturers will be allowed to ramp up their production over time. In the first year they'll be able to have 50,000 autonomous vehicles on the road; 75,000 in the second year; 100,000 in the third year. In the fifth year, a manufacturer can ask to have that ceiling lifted. This is a big step up from an earlier maximum of 2,500 per year.
Cybersecurity: The DoT will develop, with the industry, new standards to cover cybersecurity in cars, including disclosing security holes.
Data sharing: A new expert committee will look into standards and policies for recording and sharing data from the self-driving cars.
Consumer education: A new working group will come up with ways of educating the general public about self-driving cars.
Disabilities: Potentially a life-changer for many Americans, the law will prevent people with disabilities from being denied a self-driving car license.
Although the law and its various elements may sound like common sense, it has been through a lengthy back-and-forth between lawmakers, car manufacturers, insurance companies, consumer associations and various other interested parties in an effort to get it in place fast in order to let the technology take off.
A key last-minute change was the dropping of autonomous trucks and buses from the legislation – now it only covers vehicle less than 10,000 pounds – this following pressure from trucking and other transport unions worried about jobs. The law simply punts that issue into the future.
The legislation also backs down from what was initially quite a restrictive law that would have required car manufacturers to get official DoT approval before releasing any new cars and even potentially any new software updates. The new law grants much more flexibility.
And the massive increase in maximum allowable vehicles on the road from a given car manufacturer, with an annual increase, is a careful balance between trying to ensure that public safety is accounted for without ruining the market through tiny thresholds.
Talking 'bout a revolution
"Self-driving vehicles will completely revolutionize the way we get around in the future," Senator Peters said in a statement. "It is vital that public policy keep pace with these rapidly developing lifesaving technologies that will be on our roads in a matter of years."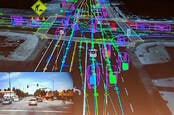 House Reps grease the wheels for hundreds of thousands of robo-cars on America's streets
READ MORE
Senator Thune said: "This legislation proposes common sense changes in law to keep pace with advances in self-driving technology. By playing a constructive role in the development of self-driving transportation systems, our government can help save lives, improve mobility for all Americans – including those with disabilities – and create new jobs by making us leaders in this important technology."
The Auto Alliance – which represents pretty much all the main car manufacturers – was cautiously happy with the result, noting:
"Autonomous vehicles hold great promise in saving lives, expanding mobility and reducing congestion, so automakers want to move as quickly as possible to safely test and deploy them ... The Alliance will continue working with members of the Senate Commerce Committee to pass legislation to address existing barriers to safety technologies."
Not everyone was happy, however. "The AV START Act has a major shortcoming in that it fails to address the critical issue of allowing insurers to have access to data from automated vehicles," said... insurance lobbyists PCI.
"Blocking insurer access to critical data harms consumers by crippling their ability to promptly handle claims and compensate accident victims."
The Senate Commerce Committee will consider the legislation at a markup session on October 4. ®